Geraldine Ferraro once said, that, "It was not so very long ago that people considered that semi-conductors were part-time orchestra leaders & microchips were very, very small snack foods". It highlights the ingrained ignorance in the common man towards technology and how much we lose due to it. Surely, we've come a long way from that, however, it remains to be seen, how much we can leap forward by leveraging today's tech-savvy world.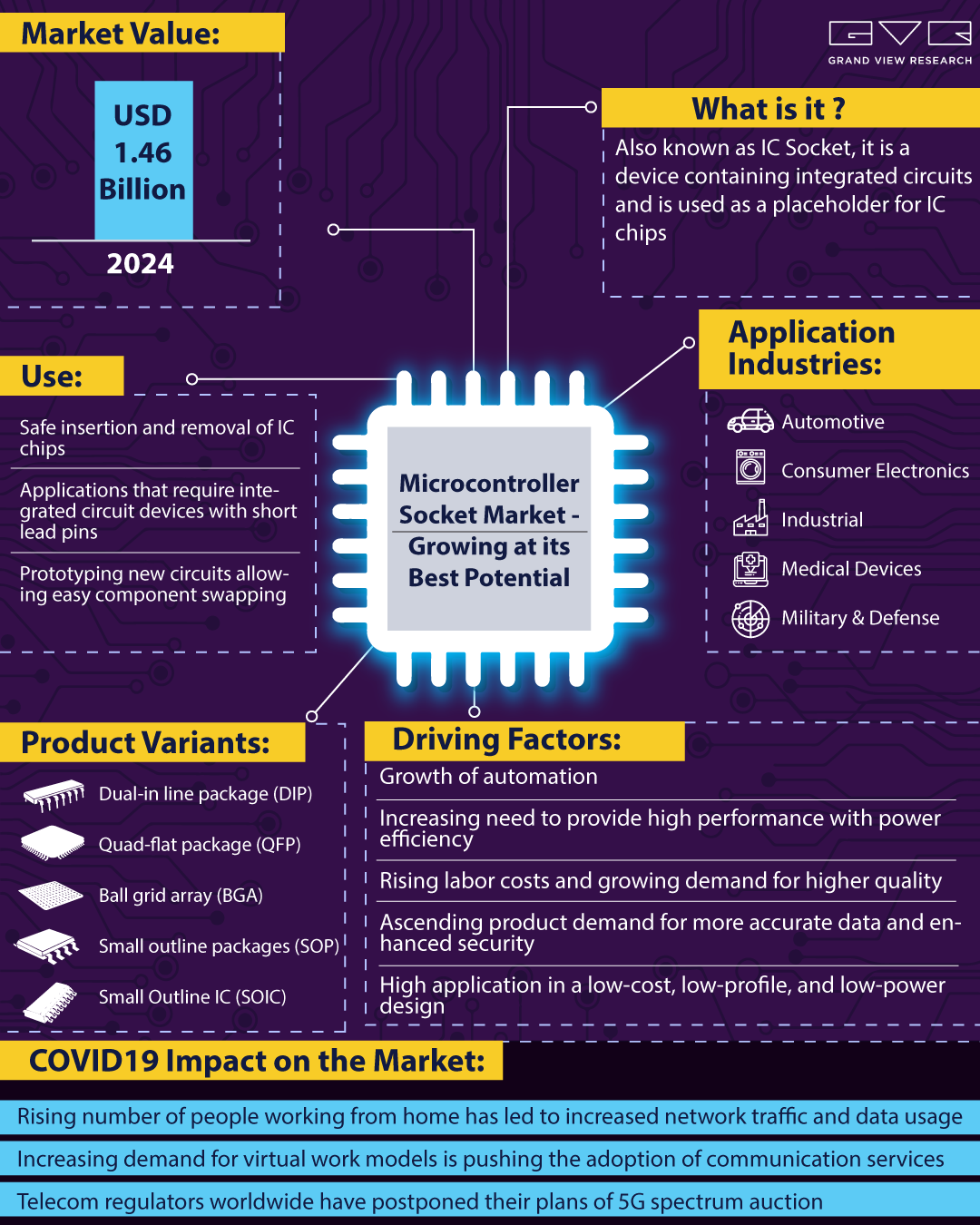 Microcontrollers, a small computer on a metal-oxide-semiconductor (MOS) integrated chip has revolutionized the world since the day it was deployed. A typical microcontroller includes a processor, memory and input/output (I/O) peripherals on a single chip. It is dedicated to a single task and makes sure to complete that task efficiently. For example, a microcontroller that is embedded in TV, executes the task of taking input from the remote and displaying the output on the screen. Therefore, they are also known as embedded systems. Now, if they are called as embedded systems then a run-of-the-mill question that takes its head out is, What are they embedded onto?
Microcontrollers Socket
A simple answer to the question posed in the last line of the above passage is PCB, which means Printed Circuit Board with the help of Microcontroller Sockets. Microcontroller sockets, which are also known as IC sockets, are used in the devices containing the integrated circuits and are used as a placeholder for IC chips. The sockets are used for safe insertion and removal of IC chips which may get damaged from soldering. These sockets are used in the applications which require integrated circuit devices with short lead pins helping in insertion and safely removal of IC chips. They are usually used in prototyping the new circuits allowing easy component swapping.
There are several variants of IC Sockets, such as dual-in line package (DIP), quad-flat package (QFP), ball grid array (BGA), small outline packages (SOP) and Small Outline IC (SOIC). There is tremendous amount of demand for the microcontrollers socket, so much so, that the Microcontroller Socket Market is expected to reach USD 1.46 billion by 2024, according to a new report by Grand View Research, Inc.
What Varies In The Variants?
The above noted variants have several differences which makes them suitable to cater to wide range of needs of embedded systems.
Dual-Inline Package (DIP), also known as DIL package or chip socket, is referred to as the electronic device package with two parallel rows of electrical connecting pins and a rectangular housing. An advantage of this system is that you can still see the PCB traces which otherwise would be covered over by the socket frame. In addition, airflow and thus thermal management is improved.

Ball Grid Arrays (BGAs) are used for integrated circuits and area type of surface-mount packaging. They are usually preferred for permanently mount devices such as microprocessors and are not suited for socket mounting.

The Quad Flat Package (QFP) is a type of surface mount IC package which has gull wing leads extending from the four sides. QFP is used to increase the number of pins around the periphery of the package, which has led to a decrease in spacing from 50 mil to 20 or 12 mil (thousands of an inch).

Small Outline Packages (SOP) is a surface mount package, which is essentially the shrunk version of the standard IC PDIP. The package thickness is typically 70% lesser than the DIP and occupies an area of about 30-50% equivalent or lesser than the DIP. It is majorly used in personal computers and consumer electronics.
The microcontroller socket demand can be easily understood by the pie chart below, for which the data considered was the application potential of the variant. The application areas which were taken into consideration were consumer electronics, automotive, industrial, medical devices and military & defense.
Microcontroller socket market, by product, 2015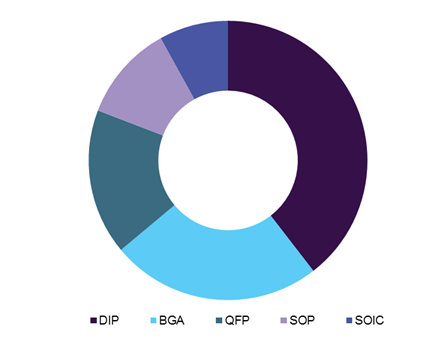 The application areas which were taken into consideration were consumer electronics, automotive, industrial, medical devices and military & defense. Clearly, it highlights the dominance of Dual-Inline Package (DIP) or chip socket over other variants in the market.
Market Determinants
Factors that boost the growth or inhibits it are crucial for the demand in the market. They can make or break the boom of the concerned sector.
The growth of automation which has led to the miniaturization, digitization, and facilitates dynamics in the field of technology has further enhanced the demand of the market.

The increasing need of providing high performance with power efficiency has further led to the development of automation technology at a rapid pace.

The increasing labor costs and the growing demand for higher quality have encouraged the industry participants to opt for automated equipment in the programming process.

The increasing demand of sockets in the automotive, consumer electronics, medical devices for more accurate data, and military & defense for enhanced security has also encouraged the industry participants to further reduce the package size.

The increasing IC packaging developments delivering a high application in a low-cost, low-profile, and low-power design have led to the market growth of integrated circuits. The competition in the industry is intense, due to which the participants have to enhance their product quality and process technologies as per the market requirements.
Aggressive Advancements
Socket manufacturers are developing enhanced designs for the purpose of interconnecting solutions for high I/O, fine pitch, low profile applications, and adhering to the severe regulations of performance and reliability. The key industry competitors include Aries Electronics (U.S.), Mill-Max Mfg. Corporation (U.S.), Samtec, Inc. (U.S.), and CNC Tech LLC (U.S.).
AVNET, a leading global technology solutions provider, has extended its distribution agreement with Samtec, Inc. (U.S.). This development provides Samtec, Inc, greater reach in Asia Pacific region and will go on to boost its market potential.

Samtec, Inc., a leading provider of high bandwidth and micro-pitch interconnect systems, announced today the acquisition of nMode Solutions, of Oro Valley, Arizona. It also acquired Triton Microtechnologies, which is the subsidiary of nMode Solutions. nMode Smart Modules, RF filters, and evaluation boards support the high-performance, high-density demands of the IC Packaging industry. Utilizing Triton Microtechnologies patented Glass Core Technology, nMode designers use the superior performance and material characteristics of glass to achieve significant miniaturization and integration far beyond what is possible with organic materials.

In-depth report on global microcontroller socket market by Grand View Research:
https://www.grandviewresearch.com/industry-analysis/microcontroller-socket-market