The IC sockets are used in the devices containing the integrated circuits and are used as a placeholder for IC chips. The sockets are used for insertion and safely removal of IC chips which may get damaged from heat from soldering.
These sockets are used in the applications which require integrated circuit devices with short lead pins helping in insertion and safely removal of IC chips. They are usually used in prototyping the new circuits allowing easy component swapping.
Microcontroller socket market, by product, 2015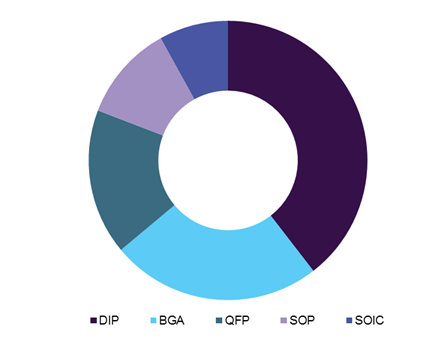 The microcontroller socket market has been segmented into five sockets which include dual-in line package (DIP), quad-flat package (QFP), ball grid array (BGA), and small outline packages (SOP). The applications of the socket included in the study are consumer electronics, automotive, industrial, medical devices and military & defense.
Dual-Inline Package (DIP), also known as DIL package, is referred to as the electronic device package with two parallel rows of electrical connecting pins and a rectangular housing. Ball Grid Arrays (BGAs) are used for integrated circuits and area type of surface-mount packaging. They are usually preferred for permanently mount devices such as microprocessors and are not suited for socket mounting.
The Quad Flat Package (QFP) is a type of surface mount IC package which has gull wing leads extending from the four sides. QFP is used to increase the number of pins around the periphery of the package, which has led to a decrease in spacing from 50 mil to 20 or 12 mil (thousands of an inch).
Small Outline IC (SOIC) or Small Outline Packages (SOP) is a surface mount package, which is essentially the shrunk version of the standard IC PDIP. The package thickness is typically 70% lesser than the DIP and occupies an area of about 30-50% equivalent or lesser than the DIP. It is majorly used in personal computers and consumer electronics.
The growth of automation which has led to the miniaturization, digitization, and facilitates dynamics in the field of technology has further enhanced the demand of the market. The increasing need of providing high performance with power efficiency has further led to the development of automation technology at a rapid pace. The increasing labor costs and the growing demand for higher quality have encouraged the industry participants to opt for automated equipment in the programming process.
The increasing demand of sockets in the automotive, consumer electronics, medical devices for more accurate data, and military & defense for enhanced security has also encouraged the industry participants to further reduce the package size. The increasing IC packaging developments delivering a high application in a low-cost, low-profile, and low-power design have led to the market growth of integrated circuits. The competition in the industry is intense, due to which the participants have to enhance their product quality and process technologies as per the market requirements.

In-depth report on global microcontroller socket market by Grand View Research:
http://www.grandviewresearch.com/industry-analysis/microcontroller-socket-market