An oil spill is a byproduct of human activity in which petroleum hydrocarbon is released into the environment, which results in pollution. Oil spill can occur onshore as well as offshore. The oil spill is mainly due to the release of crude oil during exploration & production or transportation from pipelines, tankers, drilling rigs & wells, offshore platforms as well as a spill of other petroleum products, for instance, diesel & gasoline.
The severity of oil spills is influenced by many factors such as type of sillage, the quantity of oil, and the effects of tidal waves. Basically, the oil can be divided into five categories, very light oils can be gasoline and jet fuel which are extremely toxic to marine species but these oils generally evaporate very quickly so cleaning of such spills is not necessary. Light oils, leave a residue in water and pose long term consequence on ocean life hence cleaning of such oils becomes necessary. Medium oil include petroleum which does not evaporate very quickly. These types of oils threaten birds and mammals.
The heavy oil includes bunker oils. They are mostly sticky and dark in color. They remain for longer time duration in environment (from months to years) if they are not removed. These oils are very persistent and less toxic. However, short-term threats from these are more, which includes chronic health effects and others.
Type of oil, examples and their characteristics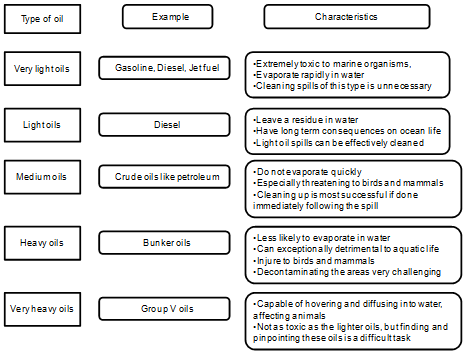 The recovery and cleanup from an oil spill incident are expensive and difficult. The cleanup process also depends on the kind of oil spilled, type of beaches, land, marine life & shorelines involved, and water temperature. The type of response and technique used for an onshore oil spill is different from the offshore oil spill.
Lately, rising oil spill incident have increased the concern for various governments to form regulations for environmental security. These regulations also involve installing the prevention technologies by various oil & gas companies. The major aspect of preventing an oil spill include usage of proper technologies for assessment of procedures & equipment, contingency plans for the avoiding the spill, training, and inspection.
An oil spill has immediate as well as long-term damage to environment. Some of these environmental damages even last for years after the spill. The increase in the oil spill every year into the waterway, lands, wetlands, beached, and shellfish beds are affecting the environment. Ships grounding incidents destroy numerous acres of coral reefs and seagrass beds annually. These actions damage various important habitats for animals & plants and also the quality of life for humans who work or live near the impacted areas.

In-depth report on global oil spill management market by Grand View Research:
https://www.grandviewresearch.com/industry-analysis/oil-spill-management-market