Orthopedic & related disorders are usually seen amongst the young and geriatric population. Orthopedic diseases related to musculoskeletal system are increasingly contributing to the growth of orthopedic braces and supports market. Incidence of musculoskeletal disorders, such as osteoarthritis and osteoporosis, is rising. According to International Osteoporosis Foundation, osteoporosis leads to more than 8.9 million fractures every year. These conditions weaken the bones of a patient's body, resulting in immobility. Moreover, lack of calcium and maintenance of body fitness in the women population often leads to osteoporosis.
Osteoarthritis is another musculoskeletal disorder majorly affecting the geriatric population. It generally leads to wear and tear of tissues when cartilage breaks down in the joints. Hence, rising number of cases with musculoskeletal disorders often trigger high demand for orthopedic braces and supports.
Global orthopedic braces and supports market share, by region, 2015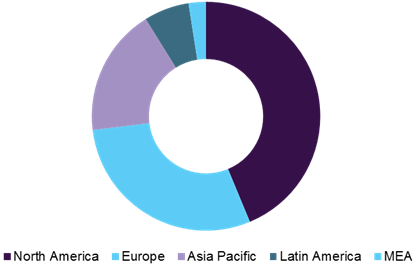 Geriatric population is at high risk for arthritis. During their later stage of life, they are in serious need for support systems to improve mobility. They are also highly vulnerable to bone-related injuries. Knee-related pain is also commonly seen in the elderly population. Hence, they constitute huge demand for knee braces and supports. With age, bones and tissues become weaker, which leads to numerous related disorders. Arthritis also limits the day-to-day lifestyle of a patient owing to severe pain in the joints.
Obesity is also a vital factor contributing toward the occurrence of osteoarthritis. People with excessive body fat usually develop such disorders in their fingers, wrists, and hands. Heavy body weight poses huge risk for the obese people as it might affect joints, causing osteoarthritis. Other factors causing bone fractures include diabetes and other vascular diseases.
Sport-related injuries also need orthopedic braces and supports. Athletes are highly involved in various kinds of sports-related activities. Hence, they are at high risk of such injuries. Anterior Cruciate Ligament (ACL) tear is likely to occur among athletes participating in sports like, football, basketball, and soccer. They tend to injure their ACLs, which restricts appropriate stretching of legs. Healthcare professionals stated that female athletes are 2 to 8 times more prone to ACL injuries as compared to their male counterparts. However, the orthopedicians primarily advice orthopedic braces in case of any acute sports injuries for both male and female athletes. Latin America has a vast population of athletes engaged in football and soccer. Hence, this population contributes significantly toward the growth of orthopedic braces and supports market.
Young athletes and the young population are highly focused on various fitness-related activities. Male and female athletes are motivated to participate in appropriate neuromuscular training programs, which can significantly reduce the risk of ACL tears and other orthopedic injuries. In addition, the key companies are also motivating sportspersons and college athletes to use orthopedic braces through introduction of customized products for prevention of lateral and hyperextension injury.

In-depth report on global orthopedic braces and support systems market by Grand View Research:
http://www.grandviewresearch.com/industry-analysis/orthopedic-braces-support-systems-market