Osteoporosis drugs are incorporated in the treatment of bone disease, resulting in bone density loss and abnormal tissue structure. In majority of females, menopause increases in the likelihood of acquiring osteoporosis thus heightening the demand for the overall market. Biophosphonates, hormones therapy and rank ligand inhibitors are commonly prescribed medications for the efficient treatment of osteoporosis.
Osteoporosis drugs market is believed to be primarily fueled by the presence of untapped opportunities for growth in emerging countries. For instance, in September 2016, Dr. Reddy's Laboratories entered into collaboration with Amgen to distribute osteoporosis drugs, namely Xgeva, Vectibix and Prolia. This collaboration was carried out to serve unmet patient demand in India.
Sustainability strategies such as new product development and extensive distribution strategies undertaken by key companies is presumed to boost the adoption rate of their drugs. For instance, in March 2016, Aurobindo Pharma received the U.S.FDA approval to manufacture and market generic Naproxen sodium tablets for the treatment of menopausal osteoporosis. The aforementioned is anticipated to fuel the generics influx and heighten the market demand further.
Global osteoporosis drugs market, by type, 2015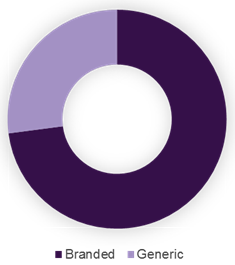 Presence of wide gap between treated and untreated disease prevalent population is presumed to drive the market demand during the forecast period. Japan launch of Prolia in 2013, U.S. launch of BA-058 and odanacatib in 2015 and AMG-785 in 2016 are anticipated to satiate this demand and penetrate the market tremendously over the coming years.
Moreover, the presence of public and private healthcare organizations consistently striving to promote awareness pertaining to osteoporosis care in developed as well as developing regions is slated to present lucrative opportunities to the market. In addition, these organizations conduct programs to improve the healthcare facilities, and enhance safety standards with respect to the medication which are further expected to widen the growth potential.
For instance, Australian Government Department of Health, launched osteoporosis care initiative in 2006, which focused on better funding for improved healthcare arrangements to enhance treatment procedures for osteoporosis and arthritis. Also, in the U.S., in 2013, Medicare subsidies on branded drugs, starting from 2.5% which is expected to fuel the adoption rate and impact market positively. Other programs that exerted positive impact on the osteoporosis market include Michigan Department of Community Health Osteoporosis Program and The Asian American Women's Osteoporosis Education Initiative. Furthermore, global policy initiative launched by International Osteoporosis Foundation has a major role in promoting osteoporosis awareness in wide range of countries.
The competition is marked by the presence of major players such as Eli Lilly and Company, Pfizer, GlaxoSmithKline., F. Hoffmann-La Roche Ltd., Amgen and Merck & Co. The market participants are expected to register consistent growth through indulging in geographical expansions, research and new product development initiatives, mergers & acquisitions and distribution enhancement strategies.
The high burden of osteoporosis globally is presumed to provide high growth prospects over the coming years. The aforementioned is anticipated to drive the high clinical urgency to develop new molecules for the treatment. Consequentially, the high expectancy of the launch of some of the blockbuster pipeline drugs for the osteoporosis treatment is expected to widen the base for growth in the future. For instance, currently, 26 medications are in Phase-I & -II and Phase IIb and III, which exemplify growing research platform. This is believed to be a result of collaborative research activities initiated by major pharmaceutical companies in order to strengthen their competitive position in the branded medication.

In-depth report on global osteoporosis drugs market by Grand View Research:
https://www.grandviewresearch.com/industry-analysis/osteoporosis-drug-market