Passive optical network is a telecommunication technology used for implementing a point-to-multipoint architecture. The network system also uses unpowered fiber optic splitters and combiners to enable a single optical fiber for serving multiple end-users without having individual fibers between the customer and hub.
The Institute of Electrical and Electronics Engineers (IEEE) and the Telecommunications Standardization Sector of the International Telecommunication Union (ITU-T) are two major standards groups which are involved in developing standards with other industry organizations. For carrying signals, the Society of Cable Telecommunications Engineers (SCTE) have also specified radio frequency over glass in a passive optical network.
PON Market by Structure, 2015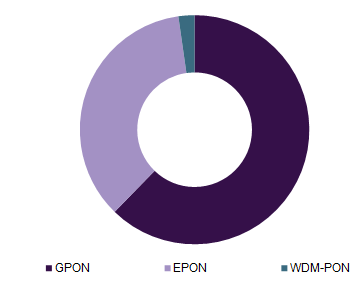 The PON market is segmented into Gigabyte PON, Ethernet PON and Wavelength Division Multiplexing PON. Gigabyte passive optical network (GPON) utilizes the optical wavelength division multiplexing and a single fiber can be used for both upstream and downstream data. Ethernet passive optical network (EPON) utilizes Ethernet packets which is the primary networking technology utilized in local-area networks (LANs). Wavelength division multiplexing passive optical network (WDM-PON) is a non-standard optical network which is developed to split optical network units (ONUs) into various virtual optical networks existing on same physical infrastructure.
A PON comprises of an optical line terminal (OLT) and optical network terminals (ONT) which are installed at the service provider's central office (hub) and near end users respectively. The passive optical network reduces the amount of fiber and central office equipment requirements in comparison to point-to-point architectures. Both the structures of PON market deploys OLT and ONT components for the optical network technology.
Rapid adoption of fiber-to-the-home (FTTH) services across the world to offer bandwidth intensive application, particularly in emerging markets offers strong potential for GPON equipment. Increasing investments from private and public sectors, increase in services in various countries along with explosion in data traffic, represent key growth drivers in the region.
The ONT is one of the highest cost components of the FTTP system as it is located at the customer end of the loop and is thus shared by the fewest customers. In addition, it determines to a great extent the type and quality of service available to the customer.
China is projected to be the major contributor to the market owing to the FTTH projects which is considered to be the significant contributor to a country's optical cable demand. The country's growth has resulted mainly from the construction of LTE 4G mobile network infrastructure and FTTH installations. FTTx deployments which includes FTTH projects of Google and AT&T is expected to be the key factors driving the growth with metro network construction.
The installation cost of the optical network is quite high at the operator's interface owing to the operational cost. The upgradation costs of the network leads to high amount as installation of new network equipments replacing the old ones.

In-depth report on global passive optical network (PON) market by Grand View Research:
http://www.grandviewresearch.com/industry-analysis/passive-optical-network-pon-equipment-market