Pets are not our whole life, but they make our lives whole.
Technology and new inventions have changed the complete scenario of almost everything related with day-to-day life of a man. Not only that, it has touched upon everything we identify ourselves with, be it the clothes we wear or the pets we care about. Pets or companion animals form an important part of our lives, therefore, it becomes highly important for us to keep an eye out for their well-being, as their guardian.
The urge to take care of the pets in the best way possible, has made us use several essential equipment, such as collars, vests and leashes among others. These come under the category of pet wearables, which has a booming market. Pet wearables market was estimated to be of USD 1.4 billion in 2018 and is expected to see a rise in demand and growth between 2019 to 2025. On top of it, innovative trends and intervention of technology in this market, for example, development of Halo belts and Whistle among others, are expected to keep the market soaring for years to come.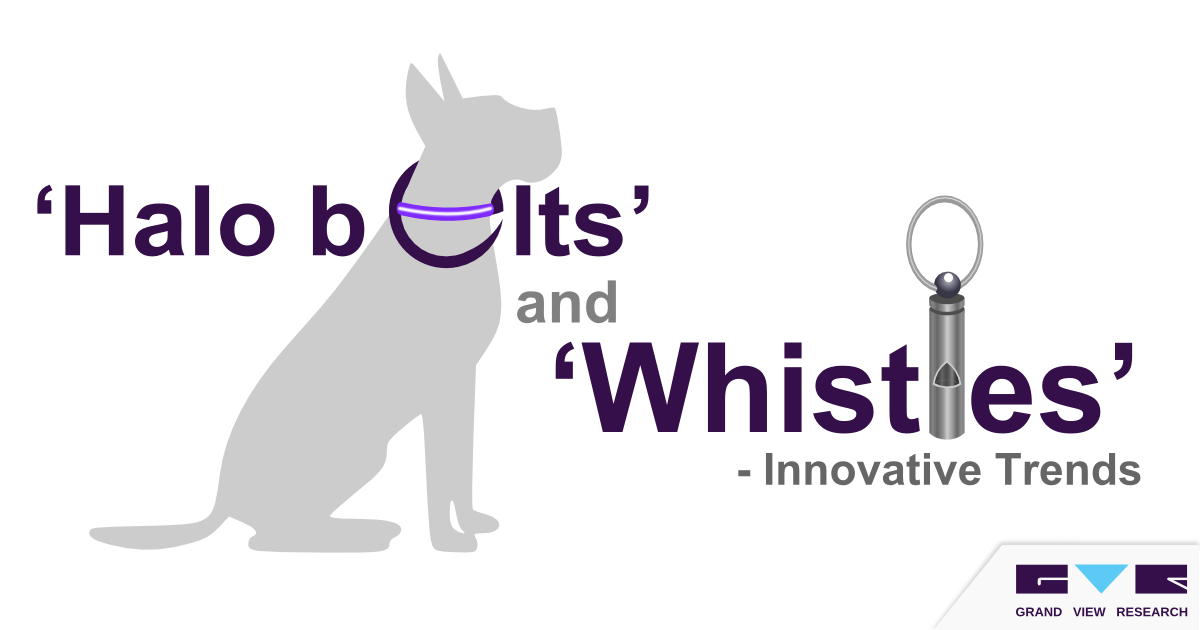 How it all started.
It is interesting to know that the first instance of pet wearable technology ever adhered was in New Zealand in 1955. A dairy farmer developed an easy-to-read tag to identify his livestock. Later, it also gained serious grounds in Europe and other Western countries. As it became popular, several new technologies were introduced due to the addition of Wide area network, several cost-efficient sensors and trending IoT products. Along with it, the rise in usage of smartphones all over and increasing proliferation of apps are making all the essential duties of a guardian easy with just a tap on the device now. Technology has empowered the market and it looks like that it will continue to do so in the coming years.
Diverse set of applications.
The cutting-edge technologies that are being employed in the pet wearables sector has diverse set of applications and empowers caretakers by making their life easy and carefree.
Identification & Tracking: -

There is no exact science that can correctly inform us about the exact timing of our dog jumping the fence or cat tiptoeing away from the backdoor. However, GPS enabled wearables and RFID chips can help us track those sneaky cuties easily and help us to get to our wandering best-friend in a jiffy. RFID (Radio frequency Identification) chip, which is a type of Passive Integrated transponder (PIT) is inserted safely inside the skin layer of pets and help in tracking as well as identification of the pet. Similarly, GPS enabled collars and wearable help to locate the pet from an app in the smartphone easily. Due to this reason, now pet tracking has been considered as an essential cost of owning a pet.

Being able to track the pet using pet wearables has enhanced the Safety and Security of the pet, as well as reduced the worries of owners.

Medical Diagnosis & Treatment: -

RFID chips can also contain data regarding the health of the pet and make it easy for the owners to keep track of the pet health as well as the medication required.

If the pet is lost and is brought to a vet or shelter, the information will be easily available to the best professionals handling them, enabling them to take better care of the pet.

Some other pet sensors are also available, which sense the allergies and enable the owner to take precautions regarding pet's reaction to the allergies.

Apart from this, pet's daily activity like sleep, exercise etc. are also monitored and keeps the owner updated regarding the time needed for these activities.
There are plenty of other applications like Behavior and Monitoring, in which technology has played a major role and brought a paradigm shift in the way things were done.
Factors affecting the Market: -
The global market, although being in a nascent stage is intensely competitive. Key industry competitors include Whistle Labs, Inc.; PetPace LLC; FitBark; Tractive; i4C Innovations; and Garmin International, Inc. Players have been resorting to strategies such as new product development and launches, acquisitions, and collaborations to strengthen their position in the market with their focus on the growth factors. There is an ongoing spurt in the growth of the market due to the following factors.
Growing technological usage in the wearables due to the growing concern about the well-being of their pet, is likely to enhance the growth in the market.

Recent developments in IoT infrastructure and products will boost the growth of demands for pet wearables.

The concerns regarding the high power usage and short battery life is going dampen the growth in the market.
Recent Developments: -
Major developments in the pet wearables in the recent months include
FitBark, Inc. acquires a scrappy start-up attitude and secures good deals with FITBIT and Animal Planet's "My Big Fat Pet Makeover".

Whistle, Inc launches new products Whistle Go and Whistle Go Explore. It has 24 hours connectivity and a comparatively strong battery.

FitBark has launched new FitBark GPS Tracker, which not only tracks the pet, but also gauges the mobility standards of the pet, along with stress levels, itchiness etc.

Tractive has launched Tractive IKATI GPS tracker, which provides live tracking option for cats and uses a strong battery although being lightweight.

In-depth report on global pet wearable market by Grand View Research:
https://www.grandviewresearch.com/industry-analysis/pet-wearable-market