Industry Insights
The global pet wearable market was valued at USD 837.6 million in 2014. Rising adoption and expenditure on medical diagnostics for animals is projected to drive the market over the forecast period. Medical diagnostic tagging of pets, livestock, and endangered species are expected to gain significant importance. Additionally, IoT is expected to have a profound effect on medical diagnosis and treatments.
Increasing awareness for the remote monitoring, identification & tracking, and behavior monitoring & control of pets are expected to fuel demand over the next seven years. Implementation of GPS-based monitors, cameras, and health trackers that use app technology for obtaining real-time updates on consumer devices is expected to be a high impact rendering driver.
U.S. pet wearable market share by technology, 2012 – 2022 (USD Million)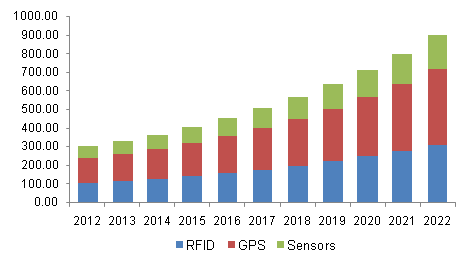 Rising demand for safety & security, real-time positioning and growth in mapping portals with the increase penetration of smartphones are expected to stimulate the GPS technology demand in wearable devices.
Although, there are some factors, which can hinder growth such as design constraints and high power consumption as the devices operate on the wireless networks and GPS that consume a lot of power. Short battery life and high consumption of power may reduce the usage and adoption of the technology. Moreover, compliance with stringent government regulations is expected to hamper industry growth.
Technology Insights
The industry can be categorized by technology into RFID, GPS, and sensors. RFID based pet wearable devices accounted for over 39% of the revenue share in 2014. It stores data using electromagnetic forces for power, communicates that data to a device that interprets it. The technology assists in tracking the real-time information for medical diagnostics and individual animal's history.
Demand for GPS-based devices has witnessed a considerable rise in the recent years owing to the evolving need of connecting far-off subjects to the world. Growth in real-time positioning, increasing penetration of smartphones, and mapping portals across the globe are estimated to fuel demand. Moreover, GPS providers have established strategic alliances with stores, mobile phone manufacturers, and application developers to increase the usage of GPS in new applications. Need for tracking objects has resulted in the advent of global breakthrough across the world.
Sensors are used in the combination of other two technologies and are basically temperature-based activity sensors for monitoring health-related biometric parameters in their activities.
Application Insights
Application sectors analyzed in the study include identification &tracking, behavior monitoring & control, facilitation, safety & security and medical diagnosis & treatment. Identification & tracking applications accounted for over 39% of the overall revenue share in 2014. RFID transponders help in managing and safeguarding livestock, pets, and lab animals. It also enables more compact tag designs and optimized read ranges, delivering size-to-performance ratios, while ensuring consistent animal identification and RFID tracking performance.
Medical application is expected to witness the fastest growth among other applications, growing at a CAGR of over 20% from 2015 to 2022. Development in the field of sensors in wearable technology is expected to drive the increasing adoption of medical parameters for the pets. Increasing development in smartphones and tablets featuring instantaneous tracking via applications is also expected to play a major role in increasing industry penetration.
Regional Insights
North America pet wearable market accounted for over 40% of the global revenue share in 2014. Owing to the high penetration of the fitness and activity monitoring devices, and established wireless infrastructure and telecommunication technologies. According to American Pet Products Association (APPA), over 65% of U.S. households own a pet. As per the survey, 42.9% of the U.S. households own at least one cat, and 54.4% own at least one dog. There are over 85.8 million cats and USD 77.8 million dogs across the U.S., thus driving growth across the region.
Europe is expected to offer a huge platform for potential growth of this market. Already existing infrastructure of modern telecommunication offers great potential for growth across this region. Awareness among the owners regarding the technology and ways to interpret data offered by software platforms and mobile applications is estimated to fuel demand.
Asia Pacific demand was valued at over USD 100 million in 2014 and is anticipated to witness significant growth owing to the high manufacturing capacity in countries such as China, Taiwan, and Japan. Rising penetration of IoT in the medical industry is expected to propel ultimately production of wearable devices in the region.
Competitive Market Share Insights
Companies dominating pet wearable market share include PetPace LLC, Whistle Labs Inc, i4C Innovations, Fitbark, and DeLaval. Service providers strive to enhance the technical structures of their websites and mobile applications with the increasing competition among tracking and location platforms. The companies engaged provides mobile applications (iOS and Android compatible) as well as PC software to integrate the data obtained from the device.
Other potential players include Dairymaster, GEA Group Aktiengesellschaft, IceRobotics, Konectera, Loc8tor, Nedap, Motorola, Tractive, Silent Herdsman Limited, and Ridogulous Labs Inc. Over the forecast period, the number of device manufacturers is estimated to rise above 500, as the industry is expected to witness strong growth.