Phenolic resins, manufactured from phenols and formaldehyde, are lightweight resins that serve a vast range of applications in the automotive, construction and electronics industries. The recent shift in trend towards sustainable solutions has encouraged product demand since its highly insulative properties allow for better building & energy efficiency in the global market.
Phenolics are also considered to be crucial low-density components that can be utilized to build construction materials, complex structural components and even automotive parts. The product has high flame retardancy, chemical & temperature resistance and is available at a relatively low cost as compared to a few other plastic compounds, which has led to its increased demand.
Wooden furniture, construction components and other household products, which have certain shortcomings in terms of weatherability and chemical resistance are increasingly being replaced by phenolic-based laminates with outstanding physical properties.
Phenolic resins industry overview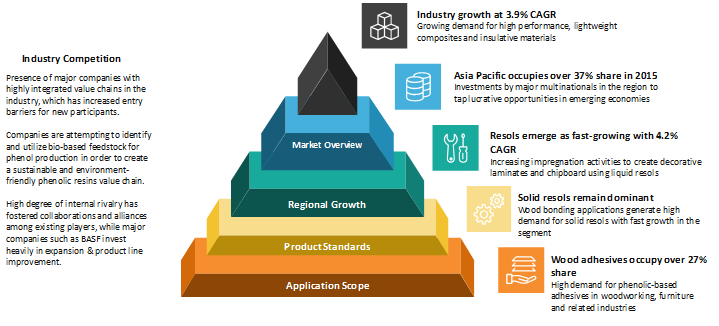 These laminates are generally impregnated onto paper, fiberglass, and carbon among other substrates to derive long-lasting electrical components, laminate boards, speed-bearings and even automotive components.
Novolacs and resols are the two main types of phenolic resins utilized for industrial applications. Phenolic novolac resins are increasingly being designed for use as curing agents or hardeners for epoxy resins to meet growing requirements from applications such as molding materials, laminates, coatings and adhesives.
Resols are mostly utilized as foamed plastics, fiber bonding and insulation for buildings, while chipboard production is a dominant application for these resins. Resols may be further classified as liquid or solid, depending upon the form of the product, with differing characteristics for each.
Solid resols in the form of powder, granules or lumps are a dominant sub-segment. Increasing R&D expenditure on resols to improve their adhesion to metals and identify new opportunities in niche applications are expected to drive growth in this segment.
Increasing GDP growth rates and expanding end-use industries in Asia Pacific have driven product demand in the recent past. The rise in demand for substantially differentiated consumer products with greater quality and longevity has also contributed to phenolics industry growth.
Major manufacturers such as Georgia-Pacific have also integrated along the value chain to distribute and supply these resins as a means to reduce logistics costs, provide timely product delivery, boost customer support services, and gain a competitive edge in a relatively mature market.
Other companies in the industry are also attempting to streamline their processes and boost production efficiency in order meet good manufacturing practice (GMP) specifications. Bio-based feedstock has also been explored to meet sustainability criteria and introduce novel, organic products in the market.
Raw material phenol has largely been replaced by bio-based alternatives from biomass such as lignin, storm debris and scrap wood, especially for the epoxy and wood adhesive markets. The growing demand for materials that do not have a detrimental impact on the environment is expected to influence the market to a large extent, since bio-based phenolics are a preferable option for many industries.
Major companies active in the phenolic resins market include Owens Corning, Arclin Inc., Olympic Panel Products Inc., Ashland Inc., DIC Corporation, Hexcel Corporation, Arizona Chemical Company LLC, Georgia-Pacific Chemicals, Momentive Specialty Chemicals, Sumitomo Bakelite Co. Ltd., BASF SE, Hitachi Chemicals Ltd., and SI Group Inc.

In-depth report on global phenolic resins market by Grand View Research:
http://www.grandviewresearch.com/industry-analysis/phenolic-resins-market