Polydextrose, is particularly a newer type of soluble fiber is a synthetic polymer derived from glucose. Fiber intake serves many benefits for our body. There are two types of fibers, soluble fiber which is generally used as a bulking agent and helps with constipation, other is insoluble fiber that acts like a broom to sweep our digestive track. Polydextrose is a highly branched structure, it takes time to reach and break apart in the intestines completely. Once reaching the intestines, it will feed the good bacteria which in turn helps in improving gastrointestinal functions.
Polydextrose is utilized in sugar-free food products, medical food, and low-carb foods. It is also used in nutritional foods owing to its healthy prebiotic benefits. It is rich in fibers, has a low glycemic index, and has low-calorie content. Polydextrose based foods help in weight management, maintain a low blood sugar level, and to support the bodily function healthily. These functions include fecal consistency, ease of defecation, and helps decrease transit time and fecal frequency.
The soluble fiber is frequently used as a replacement for fat, starch, and sugar in various foods & beverages including, salad dressings, puddings, frozen desserts, gelatins, breakfast cereals, dessert mixes, candies, and cakes. Polydextrose is also employed as a thickening and stabilizing agent in food products, including jams, marmalades, jellies, and puddings.
Agencies such as Health Canada, Council of Europe (CoE), Food and Drug Administration (FDA), and Food Safety and Standards Authority of India have listed few regulations and directives governing the whole length of the value chain. These agencies govern the use of pectin for medical, food, commercial, and industrial applications.
Global polydextrose market revenue, by application, in 2015 (USD Million)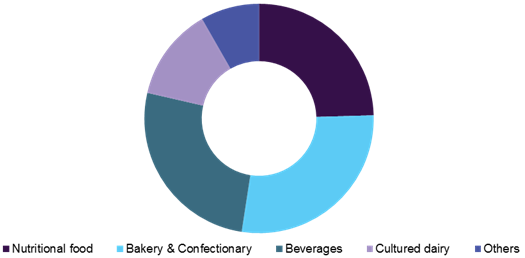 Polydextrose has various applications including, nutritional foods, beverages, cultured dairy, confectionary, and medical foods. Liquid polydextrose, which is used to produce yogurt, contain beneficial bacteria such as, lactic acid and bifidobacterium, which help to maintain a healthy gastrointestinal tract. Owing to its low glycemic index, it is preferred in diabetic food, which helps to maintain a low blood sugar level. The rising health consciousness among consumers and high demand from the cultured dairy and pharmaceutical industry is anticipated to positively drive the market over the forecast period.

In-depth report on global polydextrose market by Grand View Research:
https://www.grandviewresearch.com/industry-analysis/polydextrose-market