Polymethyl methacrylate (PMMA) is an acrylic glass made from transparent thermoplastics most commonly known by its trade names Plexiglas, Perspex or Lucite. The product is widely used as an alternative to conventional glass in applications that may compromise consumer safety in case of breakage.
Originally developed in 1928, the product was commercialized by the Rohm and Haas Company in 1933 under the trademark Plexiglas. Ever since then, this shatter-resistant, flame-retardant and lightweight material has increasingly gained popularity in several applications such as lighting, healthcare, automotive & construction.
The product is an economical and sustainable alternative to other plastics such as polycarbonates owing to its extreme strength and lack of harmful chemicals such as bisphenol-A. The product is also being used in the rapidly expanding liquid roofing industry since it has one of the fastest curing times of any liquid applied membranes.
PMMA also has the capability to cure in relatively lesser time and is compatible with almost all substrates. This makes it highly desirable for membrane manufacturers, with dominant companies such as Sika AG (Liquid Plastics) announcing the incorporation of PMMA in its portfolio.
These laminates are generally impregnated onto paper, fiberglass, and carbon among other substrates to derive long-lasting electrical components, laminate boards, speed-bearings and even automotive components.
The product has also exhibited strong growth potential in the automotive industry, as the sector shifts rapidly towards adoption of lightweight components in order to promote fuel savings and contribute to higher engine efficiency, ultimately meeting stringent carbon emission standards.
Raw material methyl methacrylate (MMA) has recently come under the cross-fire owing to its toxic nature, and price volatility. However, the industry is steadily moving towards bio-based materials that conform to sustainability standards and eliminate emissions while even processing PMMA.
PMMA Market: Technological & Application Innovations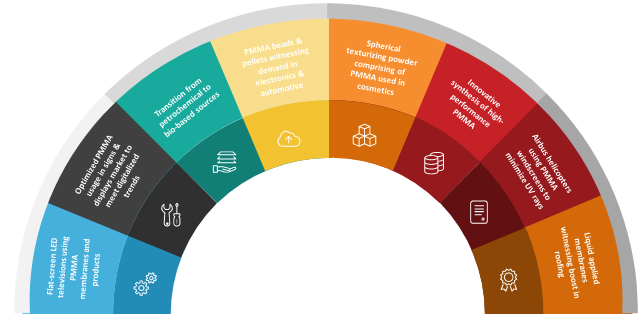 In-depth report on global polymethyl methacrylate (PMMA) market by Grand View Research:
http://www.grandviewresearch.com/industry-analysis/polymethyl-methacrylate-pmma-industry