The polysilicon market is witnessing constant growth across the world owing to its high demand in the fabrication of electronic semiconductors and solar cells. Initially, polysilicon was majorly used in integrated circuits and other application in the electronic industry. With increasing installation of solar projects, the market trend has now reversed.
The fluidized bed reactor (FBR) and Siemens process are two of the major production techniques used in the manufacture of polycrystalline silicon. FBR technology is relatively new and enables the production of polysilicon at low cost.
Polysilicon market share, by region (2015)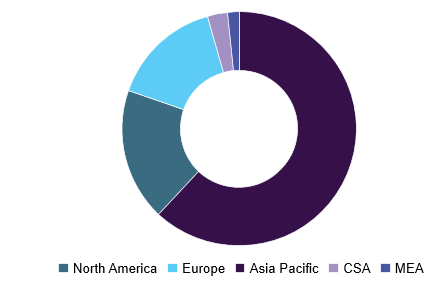 Over the past ten years, a significant number of small-scale producers have entered the global polysilicon market; the result has been dramatic overcapacity, oversupply, and a sharp decline in the market price.
Implementation of favorable government and financial policies have accelerated the demand for solar PV installations. According to the International Renewable Energy Agency (IRENA), solar PV already accounted for approximately 2% of global electricity in 2016. Solar PV is projected to account for 13% of the electricity consumption by 2030.
In 2015, solar photovoltaic accounted for 50% of the total investments in the renewable energy sector. Investments in rooftop solar PV installation was valued at USD 67 billion in 2015. Solar lights and solar home appliances are also used in the electrification of the remote region in Asia and Africa. The growing demand for photovoltaics is anticipated to impact market growth over the coming years positively.
Companies operating in the polysilicon market have encountered several challenges over the recent past, such as oversupply, falling margins, and anti-dumping regulations. With each region safeguarding its manufacturers, the U.S. has initiated anti-dumping law against Chinese companies. Similarly, the Chinese government had increased tariffs on polysilicon imported from the U.S., which resulted in Taiwan being used as a transfer station for polysilicon.
The growing demand for electronics is also projected to impact market growth positively over the coming years. According to the World Semiconductor Trade Statistics (WSTS) organization the integrated circuits (IC) market for the year 2015 was valued at USD 285.8 billion and is projected to reach USD 303.9 million by 2017.
Key players operating in the polysilicon market include Wacker Chemie, GCL-Poly, OIC Chemical, REC Silicon, Tokuyama Corporation, LDK Solar Co. Ltd., Hemlock Semiconductor Group, SunEdison, DAQO New Energy, and TBEA Co. Ltd.

In-depth report on global polysilicon market by Grand View Research:
https://www.grandviewresearch.com/industry-analysis/polysilicon-market-analysis