The demand for polypropylene nonwoven fabric has been growing rapidly in recent times owing to its superior quality as compared to the nonwoven fabric, especially for manufacturing hygiene products. PP (polypropylene) is a key raw material used for manufacturing nonwoven fabric globally.
Spunbonded PP nonwoven fabric is the largest type of PP nonwoven fabric consumed worldwide based on its economics and ease of production when compared with other products.
Hygiene is the most dominant application of PP nonwoven fabrics. However, on account of increasing penetration of PP nonwoven fabric in the durable application market, hygiene is expected to lose market share in terms of volume over the forecast period.
Merger and Acquisition are key trend followed by market participants to minimize the competition and increase market share. Frequent mergers and acquisitions are commonplace in the global market. Leading companies including Polymer Group have been involved in various M&A activities to increase their market share.
Industry Overview
Polypropylene is a basic petrochemical derived via polymerization of propylene. The global market for petrochemicals (including propylene and polypropylene) is highly volatile in nature with certain supply demand imbalances. The global petrochemicals market experiences sudden increase or sudden decrease in its supply-demand as a result of various factors such as political issues, demographic issues, regulatory issues, etc., which in turn makes it a highly volatile industry.
This supply-demand imbalance has led to sudden price surge and drop in the recent times. Major propylene producers such as LyondellBasell, ExxonMobil, and Sinopec, etc. have integrated their operations forward to manufacture polypropylene. Polypropylene has been witnessing significant growth in its demand from major end-use industries
Polypropylene is further processed via various technologies depending on the specific application for which it is being used. Spunbonded PP nonwoven fabrics have been the largest selling products on a global scale, which find major application in manufacturing various product. Companies specializing in such technologies including Kimberly-Clark, Polymer Group, AVGOL among some others manufacture PP nonwoven fabric for disposable and durable applications across various end-use industries.
Kimberly-Clark focuses on forward integration to manufacture feminine disposable products, baby diapers and adult incontinence products from its self-produced PP nonwoven fabric. The global market for PP nonwoven fabric is highly competitive in nature, with recent trends suggesting mergers and acquisitions being a priority for every major company.
Application Outlook
Hygiene is expected to emerge as the largest application segment for PP nonwoven fabrics and is likely to account for over 45% of total market volume in 2015. Escalating demand for baby diapers market mainly in Asia Pacific is expected to remain a key driving factor for the overall market.

Also, growing aging population in U.S., Japan, and Western Europe has prompted the use of incontinence care products which has contributed to the growth of PP nonwoven fabrics in hygiene market, and this trend is expected to continue over the forecast period. However, diverse culture influences the usage of certain feminine disposable products in some countries thus affecting its market growth.
PP nonwoven fabric volume market share by product, 2015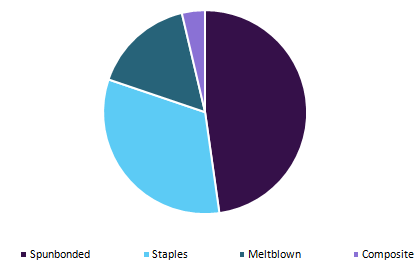 Furniture is expected to be one of the fastest growing application markets for PP nonwoven fabrics over the forecast period. PP nonwoven fabrics are used for manufacturing furniture, bedding construction sheeting, insulators, construction sheeting, etc. Developed markets such as North America, Europe, etc. are mature markets for furniture hence the growth is expected to come from rapidly growing markets in Asia Pacific region.
Future Trends
The growth of the global diapers market is expected to remain a key driving factor for the industry in upcoming years. The diapers market has reached its saturation in the developed regions of Western Europe, North America, and Japan; therefore, these regions are expected to register a slow grow rate over the forecast period. However, growth is expected to originate from emerging economies of Asia Pacific and Latin America which have been witnessing steady demand for diapers owing to growing disposable income level.
Regional markets such as China, India, Brazil, Egypt and Turkey are collectively projected to account for 58% of the global baby diaper and pants volume growth between 2013 and 2018. More than 90% of the forecast diaper and pants volume growth in the next five years is expected to come from emerging and undeveloped market regions.
PP nonwoven fabrics are also majorly used for manufacturing various products such as floor covers, dash insulators, air filter, etc. in the automotive industry. Also, they are widely used for manufacturing seed blankets, crop covers, weed control fabrics, etc. In the agriculture industry. Durable applications are likely to emerge as an attractive market for PP nonwoven fabrics over in years to come, with the growth of such industries mainly in the emerging economies of Asia Pacific, Latin America, Eastern Europe and the Middle East.

In-depth report on global polypropylene (PP) nonwoven fabric market by Grand View Research:
http://www.grandviewresearch.com/industry-analysis/polypropylene-nonwoven-fabric-market