The global printed electronics market size is estimated to reach USD 19.15 billion by 2025, as per a new report by Grand View Research, Inc. The gushing acceptance of the printed electronics technology by various industrial applications, such as screen printing, display, lighting, and other medical & media device segments, is anticipated to spur the market growth. Furthermore, the increasing applications of the technology, owing to the increasing demand for conductive inks, is consequently instigating the overall growth.
The printed electronics technology can be segregated based on materials, technologies, and devices involved. The materials segment can be further segmented into inks and substrates. Conductive inks are the most integral component of the technology and the segment constitute for the major share in 2015. It is expected to maintain the dominance over the estimated period due to the inflating printed electronics market.
Furthermore, the technology segment that implements printed electronics is categorized into inkjet, screen, gravure, and flexographic technologies whereas the device segment is categorized into display, photovoltaic, lighting, RFID, and others. The inkjet technology is projected to flourish significantly over the forecast period, acquiring a share of over 20% by 2025.
The screen printing technology accounted for the largest share as compared to other technology segments in 2015. Screen printing and display devices currently dominate the revenue and are expected to maintain their dominance in the respective segments over the forecast period, growing at a steady rate.
Printed electronics market by technology, 2015 (USD Million)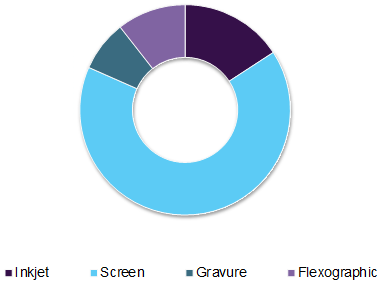 Screen printing, being one of the oldest and easiest techniques in industrial applications, holds an established market across the globe. Inkjet printing indulges the non-contact type process of printing electronic circuits by producing droplets of ink with diameters of around 10 to 150 micrometers. It allows the deposition of a wide range of materials on a variety of substrates while consuming lesser materials, providing low losses, and consuming lesser space; all this at an effectively lower cost.
Key industry players such as BASF SE, Molex, Inc., DuPont, and PARC, a Xerox company in the North American and European regions have been investing extensively in the R&D of conductive inks as well as related technologies, leading to the strong demand for these printing practices across the globe.
The key industry trends include the growing adoption of technology in consumer electronic applications carried out majorly in Asia Pacific countries and the demand arising from these nations along with emerging sectors such as the packaging industry. The major R&D initiatives are undertaken in North America and Europe and supplied to Asia Pacific wherein the technology adoption is high due to the flourished electronic manufacturing hub.

In-depth report on global printed electronics market by Grand View Research:
http://www.grandviewresearch.com/industry-analysis/printed-electronics-market