There are some basic body requirements about nutrition that are not fulfilled by the staple meal. Dietary supplements are used to offset these deficiencies. Dietary supplements are an effective and safe alternative in fulfilling the nutritional requirements required for a healthy body.
Probiotics dietary supplements market is fast growing. Probiotic is a term allotted to living organisms which when consumed in adequate amounts render health effects on the host. They are safe and have no side effects. These probiotic cultures are used in manufacturing probiotics dietary supplements which are proving effective in treating or preventing a wide range of diseases.
The probiotics dietary supplements market is characterized by various needs and wants of consumers. Sensing these needs, companies have also broadened their product portfolio. There are diverse products to serve diverse needs. Digestive issues, neurological illness or mental health related cases, there are product offerings to suit consumer specific requirements.
Moreover, probiotics do not kill the beneficial bacteria in the body, as is the case with antibiotics. The decrease in beneficial bacteria in the body may lead to various infections and diseases such as intestine problems and reduced gut health. Probiotics are healthy gut bacteria that help body functions. Rising awareness about probiotics usage is expected to drive the probiotics dietary supplements market over the forecast period.
Probiotics dietary supplements market application revenue, 2015 (USD Million)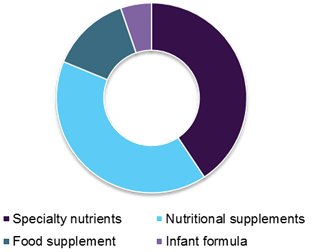 Preventive healthcare is a rising trend across the globe. Consumers are more inclined to prevent a disease or health disorder from occurring. Probiotics dietary supplements help such consumers in this regard. The supplements are packed with sufficient level of probiotics bacteria essential for maintaining proper body functions. The global rise in preference for preventive healthcare and contribution of probiotics dietary supplements towards the same is expected to favor market growth over the forecast period.
Companies are implementing aggressive and innovative strategies to gain market share. Third party services are offered by companies to aid in various stages of product development such as formulation, application, and regulatory support. Efficient custom manufacturing service with full confidentiality is provided by these third party companies to clients looking for proprietary product development.
The recent advancements in R&D have led to the development of more effective probiotic strains. These strains can be used in combination with other strains for effective results. Also, advancements in encapsulation process for capsules, tablets, and sticks is also favoring market growth. Probiotics dietary supplements having greater stability, high efficacy and versatile applications have been developed. Such innovations and advancements are expected to fuel market growth over the forecast period.

In-depth report on global probiotics dietary supplements market by Grand View Research:
http://www.grandviewresearch.com/industry-analysis/probiotics-dietary-supplements-market