Probiotics ingredients are recommended for individuals with digestive distress, high blood glucose level and various other illnesses. Probiotics ingredients consist of beneficial microorganisms which help in maintaining the balance between good and bad bacteria in human beings and animals. These ingredients have numerous benefits including, immune system strengthening, and reduction in gastrointestinal discomfort.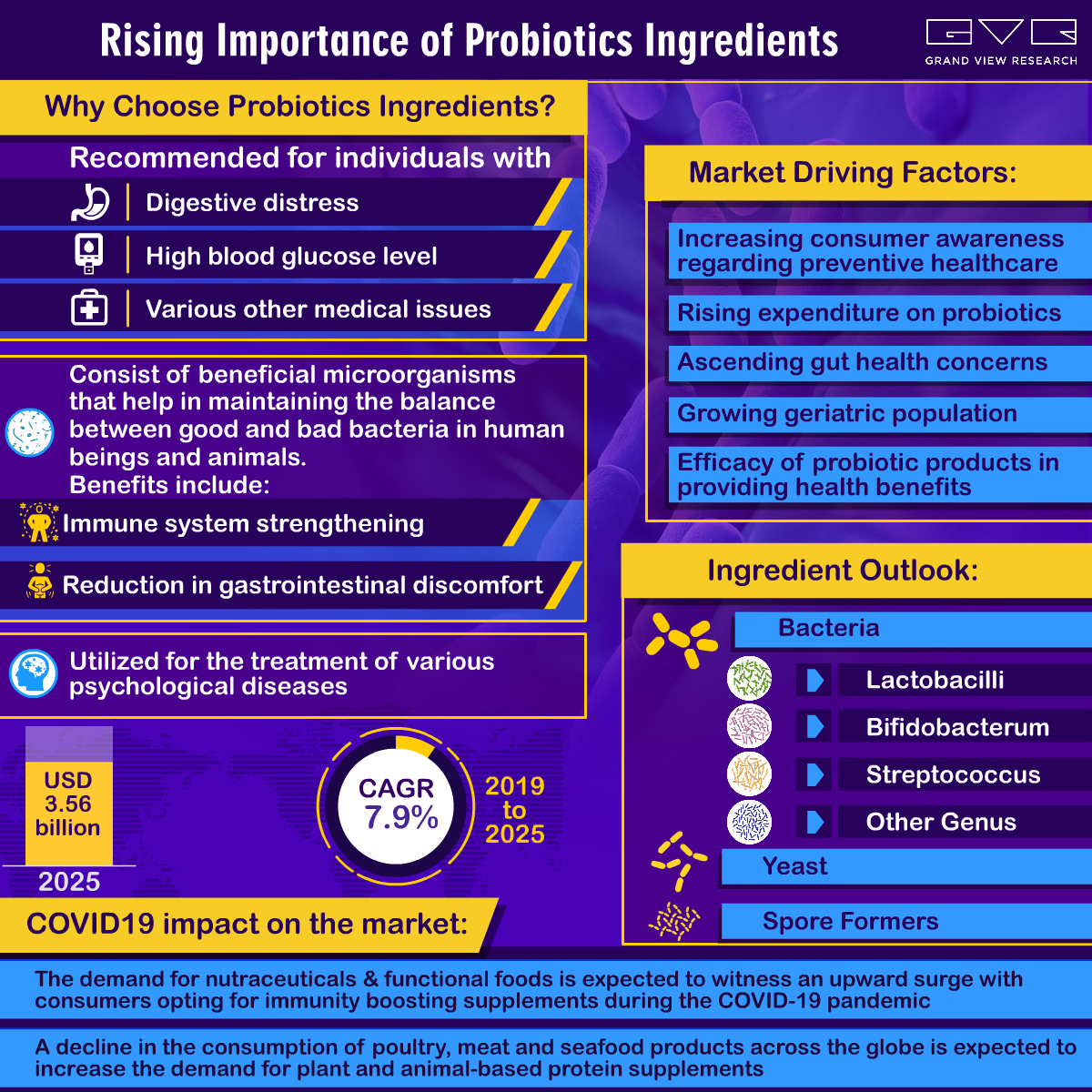 Probiotics ingredients are also utilized for the treatment of various psychological diseases including, obsessive-compulsive disorder, anxiety, autism spectrum disorder, memory improvement and depression. Although probiotics are considered to be extremely beneficial, the bacteria in probiotics may react differently with different human bodies and might cause harm in some cases.
Major technological shifts in the manufacturing processes and the use of advanced machinery are anticipated to positively affect the growth of probiotics ingredients market over the forecast period.
A wide range of applications, results in probiotics ingredients being exposed to a host of regulations. Agencies such as Environmental Protection Agency (EPA), Food and Drug Administration (FDA), and Council of Europe (CoE), have issued several directives and regulations governing the entire length of the value chain. Agencies such as FDA, and CoE govern these ingredients used for food contact and medical applications. These agencies govern the ingredients, such as additives that are used for processing the final products.
Global probiotics ingredients market, by region, 2015, (USD Million)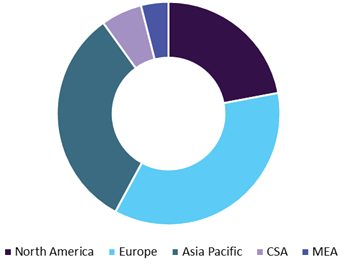 Increasing age in humans leads to failure of many body parts. The susceptibility of contracting various diseases increases with increased age. Also the immune system of the body starts underperforming at higher age. High blood glucose is also prominent among people with a higher age and less prominent among youngsters.
Growing health concerns and an uptrend in health issues such as obesity, diabetes and digestive disorders have prompted consumers to opt for such probiotics ingredients solutions. Rising health consciousness coupled with probiotics ingredients promoting activities is expected to drive the overall market over the forecast period. Human beings in the age group of 40 to 70, consume probiotics ingredients in their daily life to prevent themselves from any serious illness.
Asia Pacific is slated to witness the significant demand ahead of developed regions such as North America and Europe. China is projected to lead the regional market in terms of probiotics ingredients demand. R&D initiatives to develop efficient probiotics ingredients offer high opportunities for the industry participants, both existing as well as new entrants. These R&D initiatives include, developing probiotics ingredients which is rich in fibers, and which consists of beneficial bacteria (bifidobacteria and lactic acid bacteria), low glycemic index, and low calories.

In-depth report on global probiotic ingredients market by Grand View Research:
https://www.grandviewresearch.com/industry-analysis/probiotic-ingredients-market