Respiratory diseases have become one of the most severe causes of mortality among the general population, and their early detection and treatment is the key to contain them. How important is the role of technology for diagnosing of these ailments?
Have you ever caught a running bus or train, and felt completely out of breath? In such situations, our breathing mechanism adapts to match the pressure on the lungs and heart in a natural way. Even in this scenario, your lungs have a breathing reserve, which ensures that you never run out of air. However, not everybody is as lucky, and some people do have such shortness of breath (called dyspnea), which is a characteristic of respiratory disease.
Respiratory disease includes all ailments related to upper respiratory tract that plays an important role in exchange of gases. A range of infectious diseases such as pneumonia, Tuberculosis (TB), asthma, pulmonary embolism, lung cancer, etc. can be considered as respiratory diseases. The major culprits behind such diseases are infection, tobacco-smoking, and air pollution. Additional factors include second-hand inhaling of tobacco smoke, radon or asbestos. Production of hazardous gases & lung irritants due to rapid industrialization resulting in growing air pollution is contributing to rising prevalence of respiratory diseases. This is where respiratory disease testing ensures that the afflicted population is well taken care of.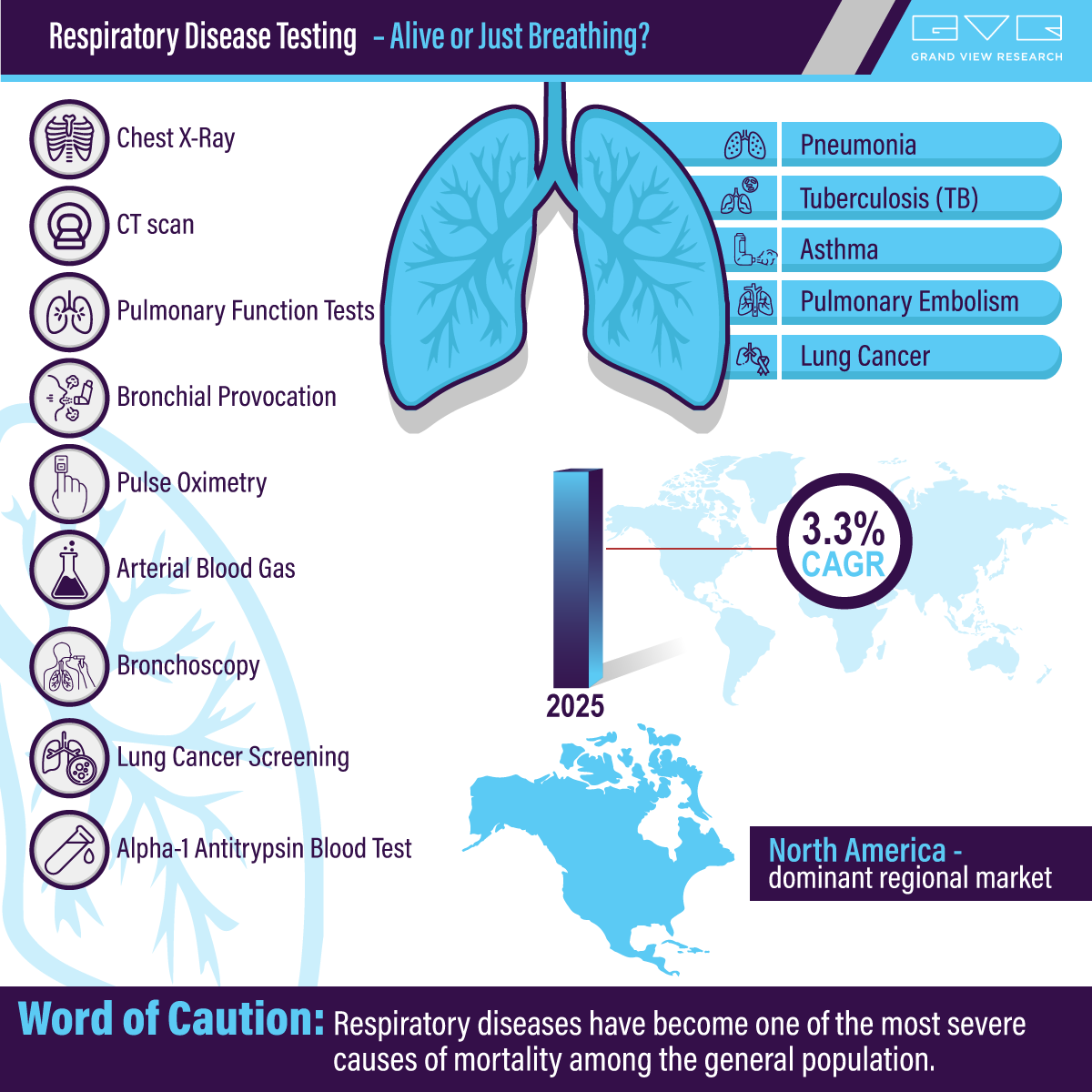 Alive or Just Breathing?
As per World Health Organization (WHO), Chronic Obstructive Pulmonary Disorders (COPD) is a progressive life-threatening lung disease that causes emphysema, chronic bronchitis, refractory (nonreversible) asthma, and breathlessness. It was estimated by the WHO that about 3 million deaths were caused by COPD and related diseases in 2015. Also, currently, there are around 300 million cases of COPD around the globe. In addition, around 8.7 million people develop TB across the globe and 50 million struggle with occupational lung diseases annually. The effects of respiratory diseases are being borne by the developing and emerging economies, as urbanization and industrialization have impacted Middle-East and Southeast Asia.
According to a global survey by WHO in 2016, 91% of the population lived in places that did not meet the air quality guidelines of WHO. Also, majority of the premature deaths expected due to outdoor pollution in 2016 occurred in low- and middle-income countries. That is why, early respiratory disease testing is important for on-time treatment to prevent further complications, which necessitates the need for respiratory disease testing procedures.
Before understanding respiratory disease diagnostics, it is important to have an idea about the types of respiratory issues that affect the global population. The conditions may be chronic or infectious; infectious respiratory diseases are mostly temporary, although over a course of time, they may become chronic. Diseases in this bracket include pneumonia and tuberculosis, which have become very common occurrences. Chronic respiratory diseases, on the other hand, fall into obstructive and restrictive types. Diseases such as COPD, asthma, Alpha-1 antitrypsin deficiency, bronchiectasis, and cystic fibrosis form part of obstructive conditions, while pulmonary fibrosis, sarcoidosis and lung cancer are a part of restrictive conditions.
Technology The Savior
Fortunately, rapid technological advances have been made in the field of respiratory disease diagnostics, and today, the market includes imaging tests, respiratory measurement devices, blood gas tests, and other respiratory tests. Imaging tests such as x-rays, computational tomography scans, etc., are used to detect damage to the lungs caused by emphysema, chronic bronchitis, and non-reversible asthma. Respiratory measurement devices include pulse oximeter, capnographs, ventilators, and peak flow meters, which are used for measuring lung volume and detecting problems associated with lung functioning.
Some of the most common and well-known respiratory disease testing procedures in medical institutions are:
Chest X-Ray - Useful to observe lung conditions like COPD, lung cancer and cystic fibrosis.

CT scan - Helps in identifying fibrosis pattern in lungs.

Pulmonary function tests - Ways to measure one's lung volume and capacity, along with gas exchange and airflow rates. Can be done in two ways - Spirometry and plethysmography.

Bronchial provocation - This involves the use of specialized PFTs that make of the methacholine drug, which measures actual lung condition and avoids superficial analysis.

Pulse oximetry - This test involves the use of a device called Pulse Oximeter which shines a pulsating light through the patient's fingers to measure blood oxygen levels (normal reading - 90% or above).

Arterial Blood Gas - Has a higher accuracy than pulse oximetry test for determining oxygen and CO2, using an arterial blood sample.

Bronchoscopy - Uses a bronchoscope to determine lung disorders

Lung cancer screening - Includes heavy smokers or even former heavy smokers, aged 55 and above.

Alpha-1 antitrypsin blood test - Decreased ATT level in blood is an indicator of alpha-1 antitrypsin deficiency.
Factors Affecting The Market
The respiratory disease testing market has seen great progress in recent years, owing to a number of factors such as:
There has been a global increase in air pollution, with industrialization and urbanization in emerging economies coinciding with a spurt in the number of respiratory diseases in such regions.

Release of hazardous gases into the atmosphere have only contributed to the cases of COPD and other respiratory diseases around the globe, again an important factor aiding respiratory disease diagnostics market growth.

Imaging technologies such as computed tomography (CT) have been widely adopted in diagnosis of COPD. Also, technologically advanced devices such as pulse oximeters have been very effective for COPD management, and have rapidly gained recognition.

Shift towards non-invasive mechanical COPD ventilation is anticipated to propel market growth.

Companies involved in developing these products undergo extensive R&D process in order to capture larger consumer base, which again helps the respiratory disease testing market to a great extent.
Hospitals are the largest consumers of respiratory disease testing products, as the hospital infrastructure is well supportive of diagnostic equipment installation & maintenance and provides quick real-time imaging in case of emergencies. Furthermore, physicians prefer in-house respiratory disease diagnostics of patients rather than referring them to third party laboratories.
Industrial Developments
The major players competing in the respiratory disease testing market include, but are not limited to, Becton Dickinson (Carefusion Corporation); Koninklijke Philips N.V.(Respironics); ResMed Company; Fischer & Paykel; Medtronic; MGC Diagnostics Corporation and Subsidiaries; and CAREstream Medical Ltd. These players hold major position in the market as they own wide product portfolios.
Major developments that the respiratory disease diagnostics industry has seen in the past few months include:
In October 2019, ResMed introduced the AirFit N30, the first global tube-down nasal cradle CPAP mask with a front-facing tube, for the treatment of sleep apnea. The mask, which features an adjustable elastic headgear as well as a nasal cradle cushion, was introduced first in the United States, with other countries expected to follow suite.

In July 2019, ResMed in partnership with the American Thoracic Society Foundation, awarded USD 100,000 to an Australian researcher, David Geoffrey Chapman, in order to identify how non-invasive ventilation can be of use in improving sleep patterns in people with COPD and obstructive sleep apnea (OSA) overlap syndrome.

In March 2019, ResMed acquired HB Healthcare, a South Korean home medical equipment provider, with a view to reach out to the millions of citizens in the country suffering from COPD, sleep apnea and other respiratory conditions.

Resmetrix Medical, a brainchild of Medtronic, IBM, Pitango and Rambam Health Care Campus, has launched a wearable health device in Israel that can help minimize the amount of rehospitalizations required for COPD along with other respiratory diseases such as asthma.

In-depth report on global respiratory disease testing market by Grand View Research:
https://www.grandviewresearch.com/industry-analysis/respiratory-disease-testing-market