Silicone elastomers are rubber materials, found in various formations due to its ease of manufacturing and shaping. They possess good chemical stability, are biocompatible, and non- reactive to environmental temperature changes. These properties allow them to be used in various applications including electrical & electronics, construction, textiles, food storage products, automotive & transportation, medical & healthcare, consumer goods, and industrial sectors. Silicone elastomers help to enhance the functionality and quality of its products.
A wide range of applications, results in silicone elastomers being exposed to a host of regulations. Regulations cover the entire silicone elastomers life cycle ranging from production to disposal. Application regulations ranges from environmental regulations to food regulations. Agencies such as Environmental Protection Agency (EPA), Food and Drug Administration (FDA), Council of Europe (CoE), and German Institute for Consumer Health Protection & Veterinary Medicine (BgVV) have issued several directives and regulations governing the entire length of the value chain.
Agencies such as FDA, BgVV, and CoE govern the silicone elastomers used for food contact applications. These agencies govern the elastomers ingredients, such as additives that are used for processing the elastomers. FDA regulations have a list of sanctioned materials such as methyl & vinyl groups, methyl & fluorine groups and phenyl, methyl & vinyl groups that can be used as additives for elastomers used for food applications.
Silicone elastomers applications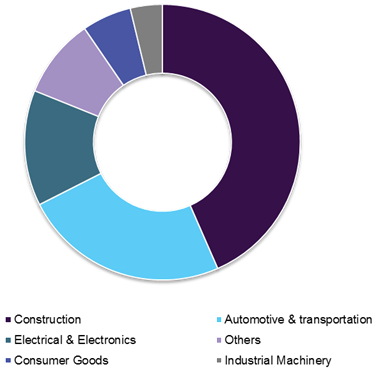 Increasing application areas of silicone elastomers in medical sector is expected to boost the market. Developments by Dow Corning in offering solutions for ache management, adhesive & film removal, and skin barrier applications is projected to propel the industry over the coming years.
Asia Pacific is slated to witness the significant demand ahead of developed regions such as North America and Europe. China is projected to lead the regional market in terms of silicone demand. R&D initiatives to develop superior silicone elastomers offer high opportunities for the industry participants, both existing as well as new entrants.

In-depth report on global silicone elastomers market by Grand View Research:
http://www.grandviewresearch.com/industry-analysis/silicone-elastomers-market