Small wind turbines for residential, commercial and industrial scale use are widely available for installation in the market today. The blades of these turbines usually have a dimension between 5 feet and 11 feet in length and can generate 1 to 10kW of electricity when wind speeds are optimal. Some systems are extremely light weight, with specialised materials used to keep the load at a minimum. For instance, turbines weighing 35 lbs allow greater sensitivity and enhanced manoeuvrability to wind direction and prove to be more effective to fluctuations in wind speeds. Some of these turbines claim to produce almost no noise, making them more appealing for installation in densely populated, urban areas.
Many small wind turbines installed globally are conventional horizontal axis, although vertically mounted turbines are gaining popularity in the market due to their efficient design. Vertical axis turbines manufacturers including Urban Green Energy, WePower, Windspire Energy, and Helix Wind, have witnessed a steady increase in sales over the past few years.
Generators are an important component of small wind turbines and are usually three-phase alternating current, with most being induction type. Direct current output generators are available for battery charging, along with single phase generators for smaller grid connected turbines. Small wind turbines can also be programmed to accommodate low wind speed, although small wind turbines usually need a minimum 13 ft/s of wind speed.
Global small wind market value (USD Million), by region, 2016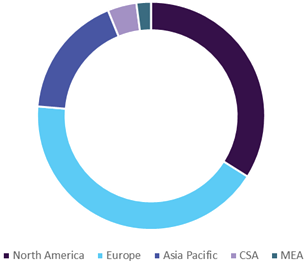 Increasing demand for small wind turbines owing to numerous environmental benefits coupled with the economic reimbursements is predicted to provide an impetus to the industry over the forecast period. The need to adopt renewable energy is on the rise owing to a pressing need to control the carbon footprint which demands convenient electricity generation option. However, solar energy is widely considered to give stiff competition to wind energy, as it offers better efficiency with competitively priced energy systems.
Shanghai Ghrepower Green Energy, Northern Power Systems, Xzeres Wind Corporation and Arborwind General Mills, are players with substantial presence in the small wind market. These companies are engaged in the production and assembly of various components of the small wind industry with product differentiation strategies to maintain the market share over the forecast period.

In-depth report on global small wind market by Grand View Research:
https://www.grandviewresearch.com/industry-analysis/small-wind-market