The sports medicine market is inclusive of numerous medical equipment that are routinely utilized to address mild to severe injuries caused due to sports and other physical activity. Chronic diseases and lifestyle-related habits contribute to approximately 75.0% of the health costs. The sports medicine market is expected to grow rapidly in the next few years due to continued lifestyle changes in an attempt to combat the prevalence of smoking, increasing western diet, lack of physical activity, and alcohol consumption that is expected to exponentially increase the chances of premature death if not paid attention on and rectified.
According to a paper published in the Australian Journal of Science and Medicine in Sport published in 2013, team athletic poses a higher risk of injury in comparison to individual sport. The ratio between the two can be calculated to be 3:1.5. It also stated that the level of trauma was higher in case of team games, thereby requiring medical assistance. For instance, ice hockey, a team sport majorly causes head, neck and shoulder injuries in about 34 cases out of 100 times.
Furthermore, these injuries would be inconsequential if the number of individuals opting for sports were limited. However, since the last decade, rising interest of people to opt for sports as a career is anticipated to promote market growth.
Perks associated with the career are expected to drive the youth towards higher adoption of sports. A few perks promoting adoption are:
- High remuneration
- Celebrity status and fame such as being immortalized through movies
- Presence of other sources of income such as endorsements
- Living healthy lifestyle and having access to best medical care
Global sports medicine market, by region, 2016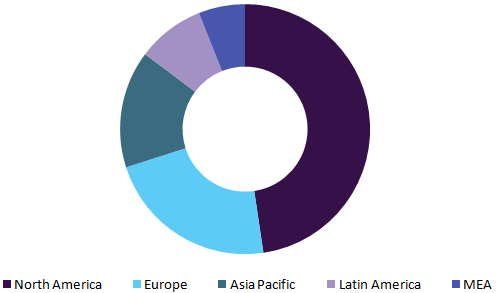 Based on product, the industry is segmented into
- body reconstruction and repair,
- body support and recovery,
- body performance monitoring and evaluation devices
- accessories.
Body reconstruction and repair devices form the largest segment owing to their routine application in healthcare settings. These include devices such as implants of the anatomical part that has been damaged such as knee, shoulder, foot, hip and others. Other products include; interference screws, clamps, fasteners, connecting bars, hinges, sockets, caps, and design frames. Broadly these have been classified and analyzed as surgical equipment devices, soft tissue repair devices, and bone reconstruction devices.
The other parameter on the basis of which the market is segmented includes application i.e. the site at which these devices will be used. These include:
- Knees
- Shoulders
- Ankle & foot
- Back & spine
- Elbow & wrist
- Hips
- Other
Most common shoulder injuries include dislocation, impingement syndrome, acromioclavicular joint injuries, rotator cuff tears, bicep injuries, Superior Labral Anteroposterior (SLAP) injuries, labral tears, rugby shoulder, swimmers shoulder, frozen shoulder, arthritis in shoulder, and fractures. Dislocation, rotator cuff tears, and frozen shoulder are frequently occurring athletic injuries. Similarly, most common ankle and foot injuries occurring in individuals comprise of:
- tendon & muscle strain,
- ligament sprain,
- tendinosis
- fractures
The incidence of such injuries is on the rise and hence is anticipated to support the sports medicine industry over the forecast period.

In-depth report on global sports medicine market by Grand View Research:
https://www.grandviewresearch.com/industry-analysis/sports-medicine-industry