Even athletes aren't superhuman, as many of us believed in our childhood. What helps them get back from injury faster is the availability of sophisticated and advanced sports medicines….
You might have heard sportspersons saying, "I would not miss this match for my life!" Well, what would happen if this match is just a couple of weeks or a month away, and this sportsperson gets injured? Straight to the doctor's table he goes, where the whole fitness team tries to get him/her ready for the game. Today, the expansion in research and technology fields is so rapid that medicines are witnessing a revolutionary development each day, and more so in the field of games and sports. Popular global sports such as soccer, football, basketball and cricket, all carry high risk of injuries to players from time to time, and the present-day medicines aim to help them recover and recuperate in the shortest possible time.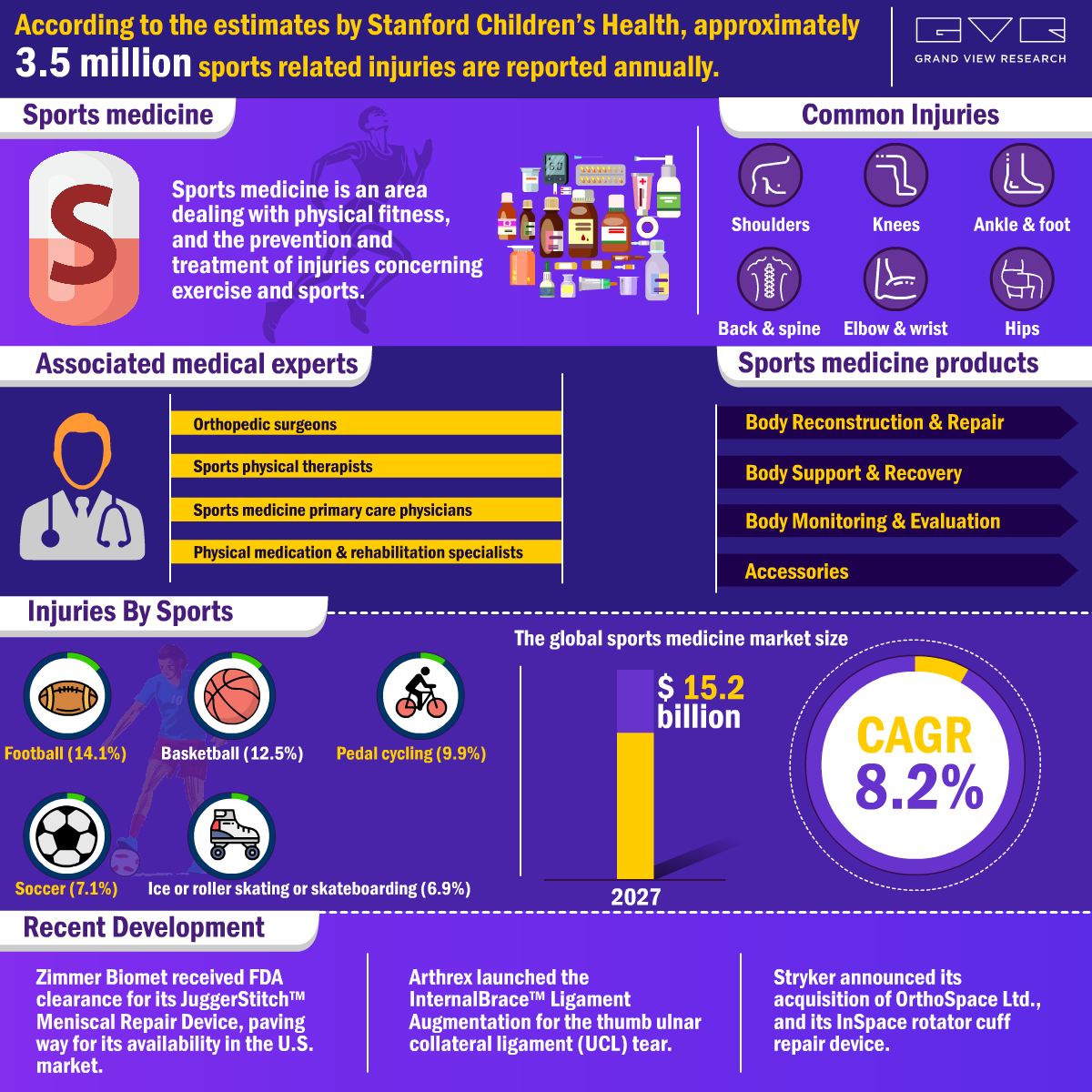 Sports medicine is an area dealing with physical fitness, and the prevention and treatment of injuries concerning exercise and sports. Team sports have seen the emergence of various types of medical experts working with the management to handle multiple injuries. This may comprise of orthopedic surgeons, sports physical therapists, sports medicine primary care physicians, and physical medication and rehabilitation specialists.
With sporting events becoming a year-round phenomenon, there is massive pressure on athletes to keep performing day-in and day-out. Contact sports such as soccer, football and basketball all require athletes and sportspersons to perform at their peak, while the physicality exponentially increases the risk of them being at the receiving end of a serious injury. These factors are justifying the growth of the sports medicine market.
Some Stats To Understand The Need For The Sports Medicine Market…
According to the National Health Statistics Reports that gathered data for the period 2010-2016 in the United States, the emergency departments across the country witnessed 2.7 million visits by young people between the ages of 5-24, on account of sports injuries. The most frequent causes of these injuries were football (14.1%), basketball (12.5%), pedal cycling (9.9%), soccer (7.1%) and ice or roller skating or skateboarding (6.9%). Of these, 3 sports activities are team and contact-based (football, basketball and soccer).
According to a paper published in the Australian Journal of Science and Medicine in Sport published back in 2013, team athletics poses a higher risk of injury in comparison to individual sport. The ratio between the two was calculated to be 3:1.5. It also stated that the level of trauma was higher in case of team games, thereby requiring medical assistance. For instance, ice hockey, a team sport majorly causes head, neck and shoulder injuries in about 34 cases out of 100 times. This again underlines the importance of the sports medicine industry.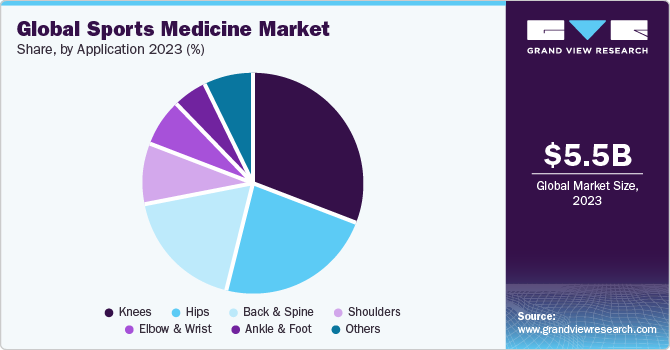 Kids And Teenagers Vying To Become The Next Big Thing In Sports
The participation of children is high in sports activities, on account of them trying to emulate their sporting idols. Michael Jordan, Cristiano Ronaldo, Roger Federer and Lionel Messi are some of the world-known athletes driving kids and youth towards adopting team or individual sports. Another major factor for the high adoption rate among kids and teenagers are the associated perks, such as:
High remuneration

Celebrity status and fame such as being immortalized through movies

Presence of other sources of income such as endorsements

Living healthy lifestyle and having access to best medical care
All these factors have led to the expansion of the sports medicine market, as the safety of kids becomes paramount. The market is inclusive of numerous medical equipment that are routinely utilized to address mild to severe injuries caused due to sports and other physical activity. The industry is expected to grow rapidly in the next few years owing to adoption of healthy lifestyle among the middle-aged and young population, wherein the adoption of workout sessions and sporting activities exposes them to the risk of sustaining injuries.
Which Products Are Used By Athletes?
Body reconstruction and repair devices formed the largest segment among sports medicine products in 2019, owing to their routine application in healthcare settings. These include devices such as implants of the anatomical part that has been damaged such as knee, shoulder, foot, hip and others. Other products include interference screws, clamps, fasteners, connecting bars, hinges, sockets, caps, and design frames. Broadly these have been classified and analyzed as surgical equipment devices, soft tissue repair devices, and bone reconstruction devices.
For the treatment of injuries, various sports medicine products have been developed over the past many years, which are broadly classified into:
Body reconstruction and repair - Involves the treatment for damaged muscles, joints and tissues. Orthopedic surgery is performed on the musculoskeletal system. This sports medicine product segment surgical equipment, soft tissue repair devices and bone reconstruction devices.

Body support and recovery - The products here help in properly supporting the structure of the affected portion, thus helping in its rapid recovery. Subsegments include braces and supporting devices, which are for commonly affected areas such as knee, ankles and wrists; compression clothing, which has been shown to improve both performance and recovery, as well as reduction in muscle inflammation and damage post-exercise; and hot and cold therapy, where the former helps in chronic injuries such as muscle strains, while the latter helps in reducing inflammation.

Body monitoring and evaluation - These sports medicine products help to keep track of the improvements in the condition regarding the area of concern, such as cardiac functions, as well as respiratory, hemodynamic and musculoskeletal conditions.

Accessories - Includes products required for topical application such as bandages and tapes, disinfectants and wraps.
Sports Medicines Help To Combat Injuries In Common And Key Areas…
The other parameter on the basis of which the sports medicine market is segmented includes application i.e. the site at which these devices will be used. These include:
Shoulders - SLAP tear affects the cartilage ring that surrounds one's shoulder socket, and is caused by repetitive overhead motions such as throwing baseball, playing tennis, or swimming. Shoulder instability occurs due to the lack of support for shoulder joints from ligaments, tendon and muscles. This results in the top part of the upper arm bone dislocating or subluxating. Another well-known injury is the rotator cuff injury, which leads to a weakened shoulder with reduced motion range.

Knees - Injuries are caused either due to overuse, or due to impact or collision (acute injuries). Overuse injuries include patellofemoral pain syndrome, tendonitis or patellar tendinitis; while acute injuries include sprains and strains, and in serious cases, fractures or torn ligaments. This was the most dominant application segment regarding the sports medicine market in 2019.

Ankle & foot - Some of the most well-known injuries are caused at the site of the foot and ankle, such as Achilles Tendinitis, which affects the Achilles tendon (the largest tendon in the body). Often occurs due to overuse and degeneration. Other known injuries include plantar fasciitis, stress fractures, ankle sprain, neuroma and heel spur.

Back & spine - This application segment for sports medicine products include muscle strains and ligament sprains. Other injuries include spondylolysis and spondylolisthesis, as well as 'stinger', a nerve injury that occurs about the shoulder or neck.

Elbow & wrist - With regards to elbow, the most common injuries include ligament injury and osteochondritis dissecans (OCD) capitellum. Wrist injuries include distal radius fracture, scaphoid fracture, tendonitis tendon instability and ligament injury.

Hips - Most common hip injuries in athletes include muscle strains, hip bursitis, stress fracture, hip labral tear, sports hernias, snapping hip syndrome and hip arthritis.
Some Recent Developments
Some of the major players in the sports medicine market include Arthrex, Inc., Smith and Nephew, Stryker, Zimmer Biomet, Wright Group N.V., and DJO Global. Recent developments from these leading companies include:
In September 2019, Zimmer Biomet received FDA clearance for its JuggerStitch™ Meniscal Repair Device, paving way for its availability in the U.S. market. The device offers less-invasive, all-suture, knotless approach to meniscal repair procedures.

In September 2019, Arthrex launched the InternalBrace™ Ligament Augmentation for the thumb ulnar collateral ligament (UCL) tear, which is a common injury in baseball, hockey and basketball. The product offers additional strength during surgery, as well as during the healing period.

In March 2019, Stryker announced its acquisition of OrthoSpace Ltd., and its InSpace rotator cuff repair device. The device is a biodegradable sub-acromial spacer that has been designed to realign the shoulder's natural biomechanics.

In-depth report on global sports medicine market by Grand View Research:
https://www.grandviewresearch.com/industry-analysis/sports-medicine-industry