Structural steel is the most commonly used metal in the construction industry, generally added to improvise the quality of steel. It is an inherently non-combustible material and possesses excellent durability, toughness, weldability strength and ductility.
Structural steel has a wide application scope in commercial and industrial construction projects since it offers prefabrication and erection of components, shorter processing time, ease of cladding/fixing and close dimensional tolerances.
Growing construction spending in emerging economies, along with pre-engineered buildings (PEB) demand particularly in Asia Pacific are contributing significantly to market growth. India is one of the fastest emerging economies in the production of steel owing to substantial number of economic reforms and implementation of merger & acquisition deals by companies.
The high economic growth rate in these regions have given governments' significant capital to invest in public infrastructures such as bridges, hospitals, offices, and housing societies. The emergence of private sector firms in India, Mexico, and the UAE is also boosting the demand. private sector firms in India, Mexico and the UAE is also boosting the demand.
Steady recovery of construction industry post-recession period in developed markets
The construction industry in developed economies of North America and Europe slumped during the economic recession of 2008-09. However, the industry recovered at a modest pace in major countries such as the U.S. and Germany and positively influenced structural steel market growth.
Despite a lagging recovery, the construction industry managed to withstand systemic shocks to and build off of positive momentum in certain sectors during late 2012 into 2013. The resurgence of the U.S. housing market helped to fuel building projects into positive territory, while opportunistic plays in sectors such as healthcare are also expected to establish a future growth platform.
Global construction industry revenue estimates, 2012 - 2016 (USD Billion)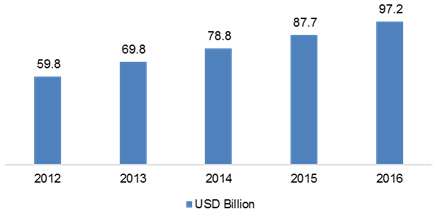 Structural steel has gained substantial popularity over the past few years in numerous non-residential applications including healthcare facilities, data centers, big box retail stores, stadiums, airports and other manufacturing facilities.
Top 10 producers of crude steel, 2009 - 2014 (million tons)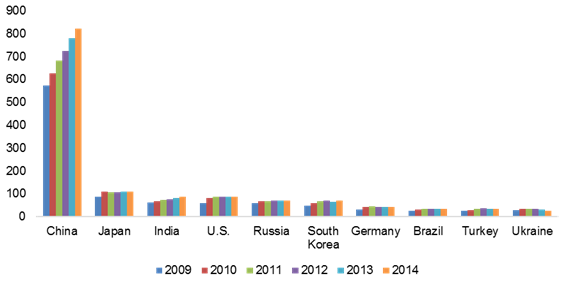 The immense strength provided by structural steel is beneficial not only for structural integrity but also for subsiding potential impact of repairs. It is also ideal for building large bridges due to its high level of durability and excellent strength-to-weight ratio which withstands the weight of cars and pedestrians.
Structural steel has also been considered as the premier green building material for office infrastructures and maintains its environmentally friendly position among other construction materials. Smaller office buildings designed with a high proportion of inherent renewable energy technologies and natural ventilation are further boosting the market growth.

In-depth report on global structural steel market by Grand View Research:
http://www.grandviewresearch.com/industry-analysis/structural-steel-market