Utilizing local agents to achieve hemostasis represents traditional methods of surgery. However, the development of new materials in chemical hemostasis with new chemical properties, mechanisms of action, and applications has replaced traditional surgical procedures. Sealants such as chitosan, cyanoacrylates, dextran, fibrin, gelatin, polyethylene glycol, and polyurethanes are the most commonly used ones. These sealants repair injured tissues, support surgical lesions, and have replaced common suturing techniques over the years.
In general surgery, adhesives are expected to match several clinical and biological requirements. Natural or synthetic polymeric materials generate a three-dimensional network and act as effective sealants, or adhesives, that bind physically or chemically to the target tissue. Various aspects regarding their adhesion mechanisms, mechanical performance, and resistance to body fluids are taken into account to choose the most suitable formulation for the target application.
Global surgical sealants and adhesives market, by region, 2015 (USD Million)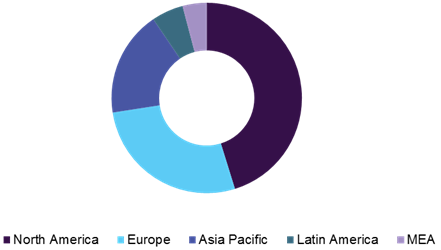 Fibrin sealants and collagen products are the major classes of surgical sealants and adhesives, although fibrin sealant was the earliest hemostatic agent to be used in clinical practice. However, slow development in technology and preliminary obstacles to FDA agreement and subsequent limited accessibility have led to a rarity of prospective clinical research with fibrin sealants. However, fibrin sealants have better biocompatibility, biodegradation, and hemostasis as compared to cyanoacrylates and other synthetic agents. Fibrin sealants accounted for the largest market share in the year 2015 owing to their distinct advantages over other adhesive technologies. Fibrin sealants hold great developmental potential for further applications.
Fibrin sealants find their effectiveness in various surgical procedures such as thoracic, cardiovascular, orthopedic, neuro, and reconstructive surgery. In addition, fibrin is the only product that has obtained FDA approval under all the three segments–hemostats, sealants, and adhesives. On the other hand, collagen-based compounds are growing at a steady rate owing to their unique mechanism and opportunity for novel applications of existing products. Collagen-based compounds exhibit faster initiation of hemostasis by promoting platelet adhesion to the site of injury and faster resorption, as a result of which it is considered superior to other agents.
Other sealants and adhesives, such as gelatin and cyanoacrylates, have evolved to a wide variety of formats lately. Gelatin-based hemostatic agents are extensively used in modern operating rooms and their high absorption rate is the most advantageous factor. Liquid cyanoacrylate consists of cyanoacrylate monomers, which grants it the property of instantaneous bonding. This property makes cyanoacrylates an effective hemostatic agent and tissue adhesive. Surgical sealants and adhesives are expected to evolve due to major opportunity for innovation. Surgical sealants are expected to witness significant technological advancements in the coming years and replace traditional surgical-site sutures in the process.

In-depth report on global surgical sealants and adhesives market by Grand View Research:
http://www.grandviewresearch.com/industry-analysis/surgical-sealants-adhesives-market