In the past, patients made their way to healthcare facilities, near or far, for face-to-face interactions with medical professionals. They would also engage in the same to get their diagnostic test results and medical prescriptions. But of late, these have become a passe. Modern technology has facilitated the virtual delivery of healthcare through 'telehealth.'
So What Exactly Is Telehealth?
In a layman's term, telehealth is 'healing at a distance.' The term includes various ways in which health, education, & medical services are offered virtually. An instance is the inauguration of a 'bedless' hospital by Mercy health system in Montana, the United States.
The management of chronic ailments has become extremely convenient with telehealth facilities. Fixed & mobile 'home units' monitor temperature, blood pressure, etc. These parameters can be reviewed from a long distance. Patients from remote, inaccessible areas are cared for, through links with tertiary care centers, referral hospitals, and specialists.
'U.S. Telehealth Market' Outlook
Grand View Research Inc. predicts the U.S. telehealth market to exceed USD 2.7 billion in 2022. Market consumers are split into providers, payers, and others. Providers (hospitals, clinics, physicians) would contribute a major chunk of the earnings. They are served by well-known vendors like Philips Healthcare, Bosch Healthcare, McKesson Corporation, and GE Healthcare.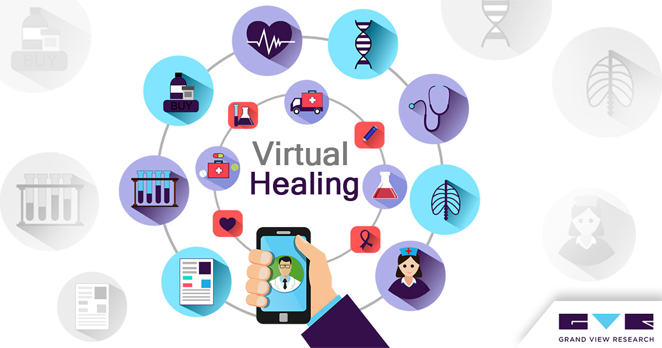 Telehealth - Virtual Healthcare
Market Contributors
The foremost driver of U.S.'s telehealth market is the rapidly advancing ICT (information and communications technology) domain. The nation is home to umpteen number of mobile devices (smartphones, laptops, iPads, etc.) and internet users. Increasingly affordable ICTs (videoconferencing, terrestrial & wireless communications & their likes) and internet proliferation have spurred web-based applications and multimedia usage, creating a rich 'telehealth' tapestry.
Telehealth is expected to lead to centralized medical administration. Cost savings are its another significant benefit. Research indicates that Medicare revisions with respect to telehealth & remote patient monitoring will result in savings worth USD 1.8 million.
Conversely……
The lack of a well-developed legal framework that governs patient-privacy vis-a-vis data storage & transfer among medical professionals & jurisdictions could prove to be a major roadblock. Issues related to human & cultural dynamics are another market challenge. Moreover, hardware or software malfunctions may render a dent on telehealth's credibility.
Summary
Telehealth has the potential to be a game-changer of the healthcare industry in developed and developing worlds. Whether it would conquer the existing obstacles (technology, legalities, & stakeholder acceptance), remains to be seen.