Industry Insights
The U.S. telehealth market size was valued at USD 572.0 million in 2014. Key drivers of the market include rising demand for centralization of healthcare administration and enhanced quality and safety of the applications. Furthermore, enhancing demand for mobile technologies and the internet by people along with rising adoption in home care by patients or reduction in hospital visits are expected to propel the growth over the forecast period.
The healthcare industry is extremely vast and its centralization is expected to help in synchronizing the entire work process along with providing economic benefits. All industries are aiming to achieve lean management and six sigma incorporation in their work culture to optimize resource usage and increase efficiency.
U.S. telehealth market, by product, 2012-2022 (USD Million)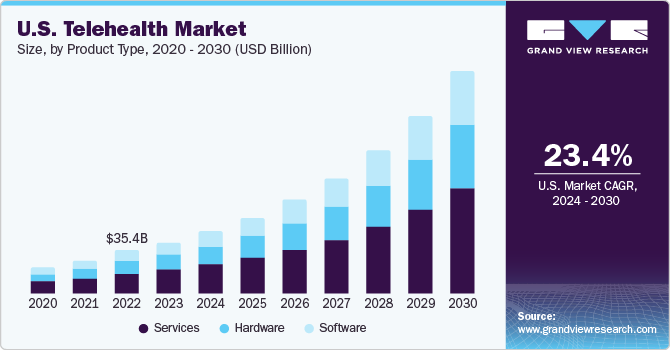 The Community Care Plan of Eastern Carolina (CCP) stated that by installing telehealth program, the clinicians and healthcare providers were able to attend over 20 patients in a week as compared to a mere 10 before. The rising demand of patients, to expect better and faster healthcare provision and increasing disposable income is anticipated to further propel the industry demand.
According to a report published by the Agency for Health Care Research and Quality (AHRQ), implementation of telehealth solution improves care delivery to patients. Applications such as e-ICU, eCare help in providing apt care and reduce adverse effects or symptoms from going unnoticed.
Systems used for chronic disease management are installed with alarming systems that detect and report any adverse events to healthcare providers, hence promoting timely delivery of critical care, and reducing the mortality rate. By providing higher safety and quality standards to patients, demand for such systems is expected to rise over the forecast period and help the industry witness lucrative growth.
Product Insights
Key product segments of the U.S. telehealth market are software, hardware, and services. Software held 18.9% of the share in 2014 and it is expected to witness the fastest growth over the forecast period to own 20.2% of the share by 2022. Hardware segment is further classified into monitors and medical peripheral devices. Monitors, due to exponential advancement in IT industry, are anticipated to witness growth at a CAGR of 19.3% over the forecast period.
The hardware segment includes products such as laptops, desktop computers, webcams, speakers, microphones, display screen and videoconferencing. The hardware is graded and selected based on attributes such video memory, general memory, internet connection and emailing feature, processor speed and display quality.
The American Telemedicine Association annually meets and displays new hardware and software for healthcare professionals. Video conferencing hardware generally differentiates the various available telemedicine systems.
Delivery Mode Insights
Key segments of the delivery mode market are web-based, cloud-based, and on-premise delivery modes. Web-based held 78.0% of the share in 2014 and it is expected to witness growth at a CAGR of 17.3% over the forecast period.
The cloud-based delivery mode is anticipated to be the fastest growing segment over the forecast period with a CAGR of 19.5% owing to the advantages such as easier usability, limited memory requirement, and possibility of using the system on any device. Rising investment by IT firms in cloud computing is expected to raise their demand over the forecast period.
End-use Insights
The end-use is segmented into payers, providers, and others. Providers held 52% of the market share in 2014 and it is expected to witness growth at a CAGR of 18% over the forecast period. Rising adoption by the providers is anticipated due to the pending approval of telehealth legislations in 2013–2014 in the U.S. states.
Providers comprise healthcare professionals such as physicians and clinicians, hospitals, and clinics. Provider-based solutions portray higher ability of deployment of telehealth strategies, and thereby assist growth. The segment is expected to be the largest and the fastest growing due to increasing incorporation of services in healthcare facilities and rising Internet use by the physicians for medical consultations.
Competitive Insights
Philips Healthcare, McKesson Corporation, Intel, IBM, GE Healthcare, and Bosch Healthcare are some major players in the U.S. telehealth market. The players are constantly involved in manufacturing a wide range of these services and software that can be used for patient monitoring, self-care and post-op monitoring.
For instance, in May 2014, AMD Telemedicine launched two new products at the conference of the American Telemedicine Association (ATA). These were TeleClinic and Clinical Assist. TeleClinic was developed for use in ambulatory service, oil rigs, and mobile clinics, whereas Clinical Assist was developed to promote effortless transportation of patients within the hospital premises.