Thermal paper finds use majorly in POS terminals as they provide excellent high-temperature stability, barcode scan ability, and moisture resistance. The POS terminals use thermal paper for transactions in retail, hospital, and warehouse on account of offering superior property of exhibiting high time span as compared to ordinary conventional printed paper. The expansion of POS terminals market is expected to play a crucial role in driving market demand in the near future.
Gaining popularity of mobile POS in light of new product launches by telecom companies, such as Apple, is expected to have an adverse impact on the market. Furthermore, the sluggish growth in the manufacturing sector of developed economies including Germany and Japan is projected to have an adverse effect on the product's application in POS, tags, and labels.
Global thermal paper market volume share, by technology, 2015 (%)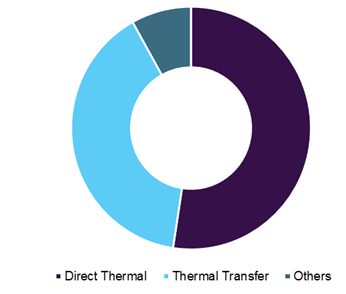 The direct thermal method provides ample lifespan for barcode applications which are beneficial in POS, packaging labels & tags, RFID identification, and printed tickets. Moreover, long time barcode scan ability during storage for the particular products in warehouse applications on account of providing chemical and water resistance is expected to have a positive impact over the next nine years.
Among other types of technologies, dye diffusion transfer technology is projected to maintain some portion of global share on account of their ability to print images on hard surfaces. High market visibility in photography along with the limited application of dye diffusion transfer technology is expected to result in a small share of the segment over the forecast period.
The growing use of online transactions in light of the emergence of e-commerce shopping portals, such as Amazon and Flipkart, is expected to play a crucial role in increasing the use of electronic receipts. Rising number of transactions through online portals is expected to reduce retail sales, and thus likely to induce a reduction in market share for thermal coated paper in POS terminals.
Asia Pacific is projected to remain one of the most lucrative markets on account of increasing demand for POS and labeling applications in food & beverage, healthcare, and manufacturing sectors. In June 2013, Japan-based Consumers Affairs Agency (CAA) mandated the labeling of all fresh and processed foods. This enforcement by the Japan-based government agency is anticipated to augment the use of thermal paper in labeling.
Technological innovation in food & beverage industry towards the development of frozen foods and ready to eat (RTE) products in the U.S is expected to promote the usage of tags and labels. This favorable trend towards tags & label demand in the U.S. is expected to have a strong impact on market over the next nine years.
The global thermal paper industry was dominated by Oji Paper, Koehler, and Appvion, which accounted for over 50% of total volume share in 2015. Other industry participants include Oji Holdings Corporation, Hansol Paper, Jujo Thermal, Mitsubishi Paper Mills (MPM) Limited, and PM Company. Product innovation in terms of using eco-friendly chemicals for the production of finished goods is expected to remain key critical success factor over the next nine years.

In-depth report on global thermal paper market by Grand View Research:
https://www.grandviewresearch.com/industry-analysis/thermal-paper-market