Tourniquets are mechanical devices that are used during surgeries for temporary control of blood circulation. Multiple research studies have revealed that commercially available tourniquet systems can be effective in the management of uncontrolled, life-threatening extremity hemorrhage. Surgical tourniquets assist doctors to perform complicated dissections with controlled blood supply. Surgeons achieve controlled pressure to extremities through compressed gas. Few computerized tourniquets perform automatic calibration, beep alarms when problem arises, and display elapsed usage time.
There are two types of tourniquet systems available in the market: pneumatic and nonpneumatic. Pneumatic tourniquets are inflated by compressed gas whereas nonpneumatic tourniquets are noninflatable and made of rubber or elasticized cloth. The application of nonpneumatic is quite limited owing to its replacement by modern tourniquet systems that are connected to inflatable cuffs.
Global tourniquet system market, by region, 2016 (%)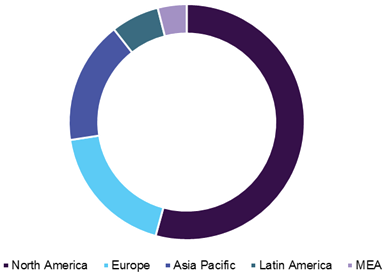 Tourniquets are commonly used in a military setting. However, in many cases, these devices are used in hospital settings, specifically if hemorrhage cannot be controlled with direct pressure or selective clamping of bleeding vessels. For instance, tourniquets, such as assuan, balbina, kariba, and nurek, which are manufactured by ulrich medical are used in hospital settings. "assuan" is an autodynamic tourniquet that aims at patient safety and automatically adjusts the cuff pressure to the systolic blood pressure of the patient. The company has always been focusing on cuff quality, which is one of the key safety measures for arresting blood flow. For ensuring safe and multiple use of reusable cuffs, ulrich medical provides information about reprocessing guidelines for maximum patient protection to the users. In addition, reusable cuffs manufactured by ulrich medical have been tested for biological skin tolerance and safety with highest degree of protection from biological risks.
According to the European Resuscitation Council (ERC) First Aid Guidelines, 2015, when direct pressure does not help in stopping excessive bleeding caused due to limb injuries, it is highly advisable to use tourniquets. This statement was also supported by the International Liaison Committee on Resuscitation (ILCOR). In addition, R&D activities are being undertaken to gauge the efficacy of improvised tourniquets, which can easily aid in controlling bleeding, in the absence of commercially-produced tourniquet systems.
The industry is consolidated with only a few top companies capturing the largest share in the market. Continuous & systematic development activities and long-standing experience in medical technology field are the primary factors responsible for the growth of major companies in the tourniquet system market. Some of the top companies operating in this market are Delfi Medical, Zimmer Biomet, Hammarplast Medical AB, VBM Medizintechnik GmbH, Stryker, ulrich medical, and Rudolf Riester GmbH.

In-depth report on global tourniquet systems market by Grand View Research:
https://www.grandviewresearch.com/industry-analysis/tourniquet-systems-market