The U.S. has been witnessing the results of a steady economy in the recent years and is expected to remain so in the coming years. The growing infrastructure industry and the rising number of real estate projects in the country are acting as conducive factors for the increasing investments in the fencing market. The fencing demand is driven by numerous different kinds of developments, such as the residential projects, government infrastructure investments, commercial projects, and even the agricultural fencing applications in the countryside. As a result, the fencing industry is expected to gain substantial gains from the present conditions and is predicted to maintain its upward growth. As the fences find use in different applications, the type fences that are used also vary according to their applicability. For example, the agricultural segment has a high demand for wooden fences whereas the metal fences have a higher demand in the residential segment, owing to their affordability and aesthetic malleability. The fencing related spending is also predominantly dependent on the disposable spending prowess of the economy, which is witnessing a healthy growth, hence helping the industry demand grow too.
U.S. personal disposable income, 2014 - 2015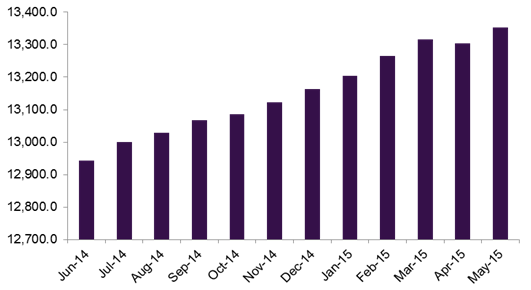 The research and development domain is anticipated to gain an increasing amount of investments
The U.S. fencing industry is quite developed and, hence, susceptible to redundant product and solutions portfolio. As the industry is also marked by a large number of players including both, large international players and small regional firms, this industry problem is further aggravated. As a consequence, the industry players are investing in research and development activities either to create new products or add additional capabilities to the existing product lines. This ongoing trend is followed not only by large companies but also medium and small firms operating in the industry that are trying to offer a customized range of products. As the industry moves toward maturity, the efforts to differentiate their individual products and develop a product line that stands out from the rest are anticipated to remain intact in the market.

In-depth report on U.S. fencing market by Grand View Research:
http://www.grandviewresearch.com/industry-analysis/us-fencing-market