The heating equipment market is observing constant growth in the U.S. owing to its essential usage in the industrial, commercial, and residential sector. The development of systems and solution that are energy efficient and can operate on renewable source is projected to augment demand for heating equipment in the U.S.
According to the U.S. Department of Energy, a 30% tax credit is allowed on "Qualified Geothermal Heat Pump Property." The tax rebate is applicable for both new or existing dwelling units that are used for residential purpose. Rising demand for energy efficient heating solutions is registered among residential consumers.
The introduction of favorable state and federal policies in the U.S. is expected to augment market growth over the coming years. Major types of heating equipment used in the U.S. are heat pumps, boilers, furnaces, and unitary heaters.
Upcoming infrastructure projects coupled with repair and replacement activities in the industrial sector is anticipated to drive the demand for heating solutions. The construction market in the U.S. is focused on developing sustainable and energy efficient structures.
U.S. boilers market revenue by size, 2015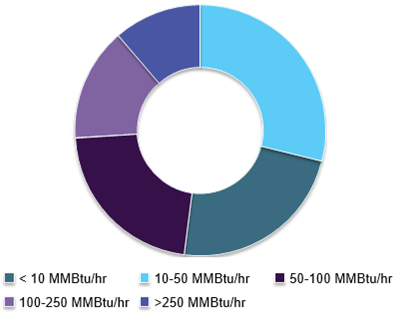 Boilers are categorized based on product, capacities, and technologies. In product segment, steam boilers occupied the maximum market share in 2015, owing to its wide application in the industrial, commercial, and residential sector. Steam boilers operate at a higher temperature than hot water boilers.
Boilers are used for various heating applications such as water heating, power generation, cooking, central heating, and sanitation. Boilers in the range of <10 MMBtu/hr are used in the residential and commercial segment, although it does find limited usability in food and beverage processing industry. Permits are not required for installation direct heating systems used for comfort purposes and indirect heating systems with heat input capacity of less than 10 MMBtu/hr.
The 10-50 MMBtu/hr boiler segment is anticipated to record the fastest growth rate over the forecast period. Low oil and gas prices in past two years have further facilitated the boiler demand in the residential and industrial segment. The boom in shale gas resources in the U.S. is expected to drive the market demand for gas-fired furnaces and boiler over the coming years.
Companies operating in the U.S. heating equipment market have encountered challenges regarding prices, stringent regulations, and competition from renewable energy based heating systems. Boilers have been losing its market share to combined heat and power systems in all the market segments. Companies have been continuously developing products with changing regulations and utilities.
Key players include Robert Bosch LLC, United Technologies Corporation, Emerson Electric, Ingersoll-Rand Plc, and Lennox International, American Heating Company Inc., Johnson Controls Inc., Honeywell International Inc., Burnham Holdings, Inc., and Rheem Manufacturing Company Inc.

In-depth report on U.S. heating equipment market by Grand View Research:
http://www.grandviewresearch.com/industry-analysis/us-heating-equipment-market