UV tapes are used in semiconductors in order to prevent electronic components from moving during processes such as back grinding and wafer dicing. These tapes are used to save cost and at the same time, improve the quality of the semiconductor processing. Besides, UV tapes are also used to protect the surface of the wafer of the semiconductor from damage.
The UV tapes value chain is characterized by raw material suppliers, UV tape manufacturers, suppliers and end-use industries. Growing electronics and semiconductor industries are expected to have a positive impact on the market over the forecast period.
Major raw materials used for manufacturing UV tapes include either polyolefin (PO), polyvinyl chloride (PVC), or polyethylene terephthalate (PET). Accordingly, the properties and functions of the tapes vary. PO UV tapes, with high adhesion and recycling index, were the most common products in 2015.
Global UV Tapes market, by region, 2015 (%)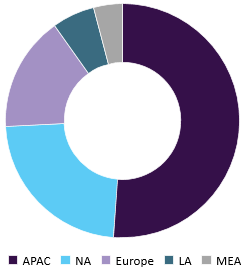 As seen above, Asia Pacific accounted for the largest share of the market in 2015. The market in this region is dominated by growing semiconductor industry in countries such as China and India. Besides, factors such as growing awareness about the importance of UV tapes over non-UV tapes are also expected to provide the necessary boost to the market over the forecast period.
North America, with major electronics players, held the second-largest share in the market in 2015. However, most of the manufacturing in this region is outsourced from other regions such as Asia Pacific due to non-availability of cheap labor and raw materials.
Some factors could restrain the growth of the market in the near future. As compared to non-UV tapes, these tapes are expensive due to their superior adhesion properties and performance. The high cost of tapes results in a rise in the price of the eventual electronic products ICs, silicon wafers, and lenses among others. However, using non-UV tapes, the adherent cannot be easily removed from the wafer, which affects the overall performance of the electronic device. In order to avoid this, the major challenge faced by the UV tapes manufacturers is controlling its price.
The big four of the industry, Furukawa Electric Co. Ltd., Nitto Denko Corporation, Mitsui Chemicals, and Lintec Corporation accounted for the majority of products in the market. Sumitomo Bakelite Co. Ltd., Denka Company Limited, Pantech Tape Co. Ltd., Ultron Systems, Inc., NEPTCO, Inc., Nippon Pulse Motor Taiwan, Loadpoint Limited, AI Technology, Inc., and Minitron Electronic GmbH are also well-known global names in this sector.

In-depth report on global UV tapes market by Grand View Research:
https://www.grandviewresearch.com/industry-analysis/uv-tapes-market