Vanillin is a key aromatic compound extensively used to enhance the aroma and flavor of the various end-use products. Vanilla beans constitutes pleasant smell, that occurs naturally in vanilla beans. It is extensively used as flavoring agent in food products and aromatic additives for incense, perfumes, medicines, candles, and air fresheners. In addition, vanillin is used as an intermediate or as an inactive excipient during manufacturing of drugs, medicines.
Vanillin is extensively used as flavor agent in various end-use segments such as food & beverage, pharmaceutical, and fragrance products. In food & beverage segment, vanillin enhances flavor and aroma of the products, especially bakery products, confectioneries, biscuits, chocolates, candies, and ice creams. The global population is shifting their consumption pattern towards wholesome ingredients owing to rising awareness of organic food and healthy lifestyle.
Pharmaceutical application is likely to be the one of the fastest growing segment of the global vanillin market over the forecast period. Vanillin is widely used as an intermediate chemical as well as an additive in the pharmaceutical sector. Tablet masking, minimizing bitter taste in medicines, oral medicine processing, topical medicated lotions and other pharmaceutical products use vanillin as an excipient.
U.S. vanillin market, by end-use (kilo tons), 2016 (%)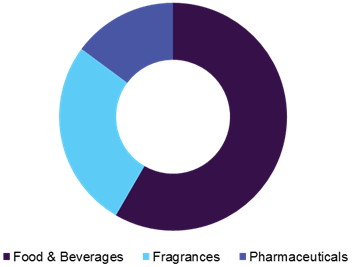 Food & beverage segment dominated the global market in terms of value in 2016 and is expected to continue its dominance over the forecast period. This segment was estimated at USD 235.3 million in 2016 and is expected to grow at a CAGR of 7.5% over the forecast period. Increasing disposable income and improving the standard of living is fueling the demand for a variety of food & beverage products.
In terms of volume, Asia Pacific projected as the fastest growing region in 2016 with a CAGR of 7.6% from 2017 to 2025. Significant growth in various end-use industries especially food & beverage is expected to fuel the growth of the market over the years ahead. In addition, superior economic growth coupled with rising demand for processed food in this region is boosting the consumption of vanillin in food & beverage industry.
Key players in the market include Camlin Fine Sciences Ltd., International Flavors & Fragrances Inc., Solvay S.A., Ennloys, Evolva Holding S.A., Apple Flavor & Fragrance Group Co Ltd., and De Monchy Aromatics. Key market players are implementing various strategies such as partnerships, new product development, acquisitions, and joint ventures with local market players. For instance, various market players such as Solvay, Borregaard and IFF are using expertise to produce best vanilla flavor from natural and sustainable source for food products.

In-depth report on global vanillin market by Grand View Research:
https://www.grandviewresearch.com/industry-analysis/vanillin-market-analysis-market