The market for virtual reality (VR) in the gaming industry is poised for robust growth during the forecast period. The technology has received an overwhelming response from gamers. Most of the sophisticated VR input devices and wearables are not launched globally yet; only limited supply is currently available. Manufacturers are finding it difficult to meet pre-orders for their products due to component shortages, and the respective consumer editions of most of these devices is scheduled to be launched by 2017 in a phased manner.
Growing awareness of VR-enabled games is expected to increase the demand further, especially in emerging regions such as Brazil, Mexico, and India. Increasing disposable income of people in these countries is also expected to positively impact demand for VR gaming. Small companies, especially start-ups, have gained market prominence as they have developed innovative VR wearables which provide an immersive experience of being inside the game.
U.S. virtual reality in gaming market, by console, 2015 (USD Million)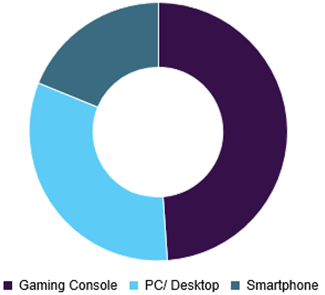 Thr gaming hardware segment is projected to gain revenue share over the next nine years which may be attributed to rising demand for VR accessories and wearables. The technology has created a new market for devices such as the head mount displays, motion sensing devices, VR hands, gloves, masks, backpacks, and bodysuits.
The most popular and crucial entity among VR devices is the Head Mounted Displays (HMDs). The HMDs have an Organic Light Emitting Diode (OLED) panel on its surface to track 360-degree head movement by the camera of the console, inbuilt headphones to provide a three-dimensional audio effect with a positional tracking system, and integrated USB infrared sensors to provide positional tracking system. The other VR wearables developed are believed to be compatible with the most popular HMDs available in the market. These are the Oculus Rift, PlayStation VR, HTC Vive, and Samsung Gear VR.
Gaming consoles are expected to account for the highest revenue share in the market. Gaming consoles do not require regular upgrades of graphic cards and their processors are built especially for gaming, which make them superior to desktops and smartphones for gaming. However, consoles are also facing major competition from the mobile OS platform such as Apple or Android operating system. Mobile phones offer a cost efficient platform for gaming and with VR peripherals such as the Google cardboard, smartphones can be easily turned into VR gaming devices.
Recent market trends highlight the surging growth in the VR gaming market. For instance, Sony Corp. launched PlayStation VR in 2016, which is a virtual reality HMD and is fully supported by the PlayStation 4, an eighth generation home video game console. Also, in March 2014, Facebook acquired Oculus for USD 2 billion, soon after which Oculus launched its HMD known as the Oculus Rift.
By 2025, China is projected to be the global leader in the VR gaming industry. Currently, games enabled with VR features are new to the market, and their share is almost negligible in some regions. However, global demand is expected to increase during the forecast period.

In-depth report on global virtual reality (VR) in gaming market by Grand View Research:
https://www.grandviewresearch.com/industry-analysis/virtual-reality-in-gaming-market