VR has no doubt been the standout technology in the past decade, but its untapped potential in gaming has really attracted companies. A match made in heaven? We hope so…
For those who have played and experienced Outlast, the excellent horror game from Red Barrels Studio, imagine that you are going across a hallway, silently moving along to avoid any attention. Mindful of your surroundings, you see one of the monsters in the game a few steps ahead. You move into a nearby room and hide under a bed, as you see the monster enter the room, look around and leave. Such tension filled moments are there by the dozen in the game, and when I played it normally on my PC, I deliberately used to turn the sound off, to convince myself that I am not scared. However, the game has stayed with me since I played it, and I can imagine what it would have felt if I would have played it as I was there. I guess I wouldn't have made it after the first 5 minutes. And that is the wonderful thing about Virtual Reality in gaming, in that you can totally immerse yourself in the game environment.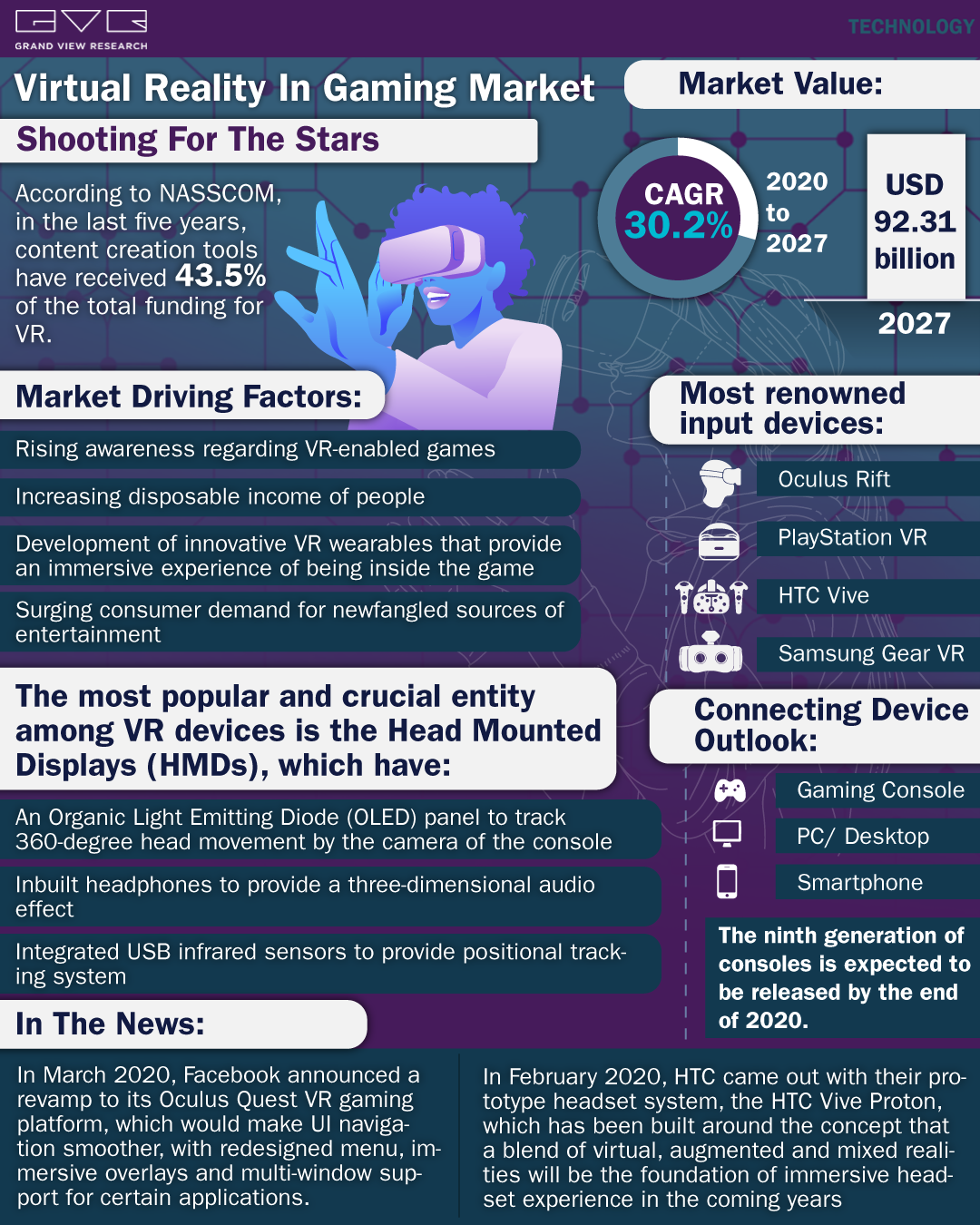 A Long & Fascinating History
VR has been around for a long time, its concept going as far as in the early 19th century with the advent of panoramic paintings. This gave way to Sensorama by filmmaker Morton Heilig in 1957, with Ivan Sutherland moving ahead in 1968 with 'The Sword Of Damocles', and Sega's concept of VR with the attempted launch of Sega VR in 1991, which sadly didn't take off. However, it did prove that anything is possible while using this technology, which proved to be true with the prototype of the Oculus Rift a couple of decades later. Fast forward to the present, and advancements have been made in this technology by leaps and bounds, which has led to the virtual reality in gaming market gradually picking up steam.
How Has The Gaming Industry Taken To This Technology?
First-person shooters, as well as adventure and horror games, are some of the genres that are begging to be explored in more depth using this technology. Established gaming companies such as Rockstar have jumped on the VR bandwagon, as they released a remake of the still excellent L.A. Noire (2011) in December 2017, called L.A. Noire: The VR Case Files. And HTC's Vive Studios have mentioned that the studio is still not done with the technology, paving way for its use in a certain game that goes by the name of GTA.
2016 saw a global explosion in the number of companies that were involved in developing virtual reality-related products, with more than 230 such small and big organizations. And why not, when the technology promises complete immersion with regards to almost every sense, and a level of interaction never seen before to gamers. In fact, this is the reason organizations are thronging towards VR technology, rather than 3D, which keeps the gamer a spectator, rather than a participant. Devices such as Oculus Quest and Oculus Rift S are expected to gain much prominence in the near future, in the VR in gaming space.
'Sensing' Achievement?
How we perceive objects and interact with them in the environment defines reality, and start-ups in the VR space are striving to ensure that this barrier between real and virtual world is broken through these games. Companies are pumping in the investments to ensure that the 5 senses, that is, visual, sound, tactile feedback, smell and taste, are brought as close to reality as possible. Think about implementing this in a game like Mirror's Edge, which in its general non-VR format itself can make you nauseous. Or the excellent game Hellblade, which features VR support, adding to its already excellent sound design. If, and it is a big IF, the technology to implement all 5 senses is realized in games, then the days of using a traditional HUD in them may well be gone, which would indeed be a tectonic achievement for the virtual reality in gaming industry.
A Look Into The Global Market…
The market for virtual reality (VR) in gaming is poised for robust growth in the coming years. The technology has received an overwhelming response from gamers. Most of the sophisticated VR input devices and wearables are not available globally yet; only limited supply is currently available.
Growing awareness of VR-enabled games is expected to increase the demand further, especially in emerging regions such as Brazil, Mexico, and India. Increasing disposable income of people in these countries is also expected to positively impact demand for VR in gaming. Small companies, especially start-ups, have gained market prominence as they have developed innovative VR wearables which provide an immersive experience of being inside thegame.
The most popular and crucial entity among VR devices is the Head Mounted Displays (HMDs). The HMDs have an Organic Light Emitting Diode (OLED) panel on its surface to track 360-degree head movement by the camera of the console, inbuilt headphones to provide a three-dimensional audio effect, and integrated USB infrared sensors to provide positional tracking system. The other VR wearables developed are believed to be compatible with the most popular HMDs available in the market. These are the Oculus Rift, PlayStation VR, HTC Vive, and Samsung Gear VR.
Gaming consoles are expected to account for the highest revenue share in the virtual reality in gaming market. Gaming consoles do not require regular upgrades of graphic cards and their processors are built especially for gaming, which make them superior to desktops and smartphones for gaming. However, consoles are also facing major competition from the mobile OS platform such as Apple or Android operating system. Mobile phones offer a cost-efficient platform for gaming and with VR peripherals such as the Google cardboard, smartphones can be easily turned into VR gaming devices.
U.S. virtual reality in gaming market, by console, 2015 (USD Million)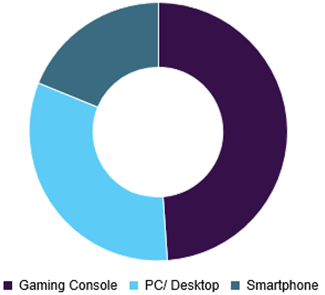 In The News…
Some of the most recent developments that the virtual reality in gaming industry has seen include:
In March 2020, Facebook announced a revamp to its Oculus Quest VR gaming platform, which would make UI navigation smoother, with redesigned menu, immersive overlays and multi-window support for certain applications. These updates would be rolled out by the end of March.

Valve is releasing a new Half-Life game in March 2020, called Half-Life: Alyx. The game, which is a prequel to the legendary Half-Life 2, is only playable in VR. A lot of VR headsets, such as HTC Vive, Samsung Odyssey, and Oculus Rift S are compatible with the game, although the Valve's Index headset is said to offer best compatibility.

In February 2020, HTC came out with their prototype headset system, the HTC Vive Proton, which has been built around the concept that a blend of virtual, augmented and mixed realities will be the foundation of immersive headset experience in the coming years. Another announcement by the company involved the launch of 3 new headsets - the Vive Cosmos Play, the Vive Cosmos Elite and the Vive Cosmos XR.

In-depth report on global virtual reality (VR) in gaming market by Grand View Research:
https://www.grandviewresearch.com/industry-analysis/virtual-reality-in-gaming-market