Welding products are consumables such as flux and fillers used in the welding process. The filler material is melted to join metal strongly and flux is widely used to generate gas protection around the weld pool to prevent hot metals from oxidation. These products join materials, such as metals or thermoplastics by fusion, unlike joining techniques such as brazing and soldering.
Welding products are widely used in various applications such as building and construction, transportation and automotive, oil and gas, marine, and others. Building and construction industry utilize the products in the construction of buildings, pipelines, bridges, and other construction areas. The welding product consumption is expected to increase in light of various government initiatives for infrastructural development, especially in emerging countries.
In the automotive sector, they are mainly used in joining metallic automotive components. Various challenges in the processes, such as arc welding, have a significant impact in achieving production goals. However, restrictions on its usage are imposed in instances where humans are exposed to different hazards caused at a workplace. All welding products are required to be optimally and safely designed in order to comply with regulations imposed by different regulatory bodies.
U.S. Welding Products Market, by Application, 2015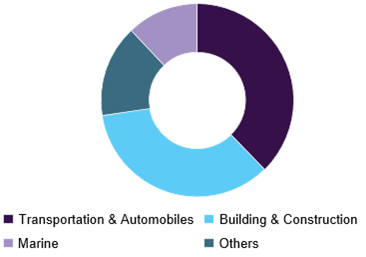 Asia dominated the global market in light of rising demand from the building & construction industry. Rapid urbanization and industrialization in the region, especially from major economies, such as China and India, are driving the demand. In addition, large infrastructural projects require advanced technology to minimize injuries in humans and get attractive finishing off the welded metal. However, the usage of welding products possesses strong threat to human safety and health. Therefore, regulatory bodies such as the OSHA, South African National Standard (SANS), and European Commission have set guidelines for the usage of these products, which restrict market growth to a certain limit. Over the last few years, underwater technology has flourished and is projected to contribute to the growth of the market. Stick electrodes, flux-core wires, solid wires, and flux-cored wires are some of major products used in the process.
Mild steel, high alloy wire rods, metal powders, mineral & chemical powders, and ferro alloy powders are some of the key raw materials used. These materials undergo various processes in order to manufacture less oxidized and high-quality products. Welding flux is applied to the base product metal using extrusion under pressure. Welding flux consists of MnO, TiO2, alumina, calcium oxide, SiO2, magnesium oxide, FeO, calcium fluoride, sodium & potassium silicates, and others which are enriched with potassium.
Key players in this market have enhanced their presence across the value chain by increasing their R&D spending. The companies are emphasizing on new product development coupled with product innovation and technology upgradation. In addition, manufacturers are spending more on the research & development of new technologies in order to comply with restrictions laid down by regulatory bodies.

In-depth report on global welding products market by Grand View Research:
https://www.grandviewresearch.com/industry-analysis/global-welding-products-market