Growing awareness regarding the usage of renewables along with rising usage of the wind as a possible form of energy is driving the demand for turbines, which in turn, is expected to stimulate wind turbine casting market over the upcoming years. These turbines have various components out of which the primary casted parts include the rotor hubs, axle pins, and main carriers. For a turbine to be operational, blades are mounted onto the rotor hubs. These rotor hubs undergo casting process as these parts are large, complex and subjected to high stress.
Wind turbines are used to convert the kinetic energy of the wind into usable power. Increasing installations in offshore applications coupled with government support for renewable energy development is expected to accelerate growth. Furthermore, growing population and rising electrical power requirement in emerging economies of Asia Pacific are expected to drive the demand for the product and its casting.
These products have long shelf life and work efficiently with minimum development and maintenance costs. However, the increasing popularity of alternative sources such as solar power and hydroelectricity will restrain industry growth over the upcoming years.
Germany wind turbine casting market by application, 2015 (%)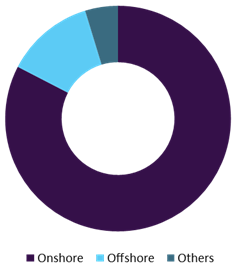 The growing number of turbine installations in offshore applications is expected to drive the market significantly over the next nine years. Germany has the largest installed capacity in Europe with 45 GW followed by Spain, UK, and France. In 2015, Germany installed 2,282 MW of capacity to meet the increasing requirement of electricity in the country.
Asia Pacific is anticipated to witness substantial growth over the upcoming years on account of increasing installation in countries including China, India, Japan, South Korea, and Taiwan. China is projected to be the top energy producing country owing to the increasing number of installations in the country. In 2015, 30,753 MW capacities were added to the existing capacity of 114,609 MW in China. The growing energy requirement on account of population expansion and strong economic growth is expected to fuel industry demand in the region.
The Middle East & Africa is anticipated to witness significant growth owing to increasing wind energy installations in countries such as South Africa, Morocco, Egypt, Ethiopia, and Jordan. Morocco is expected to foresee a number of projects on account of a tender won by the Association of Enel Green Power, Siemens Wind Power, and Nareva Holdings in 2015. The factor mentioned above is expected to aid in market expansion.
The industry is highly fragmented in nature owing to the presence of various small, medium and large manufacturers. A large number of casting companies are present in North America, Asia Pacific, and Europe. Key participants in this industry include Vestas, Sinovel, Goldwind, Enercon, DHI DCW Group Co., Ltd., Suzlon, Premier Heavy Engineering, SHW Casting Technologies GmbH & Co. KG, SAKANA Group, Global Castings, SEFORGE, Riyue Heavy Industry Corporation Ltd., and Elyria Foundry Company, LLC.

In-depth report on global wind turbine casting market by Grand View Research:
https://www.grandviewresearch.com/industry-analysis/wind-turbine-casting-market