Market Size and Trends
The global acoustic insulation market size was valued at USD 9.33 billion in 2015. Increasing awareness regarding noise pollution, health awareness, and rising standard of living are likely to have a remarkable impact on the global acoustic insulation industry growth. It has been observed that human health and efficiency are highly related to the noise level in the work environment, which highlights the importance of sound barriers.
Increasing concern for employee comfort levels has triggered the demand for noise-canceling materials in commercial buildings. Improved standard of living is also likely to drive the product demand in the residential construction sector so as to achieve a peaceful atmosphere inside the home.
Global acoustic insulation market revenue, by product, 2014 - 2025 (USD Million)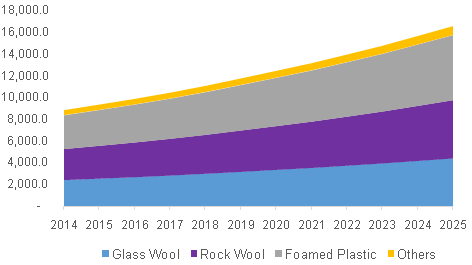 Rock wool is extensively used acoustic insulation materials as they provide thermal, acoustic padding, fire resistance, and are easy to install as well. Higher demand for this product in developing countries on account of its relatively low cost has been responsible for the overall growth. Increasing demand from the transportation industry is also expected to trigger the product demand.
Regulations related to noise control and isolation play a major role in the development of the industry. EPA has designed standards to control noise generation in transportation as well as sound isolation of building environments. Most of the countries in the European Union also regulate the airborne, impact, and appliance noise levels. Regulations are also levied to ensure isolation from external sounds.
Italian law no. 447 of 2/10/95 proposes suspension of public as well as private entities responsible for sound pollution. The Portuguese regulations define and control the noise isolation from external sources inside a building. Sound generation from automobiles, planes, and ships is also regulated under various specified standards.
Product Insights
Foamed plastic provides better noise barrier in a closed cell and can be easily injected in small pockets of walls and ceilings.
Global acoustic insulation market revenue in transportation industry by application, 2014 - 2025 (USD Million)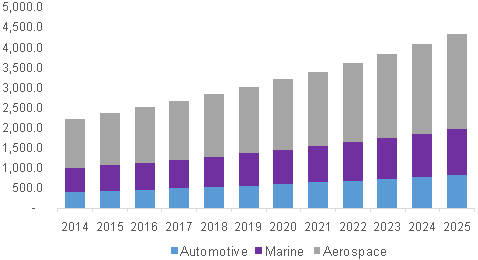 The high cost of this product is expected to challenge its industry growth. Foamed plastic is expected to dominate the industry in terms of revenue over the forecast period.
End-Use Insights
Building & construction industry is estimated to witness the highest penetration of acoustic insulation materials, and the dominance is expected to continue over the forecast period as well. Strong demand from the industry can be attributed to a significant amount of material required to insulate a building.
Building & construction has observed a profound impact of the recent economic slowdown in the U.S. and Europe and has not fully recovered yet. The moderate pace of new structures, especially in developed regions is expected to challenge the segment growth over the forecast period.
U.S. acoustic insulation market revenue by product, 2014 - 2025 (USD Million)
Increased demand for better NVH levels from consumers and extensive competition between auto manufacturers has triggered acoustic insulation material demand from the transportation industry. The rapid growth of automotive as well as aviation industries in developing countries will also probably foster the product demand.
Regional Insights
Asia Pacific is estimated to be the largest market and accounted for around 40% of the global demand in 2015. Asia Pacific is considered to be the high potential region on account of growing building & construction as well as transportation sectors. Increasing manufacturing bases in the area coupled with growing transportation sector is expected to trigger the regional growth over the next seven years.
Europe has also witnessed remarkable penetration for acoustic insulation materials. The existence of stringent regulation about building acoustic isolation, noise control for transportation and industrial equipment, etc. has been responsible for the product penetration. The slowdown in the construction sector is expected to restrain the regional growth over the forecast period.
Acoustic Insulation Market Share Insight
Key players operating in the global acoustic insulation industry include Saint-Gobain, Rockwool International A/S, Knauf Insulation, Owens Corning, Johns Manville Inc., Armacell, BASF SE, Paroc, etc. The industry is concentrated with the top few players and is characterized by diversified product portfolio, continuous developments, and increasing regional reach. Merger and acquisition is a key strategy adopted by the major participants to increase their share as well as value chain integration.
Most of the key industry participants such as Saint-Gobain, Rockwool, Armacell, etc. have also concentrated on capacity expansion in high growth potential markets. In July 2015, Owens Corning announced its plan to open a manufacturing facility in Joplin, U.S. Rockwool has also recently inaugurated its production units in the U.S. and Poland.
Acoustic Insulation Report Scope
| | | | |
| --- | --- | --- | --- |
| Attribute | Details | Customization Offer (15% free)* | Additional Cost |
| Base year | 2015 | NA | NA |
| Historic | 2014 - 2015 | Extended historic data (2012 to 2015) | Free |
| Forecast | 2016 - 2025 | Extended Forecast data (2025 - 2027) | Free |
| Report details | Market size, company market share, competitive Landscape, growth factors, trends | Contact us for specific market information not available in this report | Quotation to be shared post feasibility |
| Market representation | Kilo Tons and USD Million | NA | NA |
| Geographic coverage | Global & Regional (by country) | Information on up to three additional countries | Free |
| Company profiles | All major market players | Profiles of 10 additional companies | Free |
* 15% free customization - The 15% report customization is equivalent to work done by one research analyst for 5 working days.