Industry Insights
The global activated carbon market size exceeded USD 3.0 billion in 2015. Increasing awareness for clean water consumption and growing water treatment plants are expected to drive the market over the next eight years. Growing concern among consumers regarding health risks related to drinking contaminated water is expected to remain a key driving factor for the global market.
Regulatory norms and guidelines from organizations to remove mercury emissions by various end-use industries to govern the market demand. Mercury and Air Toxics Standard (MATS) norms issued by EPA aims at mercury and other acidic gaseous emissions from coal and other power plants. This regulation is expected to increase the industry demand by 160-kilo tons per year.
U.S. activated carbon market revenue by product, 2014 - 2024 (USD Million)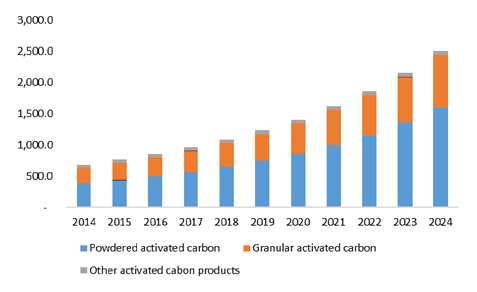 Increased government subsidies and growing industrialization are anticipated to further fuel the industry growth over the next eight years. Activated carbon is used in applications such as air purification, drinking water filtration, ground water remediation and spill cleanup.
Increasing industrialization in China resulted in a direct impact on the water treatment plants. Half of the country' population has insufficient clean water access. China has invested over USD 4.5 billion in improving the clean water supply under the category of central government investment fund. Environmental factors may restrict the availability of raw materials which might result in rising prices. This may have a negative impact on the market.
Product Insights
In 2015, powdered activated carbon segment held the majority share and accounted for over 55% of the total demand. Rising awareness and government support in the recycling of waste water are expected to benefit the growth of this segment over the next eight years. This activated carbon gives the result in lesser cost and hence is preferred over other forms of the product.
Granular activated carbon (GAC) is expected to hold over 30% of the total market consumption in 2024. GAC is widely used in the removal of volatile organic compounds (VOCs) and chlorine. It is also used in the reduction in total organic carbon, color removal and mostly reverse osmosis.
Polymer coated, extruded, impregnated and bead activated carbons are included in the other types of the product segment. This segment is expected to grow at a CAGR of 8.4% from 2016 to 2024.
Application Insights
Activated carbon used in liquid phase accounted for over 52% of the overall market I 2015. These carbons are said to reduce the certain amount of VOCs as well as chlorine from drinking water. It is also known to removes lead, dissolved radon, and other odor-causing compounds.
Environmental Protection Agency (EPA) Health Advisory Level (HAL) considers the above-mentioned particles to be hazardous to human health. With the alarming rate of the adversely contaminated water effects to human health, there is a proportionate increase in demand for water treatment technologies hence benefitting this segment over the next eight years.
Activated carbons are used in gaseous filtration as filter media in cement kilns, coal-fired generators, waste incinerators, steel mills, and industrial boilers. Mercury is a toxic metal that occurs in natural gas that is harmful to the environment, to chemical processes, and to the transport equipment. This segment is expected to witness significant growth at an estimated CAGR of 14.5% over the forecast period.

End-Use Insights
Air purification applications across various industries are expected to hold over 45% of the total product consumption in 2024. Rising demand for air-conditioners and air-filters can be attributed to rising demand for both commercial and domestic purposes.
Rising disposable income, technological advancements, and increasing affordability are presumed to aid the market over the forecast period. Increasing awareness and health concerns concerning respiratory diseases are expected to have a positive impact on the overall market.
Pharmaceutical & medical applications such as in the kidney machine, nursing supplies, and respirators are supposed to grow at an estimated CAGR of 9.9% from 2015 to 2024. Increasing geriatric population in several countries such as Germany, U.S. and Japan are projected to prove further to be beneficial for this segment growth. Technological advancements, growing health concerns and ability to afford medical benefits are a few key factors that are projected to aid the market.
Regional Insights
Asia Pacific activated carbon market led the global industry and accounted for over 40% of total volume in 2015. Rapid industrialization, urbanization and government subsidies to safeguard the environment are a few major factors expected to aid the regional growth. Countries such as Japan, China and India are presumed to lead the regional demand. Increasing automotive sale, growing population with rising disposable income is predicted to benefit the overall regional growth.
Growing water treatment and air purification demand owing to rising health concerns and stringent environment regulations are expected to benefit the overall North America market. U.S. is presumed to lead the regional demand ahead of Canada and Mexico. Growing automobile demand, rise in geriatric population and increasing environmental concerns are projected to be the key factors positively impacting the regional market.
Competitive Insights
This industry is highly competitive with the presence of a vast number of market participants. Growing demand for activated carbon along with huge application base has attracted various small manufacturers to enter the industry. The presence of few multinational players in the market has concentrated the majority of the share with these large players. Application-specific raw material usage is expected to increase competitiveness. Industry rivalry is supposed to remain medium over the forecast period.
Major industry participants include ADA-ES Inc., Jacobi Carbons AB, Haycarb PLC, Siemens Water Technologies Corp, Kureha Corporation, MeadWestvaco Corporation, Calgon Carbon Corporation, Carbotech, Carbon Resources LLC, Clarinex Group, Carbon Activated Corporation and Cabot Corporation Kuraray Co. Ltd.