Industry Insights
The global activated carbon market size was valued over USD 3.0 billion in 2015. Growing awareness for clean water consumption coupled with the rising number of water treatment plants owing to government subsidies is anticipated to benefit the overall market growth over the forecast period.
Activated carbon is used in various industries for air purification, groundwater remediation, spill clean up and drinking water filtration. Governments across the globe are offering subsidies for water as well as air purification. These grants coupled with rapid industrialization particularly in regions such as Asia Pacific is forecasted to benefit the overall global market growth.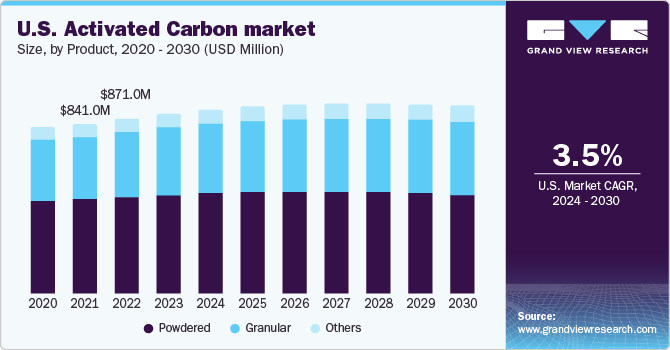 Regulatory agencies in various parts of the world have issued directives aimed at curbing the mercury emissions by industries such as petrochemical industries. Regulations such as Mercury and Air Toxic Standard (MATS) issued by EPA, have been introduced to curb the mercury and acidic gaseous emissions from coal as well as other power plants. Activated carbon helps in efficiently controlling these mercury emissions. Thus, the formulation and implementation of such regulations are anticipated to benefit the global market demand.
In 2015, regarding revenue, The U.S. market was USD 759.3 million. PAC dominated the product segment in the country. Prevalent massive industrialization in the country, awareness about clean water consumption and widespread regulations about air and water pollution have contributed significantly to the U.S. demand.
Companies producing raw material ingredients, such as coconut shells and saw dusts, usually produce activated carbon as well. Raw material providers and manufacturers have integrated their processes to offset fluctuating raw material prices. Cabot and ADA-ES show such integration across the value chain.
Significant activated carbon raw materials include coconut shell, coal, wood pulp, lignite, and peat. Majority of the raw material suppliers supply coconut shells. The hardness of coconut shell makes the activated carbon highly resistant to abrasion. High carbon content in coconut shell creates lots of foam used for production. It is said to increase carbon absorption capacity. Activated carbon made from coconut shell has a higher iodine value than those produced from coal.
Stringent environmental regulations and standards issued by the government and environmental protection agencies to safeguard the environment are anticipated to aid the global market. Growing air purification demand in domestic as well as commercial applications is presumed to aid the market further. Demand from other applications such as automotive, pharmaceutical & medical and food & beverage processing is projected to witness a brisk growth from 2016 to 2024.
Product Insights
GAC is expected to hold over 30% of the total market consumption in 2024. GAC is widely used for the removal of volatile organic compounds (VOCs) as well as chlorine. Chemical & petrochemical plants besides being subjected to stringent wastewater regulations are also subjected strict rules about air emissions. GAC help to control volatile organic compounds (VOCs) and thus enable petrochemical & chemical plant operators to comply with industrial norms laid down for air emissions.
Regulatory norms in various developed nations regarding mercury emissions from numerous end-use industries are expected to complement demand for GAC. The product provides better performance as compared to other counterparts in specific applications such as industrial purposes. They aid in removing the foul smell from industrial emissions. This is expected to increase the demand for this product in indoor air regulatory systems.
PAC helps petrochemical plant operators to achieve low volume density, minimal fine formation, and hardness in the end-product by impregnating it with the oxidation catalyst. This impregnation helps plant operators to eliminate mercaptans existing in high-grade liquid fuels.
Application Insights
In 2015, Activated carbon used in liquid phase accounted for 52% of the overall market. The product aids in the removal of VOCs and chlorine from drinking water. They also assist in the removal of dissolved radon, lead, and odor-causing compounds.
Activated carbon, due to its effectiveness in removing impurities, is widely used in water and wastewater treatment. Governments across the globe are investing heavily in water treatment plants to provide their citizens, proper access to clean water. China has invested over USD 4.5 billion in improving the clean water supply. Government support coupled with rising demand for clean water is expected to benefit the liquid application segment.
Iodine number determination test is a conventional method to deduce and distinguish the micro pores volume. Coconut shell based activated carbon have known to show a high iodine number as compared to the other counterparts. A high iodine number indicates that the activated carbon has a higher capacity to absorb small particulates. Activated carbons possessing high iodine numbers are required in specific applications such as volatile organic chemical removal.
End-use Insights
In 2015, water treatment end use held over 40% of the overall market revenue. The segment is expected to continue its dominance over the next eight years. The segment is expected to grow at an anticipated CAGR of 14.8% from 2016 to 2024.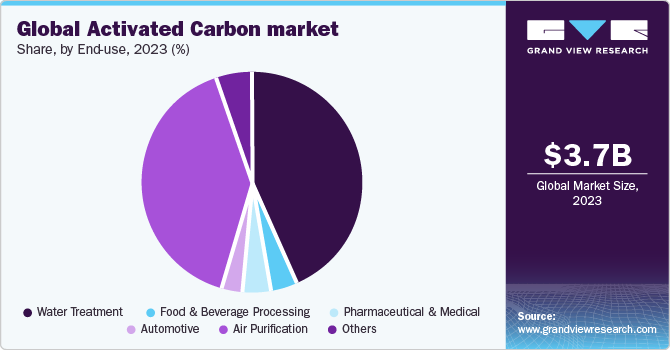 Activated carbon is highly used in water treatment processes. These carbons are said to reduce the specific volatile organic compounds as well as chlorine from drinking water. It also removes lead, dissolved radon, and other odor-causing compounds. Significant sources of these contaminants include pesticides, solvents, industrial wastes, or pollutants from leaking underground storage tanks.
Activated carbon is also used in wastewater management processes. Increasing water prices and regulatory pressure to recycle are anticipated to aid the overall market growth. The escalating use of water for industrial processes has spurred the need for water and wastewater treatments, boosting the demand for water and wastewater treatment processes. Fast-growing industries in emerging countries such as China, India, Mexico, Brazil, South East Asia, and Russia have compelled several industrial plants to incorporate water treatment facilities.
The activated carbon filter is a widely used technology, in greenhouses, for reducing the odor and control emissions from greenhouses and other growing applications. After circulating through the filter, the ambient air is returned to the greenhouse or is discharged outside.
This technology has higher reliability and lower overall cost of other filtration media. These filters are well known for their use in controlling gaseous odors. In general, they are used as a sponge, absorbing gaseous odors as air passes through. However, they get saturated soon and require frequent replacements.
Regional Insights
In 2015, Asia Pacific emerged as the most significant market and accounted for over 40% of overall global consumption. Rapid industrialization in the region, coupled with regulations aimed at safeguarding the environment are expected to benefit the regional market growth. Demand from countries such as Japan, India, and China are expected to be critical contributors to the overall regional market demand.
North America demand is expected to grow at an anticipated CAGR of 13.0% over the forecast period. Stringent regulations aimed at safeguarding the environment, awareness regarding clean water consumption and prevalent industrialization have benefitted the regional activated carbon demand.
Activated Carbon Market Share Insights
Recent advancements in reactivation service techniques are a prominent contributor to the difference in supply & demand. More and more companies are entering the reactivation business. They are providing facilities such as on-site reactivation services. This scenario has prompted many companies to recycle the previously used activated carbon.
Many companies have entered the activated carbon manufacturing business in the recent past, and due to rising demand, this trend is forecasted to continue over the next eight years. The presence of a large number of manufacturers has widened the supply-demand gap of the industry.
Industry participants are developing application based, products to better serve the customized client requirements. Key market players operating in the global market are ADA-ES Inc., Haycarb PLC, Kureha Corporation, Calgon Carbon Corporation, Jacobi Carbons AB, MeadWestvaco Corporation, Carbon Activated Corporation, Clarinex Group, Cabot Corporation, Carbon Resources LLC and Kuraray Co. Ltd.
Segments Covered in the Report
This report forecasts revenue growth at global, regional, and country levels and provides an analysis on latest industry trends in each of the sub-segments from 2014 to 2024. For the purpose of this study, Grand View Research has segmented the global activated carbon market report on the basis of product, application, end-use and region:
Product Outlook (Volume, Kilo Tons; Revenue, USD Million, 2014 - 2024)

Powdered Activated Carbon

Granulated Activated Carbon

Others

Application Outlook (Volume, Kilo Tons; Revenue, USD Million, 2014 - 2024)

End-Use Outlook (Volume, Kilo Tons; Revenue, USD Million, 2014 - 2024)

Regional Outlook (Volume, Kilo Tons; Revenue, USD Million, 2014 - 2024)

North America

Europe

Asia Pacific

Central & South America

Middle East & Africa