Industry Insights
Global ambulatory services market size was valued to be over USD 2,180 billion in 2014 and is expected to grow at a CAGR of over 5.8% over the next seven years. The factors that contribute to market growth are increasing government spending for ambulatory care facilities coupled with growing government initiatives and funding to offer team-based primary care and the cost-saving offered owing to same day surgeries.
U.S. Ambulatory Services Market, By Type, 2012 - 2022 (USD Billion)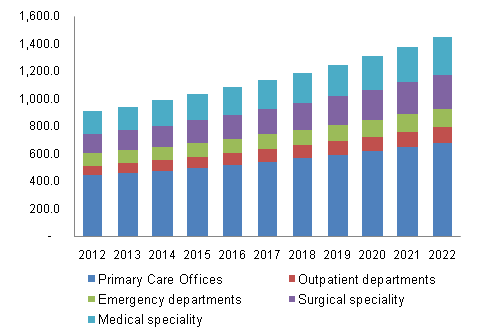 Primary healthcare spending as a percent of GDP has increased due to the fact that it can save a lot of cost wastage if delivered in an efficient way. In January 2015, the Government of India announced its plan to increase the healthcare spending to at least 2.5% of GDP, thereby offering free primary care through public facilities. Through this initiative, the government plans to broaden the definition of primary care by offering services such as communicable diseases and non-communicable diseases, reproductive, and child health.
The cost savings offered by ambulatory services due to cutting down on hospital stay costs along with highly advanced technological advancements have also driven the same day surgery centers. Due to the introduction of non-surgical procedures, surgeries such as cataract, which earlier required hospital stay can now be performed in a day owing to the presence of efficient recovery procedures.
Ambulatory Services Types Insights
Primary care offices dominated the ambulatory services market in 2014 with revenue estimated at over USD 400 billion in 2014. As primary care is the first point of care, the government is investing in general physicians' practice, transforming it into a community-based care. In February 2016, the government of New Brunswick to cut down on primary care cost wastage decided to implement a team-based healthcare delivery.
Surgery specialty is pegged to grow at the fastest rate during the forecast period, as there are major acquisitions undertaken by competitors in this segment along with technological advancements increasing the demand for same-day surgeries. In February 2016, Ambulatory Surgery Center of Western New York received permission for USD 4.8 million expansion. In addition, in January 2015, Apollo Hospital acquired Nova Medical surgical unit for USD 24 million.
Regional Insights
The North America ambulatory services market was the largest in 2014, owing to increasing aging population shift from inpatient to outpatient care and cost-saving offers owing to the same day surgeries omitting hospital stays. The ambulatory care providers are establishing their network with other healthcare providers and physicians to expand their reach. For instance, in March 2015, Tenet Healthcare and United Surgical Partners International (USPI) combined their forces to extend their network of ambulatory care units. The collaboration offered 20 imaging centers and around 265 short-day surgical facilities with 50 health systems partnership and 4,000 physicians.
Demand for ambulatory services in Europe is also increasing owing to the newer anesthesia which allows patients to recover their consciousness and help them experience lesser pain. This allows patients for effective and faster recovery avoiding hospital stays. In order to foster the growth of same-day surgeries, the Healthcare Conferences UK (HCUK) and the British Association of Day Surgery organized an event "Improving Quality in Day Surgery". The main objective of this event was to improve surgery quality in countries such as Germany and the UK.
Asia-Pacific is the fastest growing market with the CAGR of over 7.05%. The increasing burden of healthcare cost owing to the incidence of chronic disease has led the industry players and the government to introduce more of outpatient strategies. To reduce the long waiting time, China introduced the use of mobile apps, where outpatient appointments and payments could be made through that app. Furthermore, to keep up with the ever-increasing medical knowledge the Japan Primary Care Association (JPCA) has approved the ''UpToDate" Continuous Medical Education Resource (CME).
Competitive Market Share Insights
Key participants include AmSurg Corp., Surgery Partners, Symbion, IntergraMed America Inc., Nueterra, Terveystalo Healthcare Oyj, Aspen Healthcare, and Medical Facilities Corporation.
Industry participants are in a process of acquiring other providers to offer broader and comprehensive medical services. For instance, in December 2015, the Physician services division of AmSurg acquired Premier Emergency Medical Specialists (PEMS). The acquisition marked AmSurg's entry into the emergency medicine specialty. In addition, in August 2015, Plano's U.S. Renal and DSI Renal merged to offer a wide array of renal services operating in nearly 142 home dialysis programs, 300 outpatient clinics, and 26 acute care hospital contracts.
The government funding to transform the primary care practice, technological development enabling same-day surgeries and various collaborations by the major contributors is expected to fuel the growth of the ambulatory services market.