Industry Insights
Global anesthesia and respiratory devices market size was valued at USD 12.2 billion in 2013 and is expected to grow at a lucrative CAGR of 8.9% from 2014 to 2022. Increasing incidences of respiratory illnesses such as Chronic Obstructive Pulmonary Disease (COPD) and Obstructive Sleep Apnea (OSA) are high impact rendering drivers for this industry. COPD is a progressive disease, which requires proper medical intervention.
In addition, the increasing base of geriatric population and rising rates of environmental pollution also leads to the growth of these devices. However, the high costs associated with products, strict regulatory approvals coupled with alternate medications are the key restraints for the market.
North America anesthesia and respiratory devices market, by product, 2012-2022 (USD Million)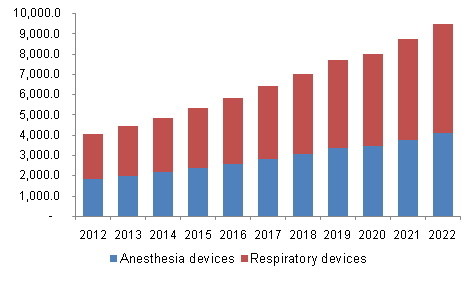 Moreover, the shifting preference of patients towards home care devices from hospital care is also expected to accelerate the demand for anesthesia and respiratory devices market over the forecast period. The evolution of patient-friendly, cost-effective, and portable products further encourages the usage of these devices.
Products Insights
The anesthesia machines are most commonly used in all types of surgeries as is designed to provide an accurate and continuous supply of medical gases (oxygen and nitrous oxide) mixed with anesthetic vapors (isoflurane), which is delivered to the patient at a safe pressure and flow.
Anesthesia market was dominated by machines in 2014 at over 58.0% revenue share. These are being used extensively owing to the increased number of planned surgeries and growing demand for minimizing anesthesia-related risks to both healthcare personnel and patients. The disposables market is the fastest growing, which is sub-segmented into masks and accessories. Since these are disposables, the risks of iatrogenic and other infections are minimal.
The fastest growing sub-segment is accessories, which dominated the market in 2014 with over 71.0%. The commonly used respiratory equipment is positive airway pressure devices, ventilators, reusable resuscitators, humidifiers, oxygen concentrators, inhalers, and nebulizers. The most lucrative segment in this market is for positive airway pressure devices.
The sub-segments of disposables are tracheostomy tubes, resuscitators, oxygen canula, and disposable oxygen masks. Measurements devices are divided into pulse oximeters, capnographs, spirometers, and peak flow meters. The pulse oximeters segment is identified as the most lucrative and is expected to grow at a CAGR of over 5.0% during the forecast period.
Regional Insights
North America dominates the market in terms of revenue owing to the robust innovation, continuous research and development along with the sophisticated healthcare infrastructure and favorable reimbursement policies of the government.
Furthermore, the Asia Pacific is expected to have the highest growth rate at over 10.0% CAGR during the forecast period as a consequence of rising healthcare awareness and high unmet needs of people and the large pool of patients suffering from respiratory diseases such as Obstructive Sleep Apnea (OSA) and Chronic Obstructive Pulmonary Disease (COPD).
Supportive government initiatives on healthcare are crucial factors impacting the growth of these devices. For instance, the government of China allocated a budget of USD 125 billion towards healthcare reforms between 2009 -2011. The government had also decided to build 30,000 new hospitals, clinics, and care units during this period.
Competitive Insights
This market is highly competitive and the players are involving themselves in the development of unique and advanced devices. The companies are adopting many developmental strategies in emerging economies such as Brazil and India through acquisitions and agreements in order to increase their market shares.
Some key players in the anesthesia and respiratory devices market are GE Healthcare, Teleflex Inc., Draegerwerk AG, Getinge Group, OSI Systems and Mindray, Covidien, Philips Healthcare, Teleflex, Invacare, ResMed, Masimo, Fisher and Paykel, and Smiths Medical. GE Healthcare and Covidien own the largest share and are constantly focusing on the development of new products and technologies for most of the applications to ensure sustainability and maximize profits.