Industry Insights
The global anti-fog additives market was valued USD 1.22 billion in 2015 and is projected to increase significantly over the forecast period owing to its rising demand in food and agricultural films. Anti-fog agents are applied as coatings or incorporated into polymer concentrates. They help in reducing the surface energy of any water droplets that may form on the polymer surface, as a result of which the droplets coalesce and form a continuous layer on the transparent film, improving visibility and appearance.
Growing usage of the additive in food packaging, agricultural, optical glasses, mirrors, and automobiles, as it reduces fogging and improves visibility will propel market growth over the next eight years. The low cost of production coupled with the boom in food processing and packaging industries in emerging and developing economies including China, India, Vietnam, and Thailand is expected to drive industry expansion over the forecast period.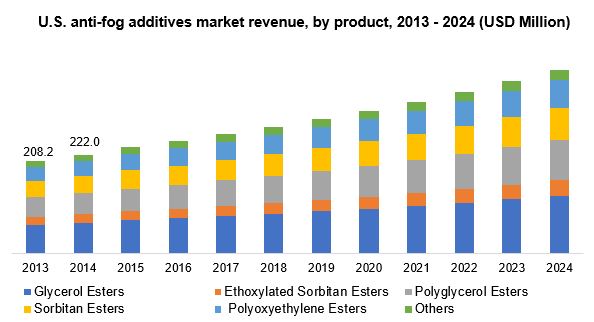 Also, rapid urbanization and hectic lifestyles have resulted in a shift in consumer eating habits towards packaged food, which will augment the demand for these additives over the next eight years.
Progress in the agricultural sector and rising demand for high-quality crops has led to the evolution of controlled farming activities, which is likely to spur the requirement of films, leading to growth in the anti-fog additives market. Increasing demand for crops owing to the increase in the global population is expected to bolster growth further.
Rising demand for the product in vehicle windscreen and windows as it increases visibility will stimulate growth over the next few years. The development of the automobile sector and a focus on passenger safety will propel demand growth over the projected period.
Stringent government regulations regarding the integration of these chemicals in food packaging applications are expected to hinder industry expansion in the near future. Managing environmentally hazardous waste produced during the manufacture of agricultural and food packaging films is supposed to pose a major challenge for market development over the forecast period.
Product Insights
The product segment of anti-fog additive market has been segmented into Glycerol esters, Ethoxylated sorbitan esters, Polyglycerol esters, Polyoxyethylene esters, Sorbitan esters, and others. Glycerol esters dominated the global market accounting for over 30.0% of the revenue share in 2015. The product is expected to witness a significant rise in light of its high usage in the food packaging industry owing to the non-toxic nature and low production cost.
The application of anti-fog additives in the food processing and packaging industries is projected to boom over the period as they are economical and preserve the product quality. Polyglycerol esters will witness the fastest growth in terms of revenue, at a CAGR of over 7.0% from 2016 to 2024 as it is biodegradable and find applications in greenhouse films.
Application Insights
Food packaging films were the largest application segment in 2015, estimated at USD 801.1 million. It is expected to witness high gains over the forecast period as it improves the transparency of films as well as the durability of the packed foodstuffs. Also, the product maintains visibility and aesthetic appeal of the product, which will stimulate its demand in the near future.
Growing demand for packaged food in various countries including the U.S., China, India, Indonesia, Malaysia, South Africa, Mexico and the UK will fuel industry expansion. Also, advancement in packaging and processing technologies in the food sector in the U.S. and countries of the European Union is expected to augment further packaged foods market growth, which in turn will drive the global anti-fog additives industry.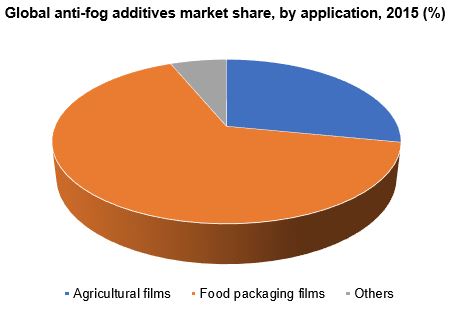 Moreover, the agricultural films display thermal resistance, high durability, and tensile strength which extends the shelf life of associated products. These factors are expected to augment demand for anti-fog additives during the forecast period.
Regional Insights
Asia Pacific anti-fog additives market accounted for 35.5% of the global volume and will witness growth on account of the flourishing food packaging and automobile industries in emerging economies including India, China, and Vietnam.
Growing demand for packaged food as a result of expanding the population, rising disposable income, and lifestyle changes will stimulate demand over the forecast period. Moreover, a large area of arable land along with advancements in agricultural technologies is expected to promote industry size over the forecast period.
North America is projected to remain the second largest market over the forecast period and will witness steady growth at a CAGR of over 5.7% from 2016 to 2022 in terms of volume owing to high consumer awareness and advanced agricultural practices in the region.
Anti-Fog Additives Market Share Insights
This market is characterized by constant innovation by major companies to improve the performance of their products. Development of durable additives that offer improved performance over a wide range of temperatures is necessary to drive market growth in the future.
Key industry players include Evonik Industries AG, A. Schulman, IncAddcomp Holland, Ashland Inc., Palsgaard, Ampacet Corporation, Clariant AG, ., AkzoNobel N.V., Croda International PLC, Emery Oleochemicals, DuPont, PCC Chemax Inc., Fine Organics, PolyOne Corporation, Polyvel Inc., Lifeline Technologies, and Sabo S.p.A.
In January 2014, AkzoNobel launched Armofog 151 and Armofog 151-XE35, vegetable-based anti-fog additives that are durable and useful in both hot and cold fog applications. These products enhance the anti-fog performance of food packaging and agricultural films.