Industry Insights
The global antidiabetics market was valued at USD 41,609.7 million in 2013 and is expected to grow at a CAGR of over 10.0% during the forecast period. Growing worldwide prevalence of diabetes (both type I and type II) is expected to be a key driver for insulin and oral hypoglycemic drug demand. According to International Diabetes Federation estimates, global diabetes prevalence is expected to increase from 366 million in 2011 to 552 million by 2030, such rapid growth in prevalence is expected to have a high impact on the antidiabetics market growth over the coming six years.
Global antidiabetics market, by product, 2012 – 2020 (USD Billion)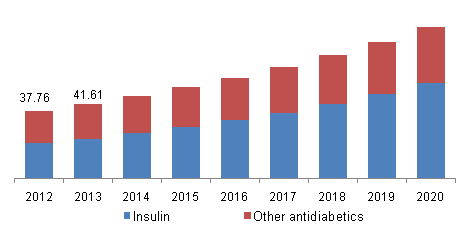 Other important market drivers include the growing prevalence of lifestyle-induced disorders such as obesity, increasing global base of geriatric population, R&D initiatives aimed at developing new products, and the presence of a strong pipeline portfolio.
According to the International Diabetes Foundation (IDF), obesity and diabetes share an integral relationship and are the biggest public health challenge of the 21st century. Statistics suggest that almost 80% to 90% of patients diagnosed with diabetes are also diagnosed with obesity. Moreover, irregular and unregulated dietary habits contribute to causing diabetes. The global obesity prevalence was 1.4 billion amongst adults and more than 40 million amongst children under the age of five in 2010. Furthermore, the fact that the global prevalence of obesity is expected to grow during the forecast period is expected to serve the antidiabetics market as a driver.
Product Insights
Insulin dominated the overall market in 2013 in terms of revenue. High usage rates coupled with effective therapeutic properties associated with the product attributes to its large market share. Moreover, this segment is expected to gain revenue share during the forecast period owing to the introduction of new products and the potential future commercialization of products currently in the pipeline. The insulin segment includes rapid-acting, long-acting, premixed insulin, premixed analog, short-acting, and intermediate-acting. Long-acting analogs dominated the overall product market in terms of revenue share in 2013 at 43.3% owing to its high prices and efficacy. The segment is also expected to register the fastest growth during the forecast period.
Antidiabetics drugs market is sub-segmented into alpha-glucosidase inhibitors, biguanides, sulphonylureas, GLP-1 agonists, meglitinides, DPP-4 inhibitors, SGLT–2, and thiazolidinediones. SGLT-2 is identified as the fastest-growing antidiabetics drug segment of this market. The introduction of new products exhibiting higher efficacies and the potential commercialization of new products currently in the pipeline is expected to drive segment growth over the next six years.
Regional Insights
Key regions analyzed and estimated for the antidiabetics market include North America, Europe, Asia-Pacific, and RoW. The North American antidiabetics market held the largest market revenue share in 2013. High market penetration of modern insulin products such as long-acting, rapid-acting insulin analogs and DPP-4 drugs such as Januvia, Onglyza and Nesina and the presence of high healthcare expenditures, patient awareness levels, sophisticated healthcare infrastructure, and reimbursement framework are the major factors contributing to its large share.
Asia Pacific on account of the rapidly improving healthcare expenditure levels, growing prevalence of type I and type II diabetes, and increasing patient disposable incomes is expected to grow at the fastest rate during the forecast period.
Competitive Insights
Key players of the antidiabetics market include Sanofi-Aventis, Takeda Pharmaceuticals, Eli Lilly, Oramed Pharmaceuticals, Boehringer Ingelheim, Merck & Co. Inc., Novo Nordisk, Bristol-Myers Squibb, Halozyme Therapeutics and Pfizer. Novo Nordisk held the largest share of the market in 2013 at 41.0% majorly owing to the launch of products with advanced technologies such as Tresiba (ultra-long-acting insulin) and the presence of extensive distribution network in Asia Pacific, Western European and North American markets. Local manufacturers also play a major role in emerging markets especially in the generic and biosimilar product segments and in the human insulin segment. E.g. Tonghua Dongbao in China and Biocon and Wockhardt in India.