Industry Insights
Global Antifouling Coating Market size was 84.4 tons in 2014 and is expected to witness considerable growth in light of its increasing demand in hulls and underwater surfaces of shipping vessels as it provides smoothness and superior polishing effect.
Antifouling coatings are specialized paints, which are applied to the hull of a ship to prevent the growth of sub-aquatic organisms to improve vessel performance and durability. Increasing consumption in commercial vessels, passenger ships, yachts, cargo, Floating Production Storage & Offloading (FPSO) and conventional offshore drilling rigs is expected to augment industry growth over the forecast period.
Germany Antifouling Coating Market, by Application, 2012 - 2022 (Tons)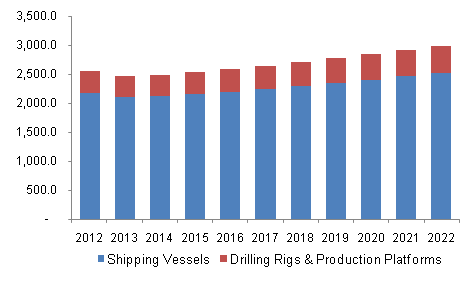 Rising popularity of condition-based monitoring over breakdown maintenance in shipping sector is expected to play a crucial role in increasing importance of the product. Also, its superior properties including protection against fouling, corrosion and external contamination will propel growth.
Application Insights
Antifouling coatings were majorly used in shipping vessels, accounting for over 80% of global volume in 2014. The use of these paints induces extension of the dry-docking interval as well as provides direct fuel saving by keeping hulls free from fouling organisms.
Drilling rigs & production platforms are expected to witness growth, at a CAGR of 8.0% in terms of revenue, from 2015 to 2022. Rising capital expenditure for FPSO vessels by companies operating in upstream oil & gas sector is expected to fuel the demand for antifouling coatings in the near future.
Regional Outlook
Asia-Pacific was the largest market, accounting for over 85% of the global volume in 2014. Shipbuilding activities are robust in South Korea, China, Japan, Taiwan, and Philippines. This is expected to result in the dominance of Asia-Pacific within the shipbuilding sector, thereby driving demand for antifouling paints in the region. Moreover, increasing expenditure for the exploration and production of crude oil & natural gas in China, India and Thailand are expected to further fuel demand for these paints in drilling rigs & production platforms.
China, South Korea, Taiwan, and Philippines are expected to witness significant gains owing to the presence of a large number of shipbuilding manufacturers. Also, the emergence of Australasia and India as manufacturing destinations of shipping vessels owing to regulatory support for promoting new investments at the domestic level is expected to increase industry size. The presence of stringent regulations monitoring the use of biocides in personal care, marine, agriculture and water treatment applications by the EPA and European Commission is expected to reduce antifouling coatings demand over the next seven years.
The Government of India proposed Draft National Chemical Policy in September 2013, to elevate the country's domestic output in the global chemical industry from 3% in 2014 to 6% by 2020. Favorable government policy along with positive outlook towards shipping sector in India is expected to open new opportunities over the next seven years. Europe Antifouling Coating Market exceeded 6.0 kilo tons in 2014. High penetration of yachts manufacturers in Italy and UK is expected to have a positive impact on the market.
MEA antifouling coatings industry was valued at USD 22.3 million in 2014. Rising capital expenditure for the development of offshore vessels in Saudi Arabia, Nigeria, and Angola is expected to increase the use of the product over the forecast period. .
Competitive Insights
Key players include AkzoNobel, PPG Industries, Sherwin-Williams, Advance Marine Coating, Jotun, Hempel, Kansai Paint and Nippon Paint. In August 2015, Jotun opened a new production facility for marine coatings at Rio de Janeiro, Brazil with an investment of USD 24.4 million. The manufacturing unit will produce 10 million liters of marine coating products, including antifouling products.
In December 2014, Hempel launched two products under the brand name, GLOBIC, and DYNAMIC, for dry dockings and new shipyard buildings in order to deliver fuel savings of up to 3%. New product development is expected to remain a critical success factor for the market in the near future.
Ongoing R&D to develop coatings from natural materials including palm oil is expected to create immense market potential in the near future. In July 2011, Biomimetics-Innovation-Centre (B-I-C) developed a new non–toxic antifouling coating based on palm seed.