Industry Insights
The Asia Pacific construction films market size was valued at USD 15 billion in 2015 and is anticipated to grow at a CAGR of 7.6% over the forecast period. Increasing plastic consumption in commercial & residential buildings is expected to remain a key driving factor for growth over the forecast period.
The market is witnessing an increasing number of green buildings due to rising awareness among consumers regarding sustainable building practices. Green building sectors in Hong Kong and Singapore also display substantial growth potential & attract foreign investments. This trend has subsequently increased the demand to meet energy-efficiency needs.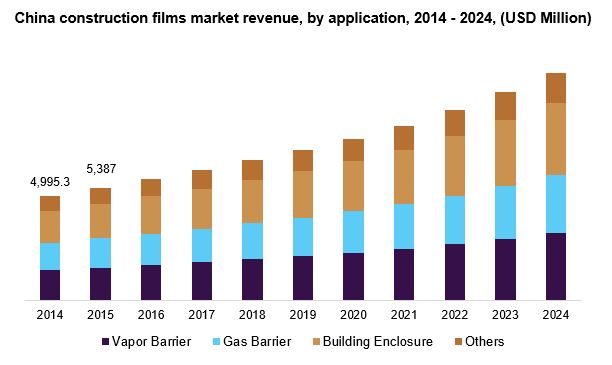 Increasing infrastructure spending, in Malaysia, as a result of Economic Transformation Program (ETP) for the period of 2011 to 2020 has attracted higher FDI in the region. Several foreign players have launched technology-driven projects leading to the requirement of economically advantageous & high performance building materials, such as construction films.
The regional construction industry exhibits lucrative opportunities for foreign investors due to enormous scope in middle-class housing and presence of low-cost workforce. Similarly, trans-pacific and regional comprehensive economic partnerships are also driving industrial trade & investment activities, thereby fueling industry growth.
Furthermore, potential developments such as double layer metallized barrier films also present ample growth scope. Manufacturers are shifting their focus towards innovative technologies that comply with regulatory and building standards. Such advanced plastic films designed exclusively for unique infrastructures would arise demand for products with better specifications.
Environmental authorities in Malaysia and Indonesia have launched several media campaigns to combat the increasingly negative public perception of plastics used in the industrial sector. This factor is likely to result in an evolution of sustainable plastic materials manufacturing processes & subsequent positive impact on the construction films market in Asia Pacific.
Application Insights
Building enclosures or envelops emerged as the dominant segment with over 34% of volume share in 2015. These envelops assist in climate control inside building spaces and addresses critical moisture issues. Increasing demand for architectural roofing & waterproofing solutions in new commercial projects in India has been a key factor driving the segment growth.
The introduction of innovative & lightweight films, such as fully private enclosure constructed for indoor applications is expected to generate immense potential over the forecast period. These innovative products are likely to possess attributes resulting in their demand as a glass substitutes in buildings. This factor in turn is projected to result in replacement of conventional building materials by plastics in upcoming years.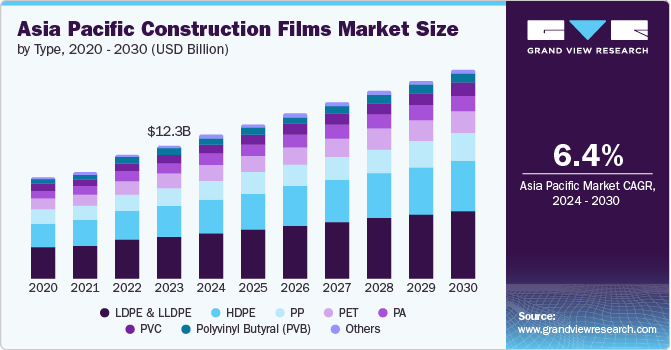 Vapor barriers are anticipated to grow at a steady CAGR of 7.7%, and find wide application scope in numerous commercial and industrial building applications by improving air tightness and preventing interstitial condensations. Their usage as an under-concrete slab layer is expected to provide the impetus for growth to the segment.
Basin, greenhouse, heat shrink, and masonry insulation are other films finding application in the construction industry. Such polymer films provide heat, humidity and moisture protection by creating a barrier on internal as well as external surfaces. They are designed to constrain moisture loss and maintain hydration during the curing process of concrete. High insulations and resistance, contamination removal and high tensile strength are some properties of these construction films driving demand in construction industry.
Regional Insights
China emerged as the dominant consumer in Asia Pacific. Rising initiatives to foster trade connectivity coupled with vast infrastructural spending to house the country's massive population are foremost driving factors in China. Chinese populace has witnessed a proliferation of hospitals and healthcare facilities owing to growing geriatric population over the past few years.
This in turn has boosted the demand for advanced building materials such as sustainable plastic sheets. Furthermore, prefabricated buildings are also likely to become a major trend in China, which in turn is likely to result in surged demand for high performance moisture controlling sheets demand over the forecast period.
However, India is anticipated to account for over 20% of the volume share by 2024. Rapidly expanding plastics industry along with growing technical knowledge are key factors driving innovations in the Asia Pacific construction films market. Besides this, other initiatives such as the development of smart cities, rising investments in religious and tourists' cities and new urban development missions are also projected to boost demand in upcoming years.
Southeast Asian countries are also expected to grow at a significant rate owing to trade tariffs and attractive incentives provided by the ASEAN governments. Philippines, Indonesia, Thailand, and Singapore are likely to be the hub of fast-growing markets owing to the positive demographic outlook, political stability and rising demand for residential space.
Asia Pacific Construction Films Market Share Insights
Key industry participants include Dow Polyethylene Asia Pacific, Asia Polymer Corp., GECO Industrial Co. Ltd., Arun Manufacturing Services (Pvt.) Ltd., Guangdong Jinbang Industry & Technology Co. Ltd., Laizhou Laixing Plastic., Qingdao KF Plastics Co. Ltd., Climax Synthetic Pvt. Ltd., Great Cosmo Industries, and EP Industries Sdn Bhd.
Dow Chemicals have expanded production capacity by commencing the production for enlight polyolefin encapsulant films in Thailand, used in photovoltaic solar panels serving the construction industry to meet sustainability requirements. The industry is also witnessing several innovations owing to global manufacturers that are attempting to enter rapidly growing Southeast Asian countries.