Industry Insights
The global automotive refinish coatings market size was USD 8.45 billion in 2015 and is expected to witness significant growth over the next eight years on account of rising vehicle ownership in developing economies including China, India, Mexico, South Korea and Brazil. Increasing automotive refinish coatings demand in light of rising road collisions and aftermarket modifications will fuel market growth.
Growing consumption of refinish coatings in automotive maintenance, repair, and aftermarket painting on account of excellent visual appearance, surface protection, resistance to corrosion, extreme weather, temperature, heat and water is expected to promote industry expansion. Moreover, the market will witness significant growth on account of rising demand for vehicle modification over the next eight years.
U.S. automotive refinish coatings market revenue, by technology, 2013 - 2024 (USD Million)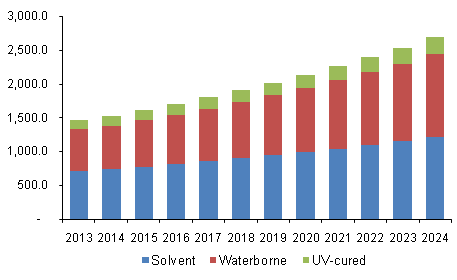 Increasing consumption of waterborne, high solids and UV-cured coatings owing to zero VOC emissions is expected to stimulate market growth over the forecast period. However, volatility in raw material prices along with rising spending on road infrastructure will hinder industry expansion.
Technological advancements coupled with continuous product development to enhance the performance of refinish coatings will propel market growth over the next eight years. Moreover, government efforts on reducing VOC emissions by deploying eco-friendly technology will create new market opportunities over the forecast period
Technology Insights
Solvent borne technology accounted for 49.6% of the global volume share in 2015 and is expected to witness slow growth owing to stringent regulations on VOC emission levels. However, improvements in technologies and innovations have led to the development of high solid formulations. High solid formulations are widely used owing to high-quality finish and reduced emissions, which in turn will augment solvent borne coatings industry size over the forecast period.
UV-cured technology will witness significant volume growth at a CAGR of 5.8% from 2016 to 2024 on account of its availability in custom colors, fast cure time along with the outstanding performance at a competitive cost. Furthermore, increasing usage in clear coats and primer will spur demand over the next eight years.
Resin Type Insights
Polyurethane was the most widely used resin and accounted for 44.2% of the global volume share in 2015 and is expected to witness significant growth owing to superior properties including an excellent performance in various environmental conditions and resistance to extreme temperatures.
Increasing demand for polyurethanes on account of high resistance to abrasion and impact along with excellent resistance to grease, oil and water will stimulate market growth. Extensive usage of polyurethane in tropical environments owing to properties such as fungus resistance and UV protection is expected to augment market growth over the upcoming years.
Product Insights
Topcoats were the prominent product segment as they are extensively used in automotive refinishing as a final coat to the automobile surface. They accounted for over 35% of the market volume share in 2015 and are expected to witness tremendous gains over the forecast period on account of its rising consumption in light of high durability, gloss, abrasion resistance, chemical stability and UV radiations.
Vehicle Age Insights
Revenues generated by automotive refinish coatings used in vehicles aged more than 10 years was USD 1.81 billion in 2015 and will show a substantial increase as they require frequent maintenance and repair. Old vehicles need paint work owing to surface corrosion, color fading, scratches and cracks. Rising interest from the youth to refurbish old cars by applying coatings and replacing equipment is expected to drive the market over the next eight years. Built quality of cars and trucks has drastically improved leading consumers to retain their existing vehicles which in turn will stimulate industry growth.
Regional Insights
Asia Pacific was the dominant market player and accounted for 42.3% of the global revenue in 2015. The robust manufacturing base of automotive in China, Japan, and India along with increasing passenger vehicles sales is expected to augment automotive refinish coatings market growth over the upcoming years. Underdeveloped road networks, lack of proper safety laws and growing demand for vehicle maintenance, repair & modification are expected to have a positive impact on the industry size.
China will witness a high rise in light of increasing number of road accidents along with rising vehicle ownership over the forecast period. Rapid development and modernization will lead to increasing number of vehicle sales. Moreover, the presence of major manufacturers including Nippon Paint and BASF will spur market size over the next eight years.
MEA will foresee high volume gains with a CAGR of 5.5% from 2016 to 2024 as a result of rising demand for maintenance of luxury vehicles and performance vehicles in UAE and Saudi Arabia.
Competitive Insights
The industry is extremely competitive in nature with the key players involved in R&D and continuous product innovation. BASF SE, AkzoNobel, PPG Industries, and Axalta Coating Systems were the major players and accounted for over 50% of the overall market share in 2015. Other participants include Sherwin-Williams, Valspar Corporation, Nippon Paint, Berger Paints, Kansai Paint, KAPCI Coatings, KCC Corporation, Cabot Corporation, Color Communication, NOROO Paints & Coatings, Alsa Refinish and Diamond Vogel.
In March 2015, Axalta Coating Systems established a new waterborne coatings plant in Shanghai to meet demand for growing the automotive industry in China. In April 2015, BASF entered into the agreement with Guangdong Yinfan Chemistry Co., Ltd. to manufacture coatings for automotive refinish market.