Industry Insights
Global baby diapers market size was USD 39.97 billion in 2014 and is projected to witness rapid growth owing to high birth rates in the developing regions over the forecast period. Growing awareness regarding baby health and easy affordability are a few other key factors that are projected to aid the industry in the near future.
Technological advancements have resulted in several novel products with superior properties that have aided market penetration, particularly in the developing regions. An increase in working women ratio has had a positive impact on product sales due to their convenience and easy to use properties.
Developing regions are characterized by increasing disposable incomes, resulting in higher buying power for customers. Such a trend is expected to result in a higher sale for the premium products and turn aid the global baby diapers industry in the near future. The high birth rate in the developing regions such as Asia Pacific, Middle East & Africa and Latin America is another key factor that is projected to impact positively the regional product sales.
Prolonged exposure to chemicals employed by disposable baby diapers results in skin rashes and other such negative health impacts. Growing awareness regarding these toxic chemicals and the related health impacts are anticipated to negatively influence the baby diapers market over the next seven years.
Stringent regulatory framework governing employed by governments and agencies to safeguard customer interest is expected to hamper the industry growth in the near future.
North America baby diapers market revenue by product, 2012-2022, (USD Million)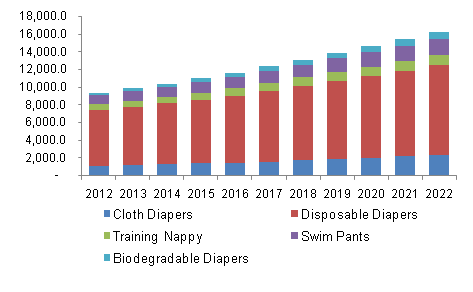 R&D initiatives to develop superior products without adverse impacts on health promise ample growth opportunities for the industry. Developing regions also consist of several markets that are characterized by low awareness regarding baby diapers. Such markets are expected to provide ample opportunities for the industry participants. Recent growth in e-commerce is another key factor that promises ample market penetration opportunities over the forecast period.
Product Insights
Major products include cloth diapers, disposable diapers, training nappy, swim pants and biodegradable diapers. Among these products, disposable ones dominated the global market in the recent past and are expected to continue this trend over the forecast period. Training pants and cloth-based products were the second and third largest segments of this market in the recent past.
Biodegradable ones are projected to witness the rapid growth rate over the forecast period owing to growing environmental awareness and shifting consumer preferences. Flat, fitted, pre-fold and all-in-one are the various cloth diaper products. Growing awareness regarding the adverse impacts related to chemicals used in disposable ones is expected to prompt a shift in consumer preference towards cloth based in the near future.
Ultra-absorbent disposables, regular disposables, super absorbent disposables and bio-degradable disposables are the major disposable diaper products. Among these products, super absorbent disposable diapers and ultra-absorbent disposable diapers dominated the global market in the recent past are projected to continue the trend over the forecast period.
Regional Insights
Europe dominated the global baby diapers market in the recent past, followed by Asia Pacific and North America. Developed regions such as North America and Europe are presumed to witness moderate growth due to sluggish birth rate. Emerging economies such as China and India and presumed to lead the regional Asia Pacific market owing to factors such as high birth rates, increasing disposable income, easy affordability and growing awareness regarding baby health.
Other regions such as Latin America, Middle East, and Africa are presumed to witness strong demand as well. However, overall economic poverty and low awareness regarding baby health issues in certain African countries are anticipated to hamper the regional industry.
Competitive Insights
The global baby diapers market share is moderately consolidated whereby the major industry participants account for nearly half the global market share. There have several mergers, acquisitions and partnerships in the recent past which are aimed at developing novel products, increase market penetration and enhance production capacity.

Prominent industry participants include P&G, Kimberly Clark, Hengan, KAO, Unicharm, SCA, Phillips Healthcare, Associated Hygiene, Cotton Babies, Drylock, First Quality, Ontex, OsoCozy, Seventh Generation, Hain Celestial and The Honest Co.