Industry Insights
Global bioceramics market size was USD 12.31 billion in 2014 and is expected to witness significant growth over the next seven years owing to increasing demand from the orthopedic and dental implants sector in various countries including the U.S., Japan, Germany, and China. The growing medical sector on account of ongoing advancement in medical technology and services is expected to augment growth over the forecast period.
Better access to advanced medical facilities owing to their scale of utilization coupled with rising disposable income has resulted in early occurrences of surgical intervention, which is expected to stimulate product usage. In addition, increasing dental injuries coupled with rising dental implant procedures is expected to drive product demand over the next seven years.
North America and Europe are prominent markets for the product owing to the increasing research and development activities along with growing consumer demand in the region. Changing demographics in North America and Europe have resulted in growing demand for healthcare facilities. This has been an important factor for medical advancements and contributed to the increasing use of the material over the past few years.
Growing aging population has led to rising incidences of osteoarthritis, which will increase bioceramics consumption for knee and hip joint replacements and implants. However, volatility in alumina prices is expected to have a negative impact on industry expansion. Medical polymers which have properties similar to bioceramics are expected to hinder growth over the forecast period. Partial joint replacements and minimally invasive techniques along with the reduction in surgery cost are expected to open new opportunities for market growth over the forecast period.
U.S. bioceramics market revenue, by material, 2012 - 2022 (USD Million)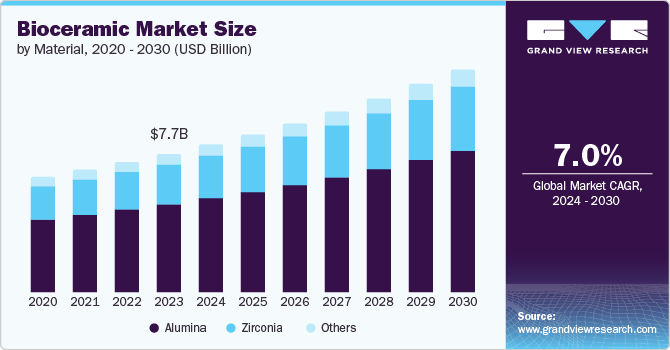 Material Insights
Zirconia is expected to witness rapid growth at a CAGR exceeding 6.0% from 2015 to 2022 owing to increasing penetration of zirconia-based restorations in dental care. In addition, biocompatibility of alumina is expected to propel its demand in the near future.
Ongoing product development and technological advancements including the introduction of new advanced materials such as zirconia toughened alumina, and calcium phosphate coatings are expected to promote its consumption in the medical sector over the forecast period.
Application Insights
Demand for bioceramics in dental applications accounted for 37.4% of the global market in 2014, making it the most prominent segment after orthopedics. Dental implants sector is expected to be a key market driver on account of increasing demand for ceramic-based crowns and bridges as they have shades closely resembling the original teeth crowns.
The orthopedic sector will witness significant growth as a result of increasing surgical intervention trends by doctors for knee, shoulder, and hip implants at an early stage. In addition, growing consumption of alumina, zirconium, and hydroxyapatite on account of better stability, reduction in wear and tear, and reduced chances of any dislocation post-operation will fuel its demand in the orthopedic sector.
Regional Insights
In Europe, the bioceramics market accounted for over 40.0% of global revenue in 2014. Positive outlook for the dental care industry in Germany in light of growing demand for ceramic-based restorations is expected to stimulate industry expansion.
North America market was valued over USD 4.50 billion in 2014 and is expected to witness significant rise on account of high consumption of biocompatible ceramics in the medical industry. In U.S., the hip and knee replacement sector have witnessed significant growth owing to rising demand for joint designs suiting specific measurements of a patient coupled with consumer awareness for various options available for replacements.
The increasing production capacity of pharmaceutical companies along with increasing investment in research and development activities in Asia Pacific is expected to create immense market potential over the forecast period.
Competitive Insights
The global bioceramics industry is dominated by few companies including CeramTec, and Zimmer-Biomet Holdings Inc. accounting for more than 90% of sales. Nobel Biocare is engaged in developing components for dental implants including crowns and bridges. In December 2015, the company signed a private label supply agreement with a subsidiary of WinnTi Medical Group called BoTEC Medical which is focused on spine and extremity solutions.

Coorstek Medical is engaged in producing more than 300 advanced materials. In August 2015, CoorsTek Medical announced a five-year plan to expand its ceramic hip replacement components capacity.