"Demand for biological control agents with negligible residues led to significant growth"
The global biorationals market size exceeded USD 1.0 billion in 2015. Increasing adoption of integrated pest management is expected to steer market growth over the forecast period. Adverse impacts of synthetic pesticides on beneficial organisms in farmland and terrestrial ecosystems have offered ample scope for bio-based products.
The high content of active ingredients and degradation metabolites from residues left on cereals and vegetables can impair endocrine systems of the consumers. This has led to stringent regulatory norms on the maximum residue levels (MRL) of pest control agents used in agriculture. The European Union has laid various guidelines that led to the withdrawal of conventional pesticides in the region.
U.S. biorationals market revenue by product, 2014 - 2024 (USD Million)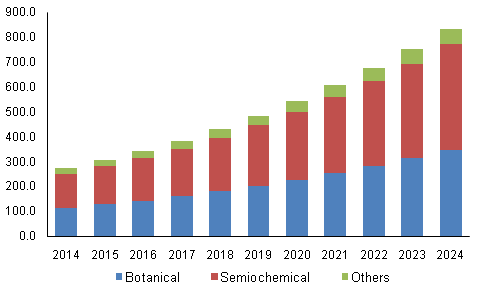 However, eco control products are characterized with negligible MRL risks, thereby offering ample opportunities for enterprises to enhance their R&D investment and develop efficient products over the long term. Biorational pesticides have witnessed increasing acceptance among agricultural farm owners as these are efficient in managing pest resistance. This has steered significant demand for major products such as pheromones, neem extracts, essential oils, and repellants over the past few years.
According to a United Nations (UN) report, global population is expected to reach 8.5 billion by 2030 and the demand for agricultural commodities is expected to double over the forthcoming years. Growing concern towards food security by utilizing sustainable strategies has steered natural pesticides demand over the past few years.
"Semiochemicals were the leading product segment in 2015"
Semiochemicals are expected to grow at a CAGR of 12.1% from 2016 to 2024. Increasing adoption of efficient monitoring and quality control techniques in the agricultural industry has attributed to the market growth. Insect sex pheromone traps and allelochemicals are the major products that are expected to steer market growth over the next few years.
Global botanicals market size was valued over USD 400 million in 2015. Natural plant products in this criterion have witnessed increasing demand for use as insecticides and control major pests such as red spider mite, aphids, termites, and nematodes. However, the high rate of degradability and high production costs are expected to hamper its growth over the medium term.
"Fruits & vegetables were the leading target crops followed by cereals & grains in 2015"
Fruits & vegetables emerged as the leading segment for biorationals industry and are anticipated to grow at an estimated CAGR exceeding 12% over the next eight years. Growing concern towards insects such as coleopterous on citrus, pome, and berry fruits is anticipated to steer the demand for antifeedants and insect growth regulators over the forecast period.
Cereals & grains segment is characterized by high frequency of bug diseases and subsequent economic losses. Growing concern towards aphids has urged the cereal producers to adopt biocontrol agents such as pheromone traps and semiochemicals for effective insect control. The segment is expected to generate revenues exceeding USD 1 billion by 2024.
"North America was the leading regional segment followed by Europe in 2015"
North America dominated the biorationals industry in 2015. The market size is anticipated to grow at a CAGR of over 11.5% over the forecast period. Stringent regulatory framework against the synthetic pesticides has contributed tremendously towards market penetration in the region. Various agri-business initiatives were adopted by the food processors and farming enterprises to cater the growing concerns towards food security. Ongoing industrialization of the food system, particularly in the U.S. and Canada is anticipated to drive investments for enhancing crop yield rates, with minimal environmental impact.
Increasing demand for the low-priced and high-quality organic commodities from Mexico, India, and China has urged the crop producers to enhance the productivity and minimize losses associated with pests. This has urged various agro-producers to adopt biorationals that enhance the crop yield, thereby gaining a competitive edge over other entities.
According to the Research Institute of Organic Agriculture survey 2014, Asia Pacific has the highest number of organic producers with over 8.5 million companies in the region. The report further illustrates that India had over 600 thousand producers in 2013. Biorational demand in Asia Pacific is characterized by slow growth, mainly due to high demand for the low price and efficient synthetic pesticides.
India biorationals market is anticipated to exceed USD 110 million by 2024. Low market penetration in the region can be attributed to lack of awareness among the farming communities and comparatively low efficiency of natural pesticides in pest control management. Various countries of Europe and Americas are export destinations for the fruits, grains, cash crops, and ornamental producers in Asia Pacific.
However, the rejections of agrifood exports to Europe and North America are primarily associated with pesticide residues, microbiological contaminants, and unsanitary containers. Stringent regulatory norms regarding MRL in aforementioned regions are expected to steer biorationals demand in Asia Pacific over the next eight years.
"Innovative product development to drive industry competitiveness"
Key manufacturers include Suterra, LLC, Russell IPM Ltd., Agralan Ltd., Rentokil Initial Plc, McLaughlin Gormley King (MGK), Koppert BV, BASF SE. Bayer AG, Inora, Isagro Spa, Gowan Company, LLC, and Summit Chemical. Major strategies adopted by these companies include partnerships with government entities and third party distributors for enhancing their position in the global biorationals market.