Industry Insights
The global Bring Your Own Device (BYOD) market was valued at USD 75.99 billion in 2013 and is expected to witness substantial growth over the forecast period. Increased proliferation of smartphones and the roll-out of services such as 4G LTE are expected to drive market growth in both developing and developed economies. As employees are more acquainted with their personally owned devices, they can perform tasks more efficiently, thereby boosting productivity at work.
The U.S. BYOD market by the device (USD Billion), 2012 - 2020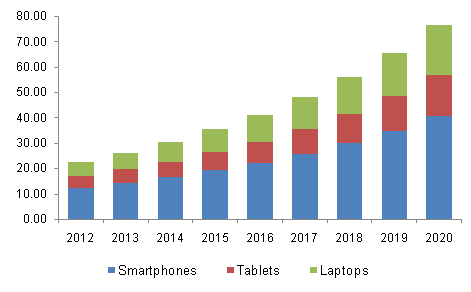 Employees have shown a greater inclination towards the use of a single device for both personal and professional applications in order to avoid the hassles such as theft and inconvenience caused by carrying separate dedicated devices. In such an environment, the need for carrying multiple devices or switching between work and personal devices is eliminated.
Overcoming security concerns presented by BYOD implementation is one of the major challenges for enterprises adopting this model. Possible security risks include unregulated third-party access to sensitive information, challenges in measuring risk exposure and tracking data, device theft, and employees with these devices leaving the organization.
Device Insights
Smartphones, laptops, and tablets are the key devices through which BYOD programs are implemented. Smartphones accounted for over 55% of the overall revenue share in 2013, which can be attributed to the fact that mobile developers have rolled out several applications that are reminiscent of popular programs such as Microsoft Word, Microsoft Excel, and Microsoft PowerPoint, which help employees achieve an effective blend of work and personal lives.
Laptops are expected to exhibit a steady growth rate over the forecast period owing to familiarity with the working of the aforementioned programs, which help employees create a work environment at home.
The growing popularity of tablets, which offer users the advantages of both smartphones and laptops, is expected to trigger a revolution in BYOD adoption. Tablet plans are expected to witness a surge in demand as they are perceived as optimal solutions to broaden access and at the same time to limit cost.
End-Use Insights
Enterprises of all sizes ranging from small businesses to mid-to-large sized businesses have begun adopting these programs as they help in significantly reducing capital expenditure as well as operating expenditure. Employees bring personally owned devices for work, resulting in the elimination of hardware or device costs. Additionally, a large percentage of employees also bear data costs incurred on their devices, helping lower overall costs borne by the organization.
Mid-to-large sized businesses accounted for over 75% of the revenue share in 2013, which can be attributed to the availability of more resources and sophisticated communication networks with adequate security provisions. Small businesses too are catching up at a decent pace and are expected to grow at a CAGR greater than the global average.
A considerable percentage of SMBs have utilized a Mobile Device Management (MDM) solution for governing and managing mobile devices to alleviate security concerns. Educating employees and establishing policies around mobility is on top of the agenda for several SMBs' IT executives. Mid-sized businesses have driven the demand for MDM adoption.
Healthcare and BFSI are expected to emerge as the key verticals adopting such programs over the forecast period. The provision of remote access to account information and enabling collaboration with co-workers and customers are expected to play a pivotal role in penetration into the BFSI sector.
In healthcare, doctors need mobile access as they often work outside the hospital. Liability issues under the Health Insurance Portability and Accountability Act (HIPAA) have mandated ensuring Protected Health Information (PHI) on mobile applications.
Defense agencies face their own sets of cybersecurity threats. Corporate-Owned Personally Enabled (COPE) policy needs to be adopted by the latter along with customized devices, which creates niche opportunities for vendors who can offer their solutions in large numbers.
Regional Insights
North America BYOD market was valued at over USD 25 billion in 2013. The region is expected to continue its dominance over the forecast period. North America contributed to over the overall market share in 2013 and is expected to remain the largest market over the forecast period. Several companies in the U.S. offer their employees an option to work from home, as a result of which the penetration is very high in North America.
Asia Pacific BYOD industry has been fueled by the proliferation of smartphones and tablets along with the consumerization of IT. Although a large number of users in the region use their devices during work, the dearth of formalized policies for BYOD support is a challenge. Employees in countries such as China and India exhibit a strong preference for working even outside of office hours, a trend which is not observed in the U.S. and most of the European countries.
Competitive Market Share Insights
Enterprise mobility management solution providers and hardware device providers constitute the market. While some vendors specialize in application development, some others' forte is core communication features. Industry participants emphasize on providing benefits such as cost reduction, talent retention, and operation simplification through a unified approach. Vendors have started rolling out solutions tailored specifically to SMBs to capitalize on the high growth prospects that the domain is expected to present. IBM, MobileIron, Good Technology, Cisco Systems, and Alcatel-Lucent dominated the BYOD market share in 2014