Industry Insights
The global ceramide market size was valued at USD 239.16 million in 2014. It is expected to grow with CAGR of 5.4% from 2015 to 2022. Social factors, changing lifestyle especially among young generation, skin aging problems among older generation, and increasing women workforce are some important factors which are expected to drive ceramide demand in skin care and cosmetic products over the forecast period.
Traditionally, synthetic ceramides were used for manufacturing cosmetics and skin care products owing to its inexpensive nature. However, advent of biotechnology has promoted manufacturers to develop green technological solutions, such as plant-based raw materials, to produce ceramides on account of its characteristics being similar to naturally occurring ceramides in the skin. Plant-derived raw materials for ceramides are also gaining importance owing to its characteristics being identical to the naturally occurring ceramides in the skin.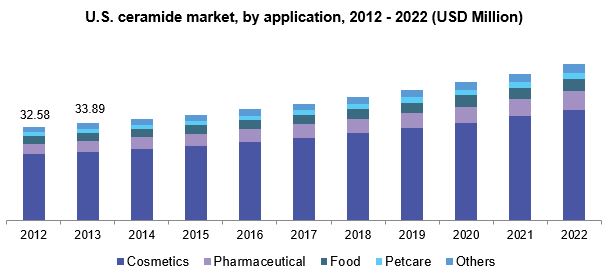 Favorable regulatory and technological trends are likely to drive global ceramide market growth over the forecast period. Expanding application base, such as medical and food, is expected to enhance overall market demand in the coming years. Ceramide in personal care products is projected to be driven by both younger as well as older population.
Unhealthy lifestyle including smoking, drinking, junk food, and minimal sleeping is resulting into skin aging problems among people in their 20s and 30s. This factor is increasing demand for anti-aging products especially among women. On the other side, people in their 50s and 60s who naturally face aging problems demand for anti-aging products. Growing aging population in Japan, Germany, China, Spain, France, and Korea is expected to increase ceramide industry growth for personal care products.
Expanding application base including functional foods, toiletries, and medical treatment is another important factor which is expected to augment overall industry growth particularly in emerging economies of Asia Pacific, Latin America, and Middle East.
Application Insights
Cosmetics segment accounted for over 65% of total revenue share in 2014 and is likely to continue its dominance over the forecast period. Factors such as aging population and changing lifestyle are likely to further contribute towards positive industry growth. Decreasing unemployment rates and improving economic growth is anticipated to drive consumer purchasing power for expensive products which in turn is expected to increase demand for ceramide-based cosmetics and skin care products globally.
Increase in dietary supplements to improve health coupled with shifting population towards healthy lifestyle is expected to further drive ceramide demand for food additives and nutritional supplements. Ceramide demand for pharmaceutical, petcare and others segment is expected to slightly decrease owing to lack of investment by manufacturers and research & development initiatives.
Pharmaceutical is another emerging application segment which is expected to consume ceramide at higher rates in the coming years. Ceramide is used for curing diseases and is finding application in medical industry. Ceramide is consumed for healing multiple skin problems such as atopic dermatitis, diabetes-caused skin damage, "dry" skin xerosis & xeroderma, keratinisation disorders, dyshidrotic eczema, sebostasis, chronic cumulative toxic contact eczema.
Regional Insights
Asia Pacific is expected to witness significant gains in its market size over the forecast period as the industry is expected to grow at the highest CAGR of 6.2% from 2015 to 2022. The region demand growth is expected to be North America and Central & South America.
Japan is considered as one of the major consumers of ceramides on account of nation's large geriatric population base demanding anti-aging skin products. Favorable regulatory framework coupled with increasing demand for natural and organic cosmetics is projected to drive ceramide demand in North America.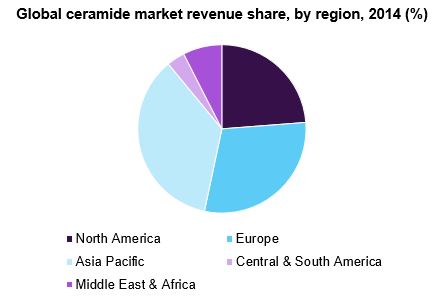 Europe is anticipated to have high revenue share in the global market owing to growth of geriatric population particularly in Germany, the UK, France, and Spain. Slow developments coupled with limited application base are expected to result into lower industry growth in Europe.
Central & South America is expected to show significant growth over the next few years owing to growth of personal care industry in Brazil and Argentina. Middle East & Africa is projected to grow at an average CAGR on account of other ceramide benefits such as functional foods and food additives.
Ceramide Market Share Insights
Global market is highly consolidated and competition among companies is projected to remain high over the foreseeable future. Key industry participants are Evonik, Doosan Corporation, Macrocare Tech Ltd., Sederma, and Cayman Chemical.
Other companies include Xi'an Aladdin Biological Technology, Unitika, Incospharm Corporation, Kao Group, Ashland Inc., Anderson Global Group LLC, Wuhan Saiguang, Pioneer Biotech, and Bo-Kwang Chemical Co. Ltd.
Industry participants are adopting various market strategies such as product development, green technology, expansion, acquiring smaller players and integrating their operations. Among all these strategies, companies are mainly focusing on integrating its operations and green technology development.
Integration is witnessed among manufacturers and suppliers/distributors or manufacturers and end-use companies. Significant number of companies is expected to enter in the global market over the forecast period mainly in developing countries such as China, Japan, and Korea.