Industry Insights
The China stationary lead acid battery market size was valued at USD 2.4 billion in 2015. The product will witness significant demand from various end-use industries including oil & gas, nuclear power, electricity generation, construction, hospitality, banking, manufacturing, mining, transport infrastructure and off-grid renewable.
China Stationary Lead Acid Battery Market, By Application, 2013 - 2024 (USD Million)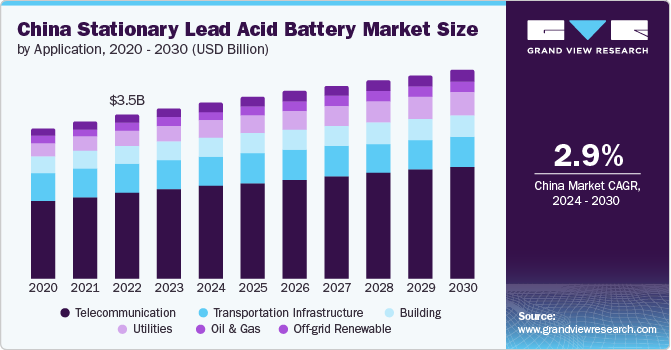 Easy manufacturing process coupled with the requirement of low-cost equipment will drive the demand over the forecast period. Increasing demand for lead acid batteries as they provide high surge currents and energy densities will spur industry growth. Moreover, its advantages such as durability, dependability, low maintenance costs, and high discharge rate are expected to increase its preference over Li-ion and NiCd batteries.
Increasing investment by battery manufacturers coupled with the growing number of off-grid renewable projects, manufacturing facilities, and commercial buildings in China is likely to stimulate the industry growth.
The increasing demand for stationary lead acid batteries in off-grid renewable energy generation for storing energy is expected to augment industry expansion. Rising product usage in renewable energy systems will open new market avenues over the forecast period.
The presence of big telecom players such as China Telecom, China Unicom and China Mobile coupled with growing population will augment the demand for the product over the next eight years.
Increasing consumption of UPS systems in building such as hospitals, banks, offices, data centers and educational institutions for power backup & storage will promote industry growth over the next eight years. In addition, their ability to provide uninterrupted power supply is a crucial factor for the development of the market.
High adoption of lead acid batteries in Energy Storage Systems (ESS) including stand-alone systems with PV, emergency power supply systems, and battery systems for mitigation of output fluctuations from the wind and solar energy will augment demand over the forecast period.
Growing usage of Li-ion batteries in solar power and railway industries is also expected to impact the demand over the forecast period adversely. Moreover, volatile raw material prices will hinder industry expansion over the upcoming years.
Various manufacturers are focusing on R&D for the development of environment-friendly products that are economical and offer better efficiency which in turn will open new market avenues over the forecast period. Ease of recyclability along with less operational expenses will further increase market size over the upcoming years.
Application Insights
Industrial applications accounted for 16.7% of the overall market in 2015. Lead acid batteries are extensively used for providing backup power in various industries including manufacturing, chemical, metal, mining and cement owing to economic nature of these products. China chemical industry is expected to witness substantial growth in light of increasing consumption of specialty products by various end-use industries ranging from automobiles to computers.
The commencement of China's "13th Five Year Plan" for the development of new materials and energy will promote chemical industry growth. Furthermore, the presence of major chemical companies including BASF, Bayer, Dow Chemical and AkzoNobel coupled with increasing R&D activities and facility expansion is expected to drive demand over the next eight years. Furthermore, the prevalence of the major steel manufacturers including Hebei Iron & Steel Group, Baosteel Group Corp, WISCO, Jiangsu Shagang Group, Shougang Group, Anshan Iron & Steel Group, Shandong Iron & Steel Group, Bohai Iron & Steel Group, and Valin Group will further aid market penetration.
Utilities are expected to witness substantial growth at a CAGR of 7.9% from 2016 to 2024 owing to high usage of these products in nuclear power plants. Rising environment concerns along with growing need for electricity generation will result in increasing demand for nuclear reactors. Moreover, the presence of the major nuclear operators including China National Nuclear Corporation (CNNC) and China General Nuclear Power Group (CGN) will aid industry growth.
Competitive Insights
Key players of the China stationary lead acid battery industry include GS Yuasa Corporation, Leoch International Technology Ltd., Narada Power Source Co., Ltd., Fengfan Co. Ltd., China Shoto, Johnson Control, Exide Technologies, EnerSys, Fujian Quanzhou Dahua Battery Co., Ltd, C&D Technologies and B.B. Battery Co., Ltd.
Companies are focusing on product innovation to increase their market presence. For instance, in March 2016, GS Yuasa Corp introduced "SLR-1000" lead acid battery for solar application, which can handle 5,000 charge-discharge cycles, along with rated capacity of 1,000 Ah. In May 2013, East Penn Manufacturing introduced Deka Fahrenheit, a heat-tolerant VLRA to withstand uncontrolled temperatures, to reduce the cost incurred and for energy conservation in marine segment.