Industry Insights
This market study estimates and analyzes the global chromium phosphate industry. Chromium phosphate can also be termed as chromium orthophosphate of phosphoric acid or chromium (III) salt; it is insoluble in water. It is primarily used in the production of paints for coatings employed for architectural and corrosion protection purposes. On account of their sizable benefits, chromium phosphates are used in numerous application areas. Major raw materials used for production comprise chromium trioxide, orthophosphoric acid, ethanol, and ammonium dichromate. The global chromium phosphate market was estimated to be 25,672.1 tons in 2012, and is expected to grow at a CAGR of 9.1% from 2013 to 2020. In terms of revenue, the market was valued at USD 42.73 million in 2012; it is expected to grow at a CAGR of 10.9% from 2013 to 2020.
Growing demand for architectural coatings is expected to be the key driving force for the market on a global level. Growth in the corrosion inhibition industry is also expected to positively impact chromium phosphate demand. The market value chain consists of manufacture and sourcing of raw materials such as chromium trioxide, ammonium dichromate, ethanol, and orthophosphoric acid, etc. On account of increasing product demand, sourcing of raw materials is a challenge to the industry, and fluctuating raw material prices directly affect the profit margins of market participants. Increasing research and development activities for the application of chromium phosphate in the medical sector is a key opportunity for market growth. Distribution strategies include employing direct marketing, third party distributors, and through supply agreements. Companies such as Sigma Aldrich, Service Chemical Incorporation, and Chemos are key players in the distribution arena. Lack of awareness regarding the benefits of using chromium phosphate in numerous end-use sectors is expected to be a barrier to global market growth. Additionally, the capital intensive manufacturing process and low production capacity are among key restraints to the industry.
Application Insights
In the architectural space, chromium phosphate based coatings are used as a paint base for exterior applications and extrusions in doors and windows. Used interchangeably with decorative coatings, architectural coatings are applied in both new as well as existing residential, commercial, and industrial buildings. In addition to providing protection from impact and abrasion, they help beautify and preserve architectural designs. The market for architectural coatings dominated overall demand in terms of volume as well as revenue in 2012.
Chromium phosphate market revenue share by application, 2012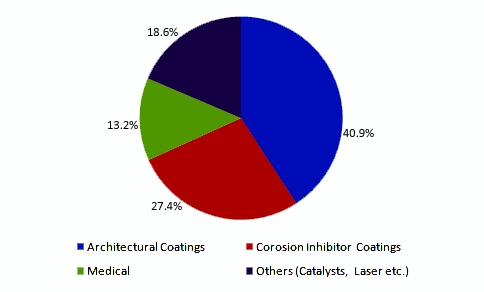 The segment accounted for over 40% of the total market share and was valued at USD 17.46 million in the same year. Growth in the corrosion inhibitors industry is also expected to favorably impact the market over the next few years. Chromium phosphate based coatings provide superior corrosion protection on aluminum; they also provide adhesion properties when used under organic coatings. Since corrosion inhibitors can help extend equipment life, avoid contamination, preserve cosmetic appearance, and prevent system shutdowns, they have been witnessing considerable adoption. The market for medical applications is expected to gain market share grow at a rate much faster than the global average over the forecast period, with an estimated CAGR of 12.1% in terms of revenue from 2013 to 2020. A suspension of chromium (III) phosphate can be used for treating leukemia. Furthermore, it can be used in the treatment of complications arising due to ailments including hemophilia and rheumatoid arthritis. This is expected to be a critical avenue for growth, and research and development activities have helped unravel considerable market potential.

Regional Insights
Asia Pacific is expected to be the largest and fastest growing regional market for chromium phosphate in value and volume terms during the forecast period. It was estimated to be 12,638.4 tons in 2012, and is expected to grow at a CAGR of 9.6% from 2013 to 2020. Strong economic growth in the region is the primary contributor to the expected increase in market demand. Availability of raw materials is of key importance in selecting the location for chromium phosphate production. This is also expected to prove beneficial for industry participants, since they can achieve cost-efficient raw material sourcing in a shorter amount of time. The market in Europe accounted for 23.8% of the global consumption in 2012; it is further expected to lose market share at an estimated CAGR of 8.3% from 2013 to 2020. The RoW region which comprises South America, Africa, and the Middle East, is also estimated to grow faster than the global average. It was estimated to be valued at USD 2.79 million in 2012. Positive outlook for this regional segment can primarily be attributed to expected growth in demand for corrosion inhibition and other applications.
Competitive Insights
The global chromium phosphate industry consists of numerous small and medium level manufacturers. The market is characterized by highly organized manufacturers scattered across the globe. Chemetall GmbH accounted for a considerable percentage of the global market in 2012. The Germany based company deals in the research, development as well as marketing of chemicals and chemical compounds. It serves various industries including aerospace, automotive, heavy equipment, aluminum finishing, etc., and offers corrosion protection and conversion coatings among other products. On account of the lack of major companies, there are a large number of market entry participants, thus increasing the threat of new market entrants. Distribution is a key deciding factor, with the majority of the existing players focusing on strengthening their distribution networks. Key distributors include CHEMOS GmbH and Sigma Aldrich. Other companies operating in the market include Service Chemical Inc., American Elements, Bayer AG, Brenntag AG, Oxkem, etc.