Efforts to accelerate workflow efficiency and increasing clinical trial pipeline over the forecast period is expected to drive clinical trial management system market growth
The Clinical Trial Management System (CTMS) market was valued at USD 700.5 million in 2015 and is expected to grow at a CAGR of 14.0%from 2016 to 2024. Ample benefits offered by these systems along with augmenting growth of healthcare IT industry is expected to drive the market growth over the forecast period.
Information extracted during clinical trials is vast and highly complicated, and is routinely processed through multiple regression, simulation and other models. This, leads to development of large amount of unstructured data. Scientists and industry players are working towards development of management and maintenance of this data, thereby boosting the growth of the industry.
The CTMS performs a dual function of assisting research activity and streamlining the mundane administrative activity. Increasing demand for these systems is being witnessed since 2009 and is anticipated to accelerate over the forecast period, owing to increasing number of players introducing advanced versions of these systems.
Global CTMS Market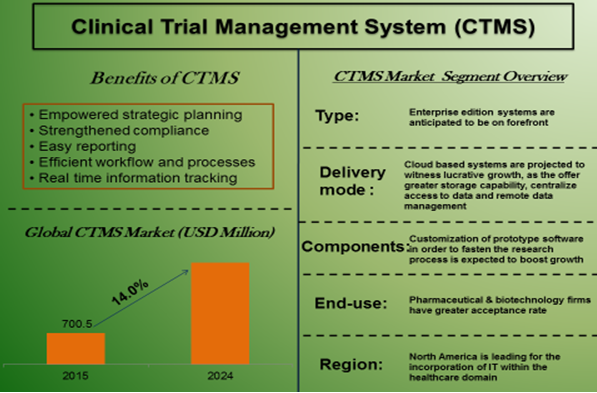 Massey Cancer Center located in Virginia, has been utilizing the CTMS platform OnCore since 2006, which helped the center to securely access trial progress via internet. The system helped them manage functions such as staff tracking, protocol management, subject (participant) enrollment and monitoring, tracing for any incompliance, and role based workflow routine planning.
Other systems currently available in the market include; Velos, OpenClinica, agClinical, Homegrown, REDCap, Clindex, Click Commerce, Clintrial, and Oracle Siebel CTMS Cloud Service.
Enterprise CTMS allow multiple users to simultaneously access data, thereby facilitating better management
Enterprise based management system held over 60.0% share in 2015 and is anticipated to dominate the market over the forecast period. Propelling outsourcing of research activities coupled with involvement of multiple users owing to collaborations and joint ventures is identified to drive the segment growth. For instance, OnCore, developed by Forte has recorded higher sale of enterprise based system than site based in 2014.
Cloud-based CTMS product are expected to propel the delivery mode segment growth
As of 2015, web-based CTMS are commonly applied across all end-users and regions. However, cloud-based delivery mode is anticipated to witness rising adoption and thereby become the fastest growing segment over the forecast period.
Cloud-based system achieves larger storage capacity, centralized availability of data, and quick access by individuals at any locations, thus driving the adoption rate.
Customization of prototype software in order to fasten the research process is expected to boost growth
Software drives the component segment and is expected to witness the fastest growth owing to the rapid evolution and technology advancement. Furthermore, emergence of novel drugs and aggressive competition among pharmaceutical companies to complete the clinical trials and benefit from first to market strategy is expected to instigate higher demand for CTMS.
Growth of the outsourcing industry will adversely affect the market share of pharmaceutical and biotechnology firms
Currently, biotechnology firms such as Roche, Merck, Baxter and other pharmaceutical companies are estimated to dominate the market. Abundant research and innovation drive are the primary factors responsible for increasing demand of these systems. Year-on-year rising R&D funds and introduction of government based clinical studies is expected to further drive the growth.
Over the forecast period, CRO's may witness lucrative growth owing to the spurring acceptance and outsourcing of various clinical trials activities. For instance, the regulatory compliance and documentation requirement are currently outsourced by more than 40.0% of the industry participants.
North America is the leading region for incorporation of IT within the healthcare domain
Owing to quick and advanced IT infrastructure development within North America, the region is anticipated to contribute the largest revenue over the forecast period. Presence of by-laws such as Health Insurance Portability and Accountability Act (HIPPA) which prevent misuse & fraud, and entry of various new players is expected to positively drive the market growth.
Another vital impact rendering driver is the presence of majority of the end-users within the region. According to an article published in Outsourcing Pharma, as of 2014, out of the 111 clinical studies listed by the U.S. FDA, more than 70 were handled by CROs. The rising demand of incorporating healthcare analytics by these CROs is anticipated to boost market growth.
High competitive rivalry may drive innovation and improvement forthe products and services
Key players of the CTMS market include, Forte Research Systems Inc., Bioclinica, Oracle Corporation, eClinForce Inc., Medidata Solutions, DATATRAK, Guger Technologies, PARAXEL International Corporation, and MedNet Solutions, Inc. Other participants include; ChemWare Inc., iWEb Technologies, Data MATRIX, Jade Global Solutions, Integrated Clinical Solutions, and MAJARO InfoSystems.
The oligopolistic nature of the market acts as a barrier for new entrants, thereby limiting their profits. However, it also drives innovation among the companies in order to gain higher market share. Commonly observed trends include; new product & service development, collaborations and tender acquisitions of government funded researches, and rigorous marketing campaigns.