Industry Insights
The global Computer Aided Detection (CAD) market size was valued at USD 402.9 million in 2014. Increasing cancer prevalence and raising awareness in the population for regular health check-ups are the most significant drivers of the global CAD industry. The deaths due to cancer have led the government to take various awareness initiatives along with the key industry contributors to come up with breakthrough imaging technologies.
According to the WHO report, cancer is the leading cause of mortality and morbidity worldwide. There were approximately 14 million new cancer cases and 8.2 million cancer-related deaths in 2012, and the cases are expected to reach around 22 million within the next two decades.
U.S. Computer Aided Detection (CAD) market, by imaging modalities, 2012 - 2022 (USD Million)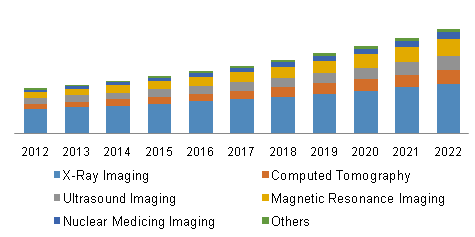 Over the last two decades, the diagnostic cancer imaging field has witnessed remarkable evolution and has affected research and clinical management of cancer. Tobacco smoking is one of the most common causes of lung cancer and is a leading cause of deaths in the U.S. Moreover, the number of deaths in women from smoking is expected to increase at a rapid rate over the forecast period.
According to the CDC, approximately 210,828 people in the U.S. were diagnosed with lung cancer, including 99,433 women and 111,395 men. Moreover, 157,423 people died from lung cancer in the U.S.
With the increasing number of cancer incidence and the efforts by various institutes to spread awareness has made people more inclined towards regular checkups rather than visits after cancer detection. For instance, the NIH spending for cancer in the year 2014 was USD 5.39 billion and is projected to be around USD 5.4 billion in 2015.
Application Insights
CAD has its applications in the diagnosis of breast cancer, lung cancer, colon/rectal cancer, prostate cancer, liver cancer, bone cancer, and neurological/musculoskeletal cancer. Out of these, its application in breast cancer dominated the market in 2014.
Drivers for breast cancer market are the growing prevalence and people's awareness of regular breast cancer check-ups. Recently, the Union for International Cancer Control (UICC) joined forces with Pfizer to offer the Seeding Progress and Resources for the Cancer Community (SPARC) Grants. It is an initiative to empower governments, hospital networks, organizations, and support groups to support women with advanced breast cancer.
Breast CAD Imaging Modalities Insights
Key technologies are mammography, magnetic resonance imaging, ultrasound imaging, Tomosynthesis, and nuclear imaging.
Mammography technology dominated the market in 2014. This is attributed to the incidence of cancer, which is the lead cause of mortality and morbidity. For instance, according to the World Cancer Research Fund International 2012, North America and Oceania have the highest breast cancer rate, and Asia and Africa the lowest.
Imaging Modalities Insights
In imaging modalities, X-ray held the largest share in 2014. X-ray forms the basis of any imaging technique and hence has the highest market share. Extensive research has been done to overcome the limitations of X-ray.
For instance, in December 2013, researchers at MIT and Massachusetts General Hospital (MGH) enabled soft tissue imaging. This approach was presented at the 13th International Workshop on Micro and Nanotechnology for Power Generation and Energy Conversion Applications (PowerMEMS 2013).
Regional Insights
Geographic segments are North America, Europe, Asia Pacific, and RoW. North America dominated the market owing to its researchers' constant efforts to fuel the market with newer technologies and shifting trends from image analysis and pattern recognition algorithm to workflow management functions for the diseases and conditions.
Through Programme of Action for Cancer Therapy (PACT), the International Agency for Research in Cancer (IARC), the World Health Organization (WHO) and other cancer-associated organizations, the International Atomic Energy Agency (IAEA) is involved in supporting the processing of national cancer control programs in IAEA Low and Middle Income (LMI) member states.
However, Asia Pacific region is expected to be the fastest-growing market, owing to rising cost-effective technologies, demand for medical tourism, and government initiatives and programs.
In India, the Health Minister's Cancer Patient Fund (HMCPF), under the Rashtriya Arogya Nidhi OR RAN scheme was introduced in 2009. The HMCPF is to be utilized by establishing funds such as RAN in the Regional Cancer Centre (RCC) that are being provided for cancer equipment from cancer programs of Indian government.
Competitive Market Share Insights
Key industry players are EDDA Technology, Inc., FUJIFILM Medical Systems, Hitachi High Technologies Corporation, Hologic Inc., iCAD, Inc., Vucomp, McKesson Corporation, Philips Healthcare, Siemens Healthcare, and Toshiba Medical Systems Corporation.
In January 2015, EDDA technology introduced the IQQA platform and product suite for cancer treatment in Arab Health 2015. In September 2015, Fujifilm introduced a new version of Acuity LED 1600 named Acuity LED 1600 II with faster printing mode than the previous model and automatic calibration function. In May 2015, Fujifilm acquired TeraMedica archive system Vendor Neutral Archive (VNA). Fujifilm was its distributor for the U.S. in the year 2013 and its acquisition further plans to strengthen its distribution reach.
In September 2013, iCAD formed a strategic partnership with Advanced Rad Solution (ARS). According to this partnership, Xoft System for diagnosis of Melanoma Skin Cancer (NMSC) will be used by each of ARS dermatology site. In November 2014, Prestige Medical Imaging and Vucomp Inc. partnered in order to invent new technologies to detect breast cancers and strengthen their positions in this industry.
Government initiatives to expand the applications of CAD with other modalities, and the key player strategies to collaborate and launch new products or expand its product portfolio are expected to drive the market over the forecast period.